There are plenty of great holiday events around the Denver Metro area (Parade of Lights, Zoo Lights, and much more!), but you don't have to go too far to get into the holiday spirit! Here are some events happening around the Stapleton neighborhood this holiday season, including some ways to give back to those in need.
Now until December 8th
Second Annual Toy Drive Benefiting Project Worthmore – drop off locations and hours below
This toy drive is sponsored by Collectively Creative and Focus Real Estate. Drop off new, unwrapped toys for our Denver refugee neighbors at the following locations until Dec. 8th at these locations:
Progress Coworking – 2340 Dayton Street (open Monday- Friday, please knock)
Dog Haus Biergarten – 8316 Northfield Boulevard (open 11 am-9 pm)
Now until December 14th
The Giving Wall at Stanley Marketplace – 7am- 10pm- Stanley Marketplace
Stop by the Stanley Marketplace and select one or more gift tags from the wall. Each gift tag includes the name or names of a person or a family who's a client of the Aurora Housing Authority – Colorado or the Denver Housing Authority. Follow the instructions on the tag and drop off the wrapped gift(s) at SquadronCo, Stanley's newest boutique on the second floor of the marketplace.
Now through Dec. 24th
Free Photo with Santa – dates and times here – Bass Pro Shops (The Shops at Northfield Stapleton)
How to see Santa: Visit the Bass Pass Ticket Depot in store, get a Bass Pass w/ specified time, show up at specified time to see Santa. There will also be free crafts, games, and activities.
Friday, November 16th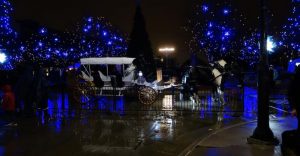 Winter Welcome – 6-8pm – 29th Ave. Town Center
The annual Winter Welcome is an open house for 29th Ave. retailers and the lighting of the town center holiday lights. Enjoy fire pits, hot chocolate, s'mores, face painting, horse drawn carriages, and much more! Many of the activities will require a ticket. Tickets are $2 each and can be purchased at the MCA ticket booth. Local food trucks will also be on site.
Wednesday, November 21st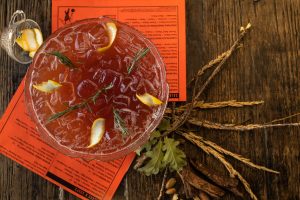 "Friendsgiving" – Punch Bowl Social
Head over to Punch Bowl Stapleton to meet up with friends new and old, order a drink … and see what happens. Make sure to try the seasonal "Gobble This" punch, which features bourbon and spiced tea with notes of cranberry, cinnamon and honey crisp apple.
Thursday, November 22nd (Thanksgiving Day)
Stanley Harvesting Hope 5k – 8am-12pm- Central Park in Stapleton
A Thanksgiving Day Turkey Trot for a great cause! The 4th Annual Stanley Harvesting Hope 5k is a PAVED and USATF Certified Course! 100% of proceeds are donated to charity to help the Foundation for Prader-Willi Research. Dogs, strollers, and wheelchairs are welcome on the course. There will be a free 1k fun run for kids under 10 with finishers medals. Learn more in this recent post.
Friday, November 23rd
Black Friday – 9am-9pm – The Shops at Northfield Stapleton
The Shops at Northfield Stapleton are open from 9 am – 9 pm on Black Friday with FREE horse drawn carriage rides (with an hour break for lunch and for the horses).  Pickup and drop off will happen on Main Street and at Bass Pro Shops.  Restaurant, Store, Entertainment Venue hours may vary.  See store for hours and details.
Black Friday at Stanley – 9am- 9pm- Stanley Marketplace
The day will kick off with some FREE workouts at The Hangar at Stanley. Many of the local, small businesses will have deals throughout the weekend. Also check out Small Business Saturday at Stanley!
Thursday, November 29th
Stapleton Holiday Bazaar – 4-10pm -The Shops at Northfield Stapleton (taking over the most recent Spirit Halloween space, across from Charming Charlies)
The Stapleton Holiday Bazaar is an indoor pop-up market full of local craft, fashion, and art vendors and offering a variety of spirited drinks. General admission is FREE for all ages, but Shop & Sip Drink packages are also available for purchase. See the website for more details and to purchase packages.
Friday, November 30th
Tree Trimming Party at Stanley– 4-6pm – Stanley Marketplace
Grab an ornament you already own, or one you make at home, and head over to Stanley Marketplace for their 2nd annual Tree Trimming Party. There will be a student harp ensemble playing music while you help decorate the Stanley tree.
Thursday, December 6th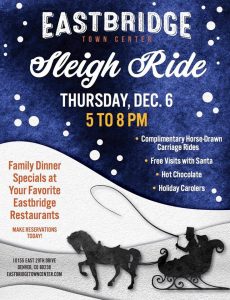 Sleigh Ride – 5-8pm – Eastbridge Town Center
Enjoy an evening at Eastbridge Town Center complete with complimentary visits with Santa, hot chocolate, horse-drawn carriage rides, carolers, and more! Eastbridge restaurants will also be offering special family deals for the evening. Dinner reservations are recommended.
Friday, December 7th
Christmas Concert at The Cube – 7-9pm – The Cube (8371 Northfield Blvd, Denver, Colorado 80238)
Featuring the Colorado Wind Ensemble, the concert is free and open to the public.
Sunday, December 9th
Chanukah Wonderland and Food Drive – 5-7pm – Stanley Marketplace
Light the Giant "CAN-orah", Watch a Real Olive Oil Press, Chanukah Crafts, Hot Latkes, Decorate Your Own Donut, and Gelt Toss!
Monday, December 10th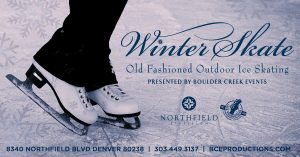 WinterSkate Ice Rink – The Shops at Northfield Stapleton – hours listed below
***WinterSkate is tentatively scheduled to open December 1st***
Northfield is bringing Stapleton its first ice skating rink! The old fashioned outdoor rink will be located at 47th & Verbena, (next to Zen Asian Sushi Bar & Grill). Open Daily from Dec. through Feb.
Hours of Opertion: Monday – Wednesday: 11am – 8pm;  Thursday & Friday: 11pm – 10pm; Saturday: 10am – 10pm; Sunday: 11am – 7pm *Hours are subject to change*
Admission: Adults: $10.00 Kids (ages 4-12): $9.00;  Children 3 & under: Free!;  College Students & Military (with valid ID): $8.00;  Senior Citizens (65+): $8.00;  *Skate rental included with admission
Sunday, December 16th
Santa Claus Comes to Stanley – 11am-1pm- Stanley Marketplace
Santa and Mrs. Claus will be escorted to The Hangar at Stanley by the Aurora Police Dept. for this event including visits with Santa, story time with Mrs. Claus, and a collection of vehicles from the APD.
Wednesday, December 19th
Christmas Cocktails Workshop – 7-9pm – The Cube (8371 Northfield Blvd, Denver, Colorado 80238)
Learn how to create and present holiday-inspired cocktails at this mixologist-lead event. Purchase tickets in advance for $20; $40 day of the event. This is a 21+ event.