Before we dive in, I wanted to chat about a big project we've been working on here at the Scoop and Focus Real Estate.
In my past life I spent years working on the Anschutz Medical Campus. As many of you know, Anschutz runs along part of the southeastern border of the neighborhood. Many of our friends, clients, and neighbors in Central Park work on campus.
I also was fortunate to spend many years working at Children's Hospital Colorado on the Anschutz Campus. It was the most satisfying, interesting, and sometimes heartbreaking environment I've ever worked in. I was part of the Process & Patient Safety team before moving over to the Office of Research Services.
Since moving on from Children's and helping found Focus with Joe Phillips, I've focused my real estate business heavily on clients in my same situation – those who work on Anschutz. Working for the VA, Children's, CU Hospital, or any of the other dozens of professional organizations on campus is … unique. Attending school at CU Medical, CU Dental, or elsewhere on campus is … unique.
From understanding shift times and traffic, to what it means to be "on call," to even knowing the best spots on campus to grab a quick lunch, being part of Anschutz is a unique experience.
Our team developed a guide about living near the Anschutz Campus. From nearby neighborhoods to physician loan programs to short term housing options next to campus, we give you all the details about what it takes to live near Anschutz. I hope you'll sign up and check out our guide!
So without further ado, on to our Central Park real estate news!
Open Houses & Featured Listings
Open House: Saturday 9/17 from 11 AM – 1 PM
This beautiful 4 bed/3.5 bath Infinity home is close to Flyteco Brewing, Sprouts, Natural Grocers, Central Park and the A-train. This home is situated on a mews, which is essentially a pocket park, which has the benefit of giving you a quiet green space without any upkeep or a 2nd HOA.
The spacious kitchen includes stainless steel appliances such as the built-in Bosch double ovens, a 5-burner gas cooktop and a range hood. Multiple dining options abound with a large central island and a functional breakfast nook overlooking the backyard oasis.
This home is listed for $1,340,000 by Joe Phillips of Focus Real Estate.
Open House: Saturday 9/17 from 1 PM – 4 PM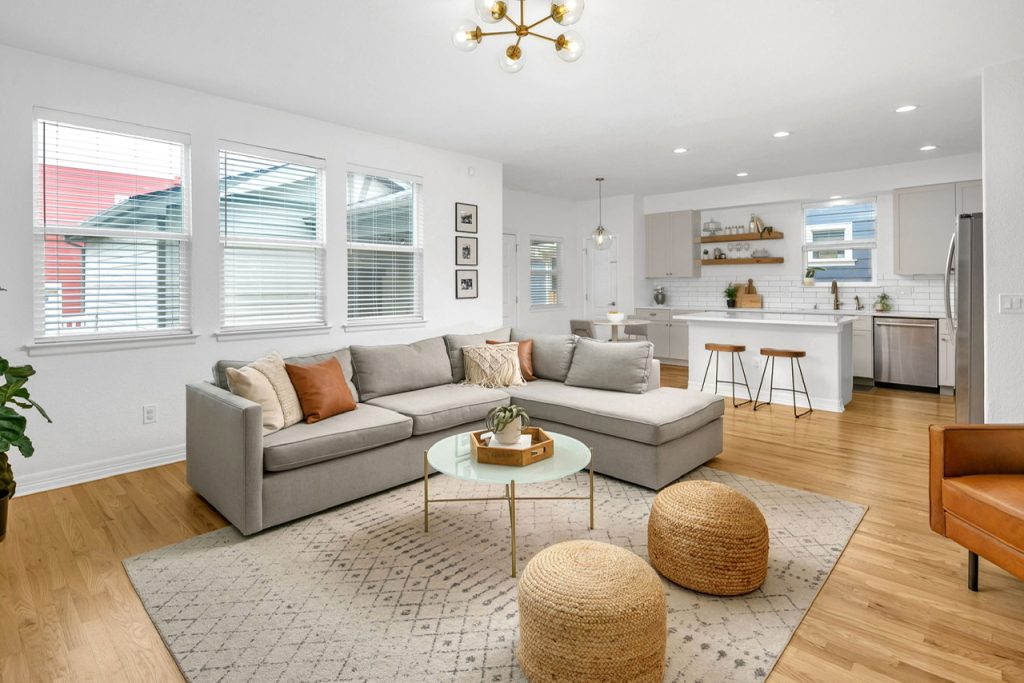 This beautiful home is blocks from the Aviator pool and the East 29th Ave Town Center. This updated 6 bed / 4 bathroom home in Central Park's South End neighborhood has a fully renovated kitchen with quartz countertops, grey soft-close cabinetry, decorative hardware and lighting, open shelving, a touchless faucet, and stainless steel appliances.
Just out the back door is a covered patio, large deck and private yard with string lighting and shade sails; an ideal outdoor space for dining al fresco, gathering with friends and neighbors, or simply lounging in the sun!
This home is listed by Kailee Ackerman at Focus for $1,070,000.
Open House: Sunday 9/18 from 11:30 AM – 1:30 PM
Don't miss this lovely David Weekley home located close to the Eastbridge Town Center, Stanley Marketplace, F15 Pool, Bluff Lake Nature Center and the Anschutz Medical Campus. With over 2800 total square feet, 4 bedrooms, 3 full bathrooms, a 2-car attached garage and a private yard, this home has all the space you need. The front porch is a great place to enjoy morning coffee or catch up with neighbors.
This home is listed by Kailee Ackerman at Focus for $715,000.
This stunning Standard Pacific home has 4 bedrooms, 4 bathrooms, awesome kitchen and main floor living area, low-maintenance backyard and highly-desired long driveway which is rare in Central Park.
The south-facing beauty is in a fantastic spot in the Willow Park East neighborhood near pools, parks, and Northfield High School. This home is listed by Lisa Palladino and Mariel Ross and priced at $950,000.
There are currently 66 active resale listings in Central Park.
This week we saw 18 new, non-builder listings in the neighborhood.
Right now there are 12 homes that are pending (meaning they are under contract, but have not yet closed).
Disclaimer: Our Friday real estate updates are meant to be a "roundup" type post where we discuss all listings in Central Park, not just our own. It's our way of making sure we follow the market closely and we share it with the Scoop readers because we know many of you like to track real estate in the area as well. Many of the listings in these posts are not our company's listings and we wanted to mention that here to make sure it's clear. Focus and its agents make no representations, warranties, or guarantees as to the accuracy or completeness of any information in this post. Please confirm all information with your own advisors and do not rely on this post. Thanks for reading the Scoop!