Here we are… November! Is it just me, or is this the longest-fastest year ever?!? The holidays are upon us, and although festivities will inevitably look different this year, there are still many ways to get into the holiday spirit.
Of course, masks and social distancing are required at many of these events, but there are also some you can enjoy from the safety and comfort of your own home or car. Also, be sure to check individual event websites before you head out, because as you know, things can change at the drop of a dime these days.
Here are some events and activities that we thought were worth highlighting this month.
Wreathes decorated and donated by local artists and community members will be on display at the Aurora History Museum and sold through an online auction.
When: Nov 3rd – Dec 11th
Where: Aurora History Museum
Cost: Bid on a wreath here
A Celebration of Denver's creative and cultural community.
When: Nov 6 th – 8th
Where: Museums, galleries, and events throughout Denver (virtual events as well)
Cost: Varies by event/attraction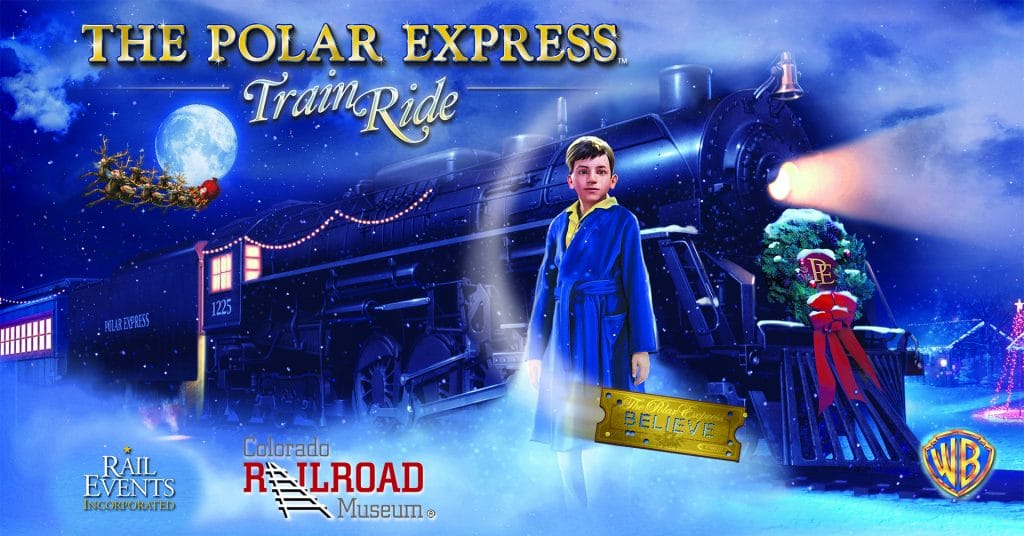 Enjoy a magical train ride and theatrical recreation of the story of The Polar ExpressTM.
When: Select Dates in Nov and Dec
Where: Colorado Railroad Museum
Cost: Standard Seating – $95/person ages 2 and up (MUST be purchased in pairs at $190/pair) – Lap Riders under age 2 Free; First Class – $475/table of four (plus up to two Lap Riders under age 2 free)
Stanley Marketplace has partnered up with We Don't Waste for a holiday food drive. Drop off non-perishable food to participating Stanley businesses and enjoy 10% off your purchase in those businesses when you do.
When: Nov 9th – 30th
Where: Select Stanley Marketplace Businesses – Create Cooking School, June Ruby, Steele Angel
A magical interactive experience that delivers handcrafted holiday activities directly to your home and imagination.
When: Nov 12th – Jan 5th
Where: Virtual
Cost: Starting at $10 for Base Camp up to $299 for Deluxe Set of Camp Adventures
Support local businesses by dining in or carrying out a multi-course meal from your favorite restaurants during this special fall edition of restaurant week.
When: Nov 13th – 22nd
Where: Participating Restaurants around Denver
Cost: $25, $35, & $45 options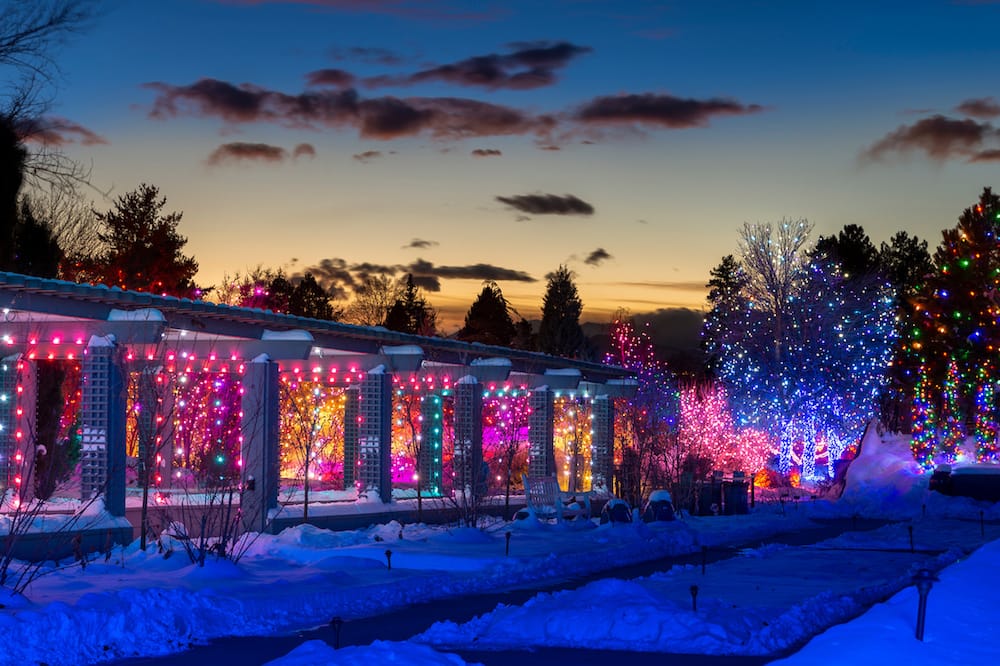 Celebrate the holiday season with this decades old Denver tradition. Blossoms of Light™ is a dazzling and ever-changing display of light and color.
When: Nov. 20 – Jan. 16, 4:30-9:45 p.m. (closed Nov. 26 & Dec. 25)
Where: Denver Botanic Gardens
Cost: $18-21 Non-Members; $16-19 Members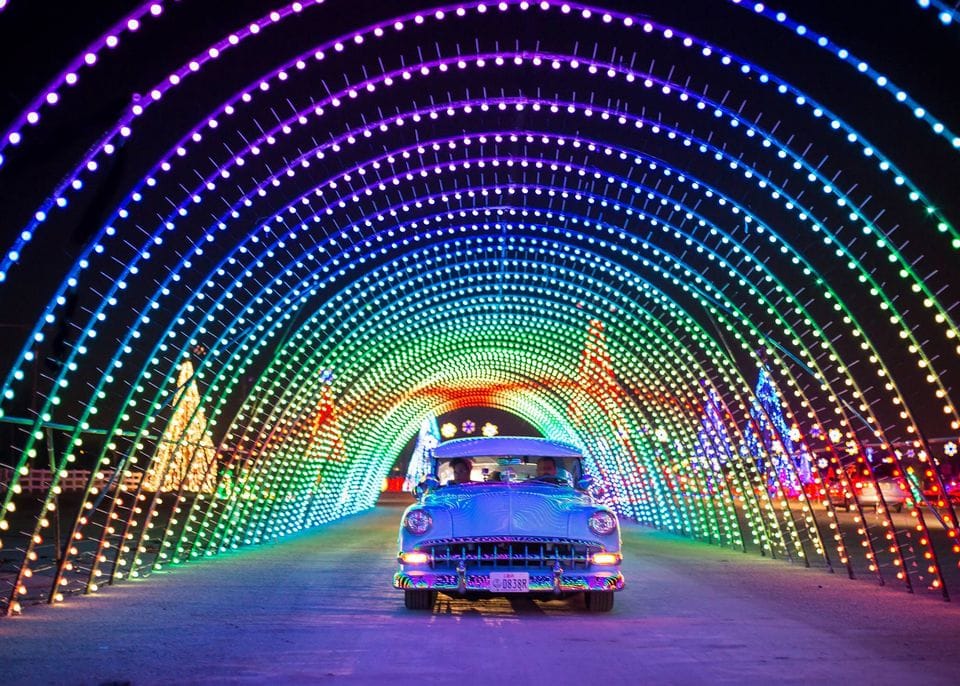 Drive through acres of more than 1.5 million lights perfectly synchronized to holiday music you'll hear right through your radio. You'll drive by giant candy canes, snowmen, arched pathways and more.
When: Nov 20th – Jan 3rd, 5:30 – 10pm
Where: Bandimere Speedway & Waterworld
Cost: $30/vehicle
Celebrate the holidays at the Gaylord with I Love Christmas Movies™, Snow Tubing, Ice Skating, LIGHT!, Gingerbread Decorating Corner, Build-A-Bear Workshop, Scavenger Hunt, Character Brunch, Ice Bumper Cars, Merry-Go-Round and More!
When: Nov 20th – Jan 3rd
Where: Gaylord Rockies
Cost: Varies by activity
Give blood and receive discounts from participating Shops at Northfield retailers. Appointments strongly encouraged.
When: Nov 25th; 11am – 3pm
Where: The Shops at Northfield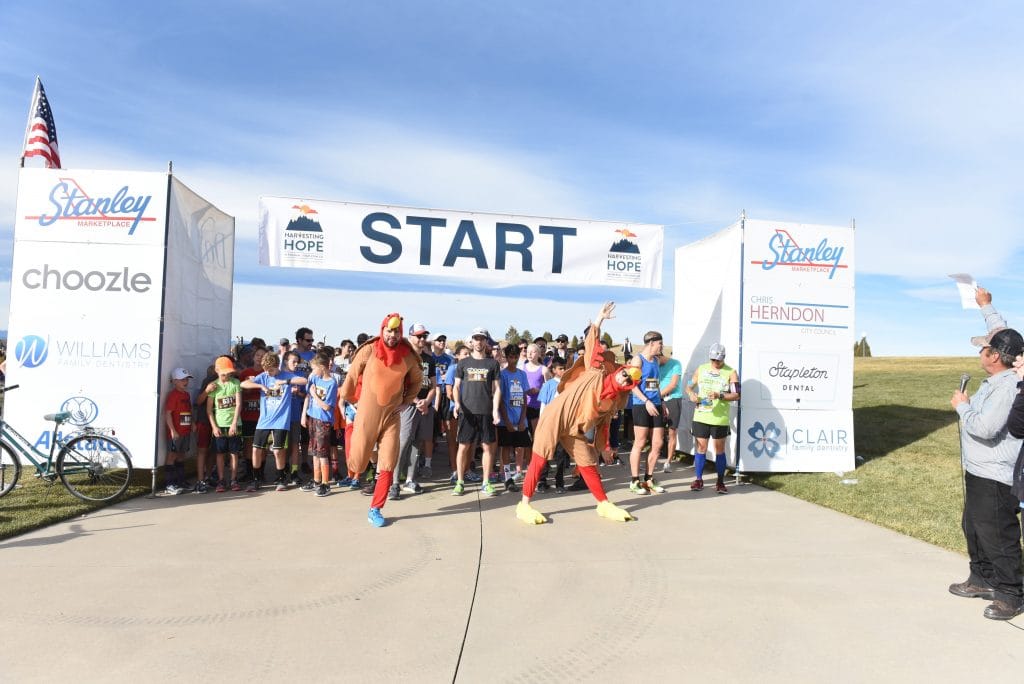 The 6th Annual Harvesting Hope 5k will take runners (and walkers) through the beautiful paths surrounding Westerly Creek and the Central Park Community. 100% of proceeds from the race will go to benefit the Foundation for Prader-Willi Research.
When: Thanksgiving Day – Thurs, Nov 26th
Where: Central Park Neighborhood and virtual option
Cost: In-person timed 5k – $40, In-person Kids fun run – $5, Virtual 5k – $30, Virtual kids fun run – Free
This year's Parade will be a multi-week, socially safe extravaganza of activities across downtown. The floats you know and love will be displayed throughout downtown for several weeks beginning Friday, November 27.
When: Nov 27 – Dec 31
Where: Denver Pavilions to Union Station
Cost: Free