Like many of you, we're focused on helping our community and our frontline first responders.  Right now is a sensitive time for so many in our communities, and we're thankful for the hard work and precautions our healthcare professionals are taking to help protect us all.
You may have seen our colleague Ashley Parsons Faller's recent Scoop article "Stapleton's "North End" Builder Lot Map Released!"  Although it's a difficult time, ultimately as real estate agents we want to make sure we're keeping everyone updated on the latest real estate news since homes continue to be built and sell.  With that said, what's the biggest piece of real estate news in Stapleton right now?
As Ashley mentioned, the final lots in Stapleton's last neighborhood are starting to sell – including Parkwood Homes' final lots in all of Stapleton.
This final phase of the North End, which is called "Filing 57" for now, will only include 600+ homes, so lots for each builder are limited.
If you're interested in Parkwood Homes, what options are there to build in Filing 57?
Parkwood has started taking reservations on lots in Filing 57.  Currently, there are 5 available lots just a short stroll away from the northern border of North End, facing open space.
See the orange lots with black dots on the top left of the map below.  These are the 5 available lots.
My favorite available lot is #11, which is the top left available lot on the map.  Lot #11 has a tremendous footprint of 10,351 sq. ft., which is 2x – 3x bigger than most Stapleton lots.  The lot premium for #11 is currently $115K.  Lot premiums for the other lots start at $75K+.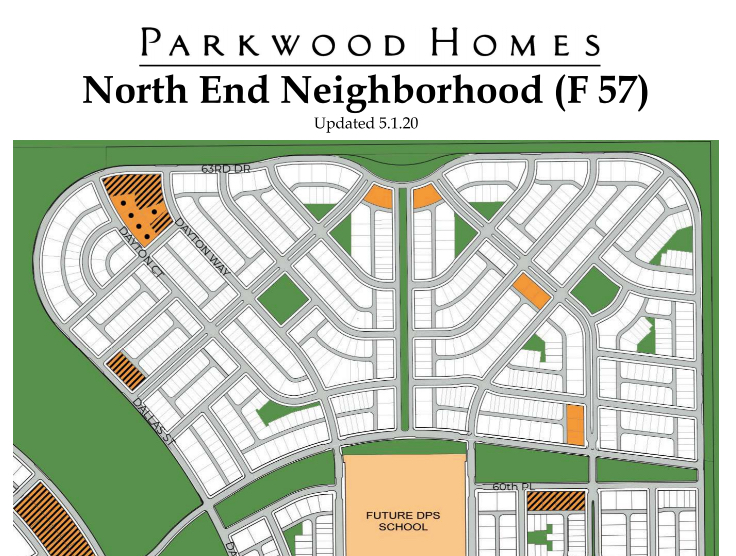 You can build any of Parkwood's single family homes on these 5 available lots.
After these 5 lots sell, Parkwood is anticipating that they will have 8 lots in future releases.  After those 8 lots sell, Parkwood likely will not have availability for any future home lots.  Separately, in the first part of North End, there are two available spec homes that are complete (a Newbridge and Brookline, both of which have rooftop decks with mountain views), as well as townhomes and Painted Ladies.
The Newbridge is listed for $671,502 and is located at 10342 E 58th Avenue, Denver, CO 80238.  The home has 3 bedrooms, 3.5 bathrooms, and 2,550 sq. ft. above ground.
The Brookline is listed for $658,003 and is located at 10322 E 58th Avenue, Denver, CO 80238.  The home has 3 bedrooms, 3.5 bathrooms, and 2,652 sq. ft. above ground.
If you're interested in touring either of these homes (in compliance with State and City of Denver rules and requirements regarding showings), I'd love to help!
I'd be happy to give you the latest and greatest information on Parkwood Homes!  Mariel@Focus-Realtors.com any time
Keep in mind the information in this post can and likely will change quickly as homes are reserved, and as the final spec homes and Painted Ladies in the first part of North End sell.  So if you'd like more information shoot me a note!