Friday…time to check out the Stapleton real estate market & share our findings with you.  In this week's update you'll find the latest Stapleton listings, all the under contract deals & the closed transactions from the last week.  We'll also make sure you know about the remaining "spec" new build homes in Beeler Park & the best way to stay up to speed on Stapleton's last neighborhood, North End.
Before we jump in we wanted to let you know that we just added Live Chat to the real estate-related pages on the Scoop.  So…if you're checking out one of our posts and we can be of service just jump on the live chat option on the bottom right and we'll be happy to help!
13 New Stapleton Listings This Week
There's a new batch of listings this week to check out.  You can peruse all 13 in the link above but here are a few of my favorites.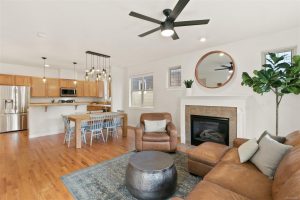 7779 E 25th Ave –  Looking for a single family home in the $500k's on a grassy courtyard in Stapleton South of I-70?  This could be a great fit.  This floor plan, the "Ashton", has always sold well and I don't expect this one to last long.  Lots of light and an open layout on the main level.  Plus a finished basement provides a great 4th bedroom for guests.  This one is listed by Tammy Morran with Porchlight Real Estate.
5224 Chester St – Newly listed by Lynne Ross from Coldwell Banker, this Thrive Home Builders Zero Energy Now "ZEN" home was built in 2016 so it feels new!  With 4 beds, 4 baths, a finished basement, tons of natural light and a white kitchen I think this will be one of the next homes to sell in the $600k's.
Not finding the right home in the Stapleton resale market?  Be sure to check out these 10 available "spec" homes available in Beeler Park.  Some of these are move in ready now and the rest will be completed between now and early 2019.  If any catch your eye we're happy to dig and provide you with more info or a tour.  (Inside Scoop:  Some builders are anxious to move these last few lots so they can focus on the next neighborhood, North End.  Because of that we're seeing some wiggle room with builders on the lot premiums in Beeler Park)
19 Under Contract Stapleton Listings This Week
With 19 homes going under contract in the neighborhood last week alone the market in Stapleton is still going well.  So all homes are selling right away and bidding wars are still the norm on every listing?  I wouldn't say that either.
Homes that show well and are priced based on similar sold comparable sales are still selling well. In fact, over half the homes that went under contact in the last month did so in less than 10 days.  Homes that don't show well and/or are priced based off seller's unrealistic expectations or desires are sitting on the market.  On average, Stapleton homes are taking 25 days to go under contract which is a little longer than what we've been used to.  The average is being pulled up by the overpriced homes that are sitting longer than they should.
7 Sold Stapleton Listings Last Week
In the last week 7 Stapleton homes have sold and closed.  Curious?
All 48 Active Stapleton Listings
Curious about all the Stapleton listings, not just the new ones?  You can check them all out in the link above.  Still not finding what you need?  You may want to check out our cheat sheet we created to show you all the 8 builders who are building in North End, Stapleton's last neighborhood.  By signing up at homesinnorthend.com you'll not only get the cheat sheet but we'll also keep you posted any time we have updates from the builders about new lots, homes, etc.  Here is an example of the types of North End updates you can expect to receive if you sign up.
That's it for our update this week.  If we can be of service to you with your plans to buy or sell in Stapleton we'd love to help.