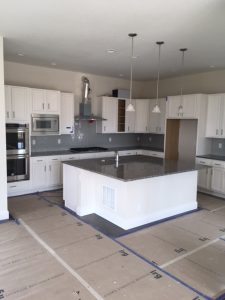 Want a brand new home in Stapleton but don't want to wait for it to be built?   Thrive Home Builders just had a buyer back out so an awesome home in their ZEN 2.0 series just became available with a  September closing date!  Here are all the details, if you're interested it I'd love to give you a tour.
"Spec" homes like this pop up from time to time but this one is noteworthy.  It's one of those home that you see and you know that someone would love it, they just probably don't know that it's out there and available for quick move in.
This one is special for a lot of reasons:
The home is the PWR plan in Thrive's ZEN 2.0 series.  It's their largest plan with over 2,500 finished sf above grade.  It's a very functional plan with an open living/dining/kitchen concept on the main level as well as a large study and 3 beds plus a loft upstairs.  The layout works really well for a lot of buyers.  See the plan & exterior photos here.
The location of the home is what makes it so special.  This home sits on a South-facing corner lot with amazing views of the mountains.  I'm not talking about "Realtor" mountain views (where you see a sliver of the mountains through two rooftops if you squint through the laundry room window), I'm talking about mountain views from the living room, front porch, back porch, master bedroom, master bath and master bedroom balcony!  Plus you have several rooms that have spectacular downtown views  & other rooms like the loft that have views of Rocky Mountain Arsenal National Wildlife Refuge.  You have to go walk this home to be able to appreciate the views.
As the name of the home series implies, the home is a "zero energy now" home, meaning the home is built extremely energy efficient & has a large enough solar array to wipe out all but $30 of your monthly utility bills!  That's about $150 less per month in bills compared to buying a similar size resale home in Stapleton.
The home's main level has great indoor/outdoor flow.  It has sliding doors in the front opening up to your pergola covered patio and also to the back of the living room where you'll find a covered porch!  Open both of these up when you're entertaining and add in the fact that the home has 10 foot ceilings and the home feels huge!
The home has a 3 car garage with a service door that provides access to the large backyard where you can sit on the covered patio and enjoy the mountain view.
This series is the first in the country to feature the Tesla power wall.
The home comes with a builder warranty, so you don't have to worry about any home improvement projects right off the bat like you would on a resale home.
The home is priced at $718,714.  Here is the Change Order & Plot Plan in case you want more details.  The basement is unfinished but if you decide to finish it there is room for two more bedrooms, a family room, a full bathroom and storage.
If you think this could be a good fit I'd love to meet up and give you a tour.  I don't work for the builder, I'm an independent agent focused on Stapleton so I can show you all of your options & help you make an informed decision.  My phone number and email are below.