Hey Stapleton, take a quick 10 minute break from the pre-holiday hustle and bustle to peruse the latest in Stapleton real estate!  In this week's update you'll see all the new, under contract and sold listings but you'll also find a link to all the latest info about available lots and homes in "North End"!
New Stapleton resale listings this week
It was a pretty slow week for new listings in the neighborhood, with just 5 homes hitting the market.  That's to be expected since people are more focused on the pre-holiday "to do" list than they are on making their next move.
That said, we listed a home last week at 2551 Alton and it got 5 great offers!  Don't let over-priced sellers convince you the market is "slow".  Yes, inventory is up slightly as are the days on market, but well priced homes that show great are still moving quickly.  Sellers in Stapleton have been getting 98% of their asking price and the median "days on market" is 14 days.  (meaning half the homes that are listed sell in the first two weeks)  Sellers still have the leverage but they need to get the home in great shape and base their listing price off the recently sold comparable homes.
The new listing that caught my eye this week was the red Parkwood home located at 4936 Yosemite St listed by Holly Couture.  Listed at $790k, it seems appropriately priced considering the size and the finished basement.  Buyers will love the West facing lot that fronts onto a green space.  It features a sought after white kitchen and an amazing backyard. There aren't a lot of Parkwood resales available so I expect this one to go quick.
We expect more resale listings to come on in early to mid January as people move past the holidays.
Ready to buy now but not finding what you need?  We just did a deep dive on all the new build options and builder "specs" (a "spec" is a home that's under construction or complete so you don't have to wait as long) available at this time in Beeler Park and North End.  There are quick move in homes that you could be into in the next 30 days and there are dirt lots where you could make all your selections and be in around Summer to Fall 2019.  (Important Note:  Forest City, Stapleton's developer, sold it's remaining land to a new developer and I suspect that could put a slow down on the delivery of lots in the second half of North End.  So if you're thinking about building a new home you may want to do that in the first half of North End unless you're ok waiting for a long time… like a 2020 move in date.)  For all the latest on lots and homes in North End check out this blog post.
Under Contract Homes This Week
There were 6 Stapleton homes that went under contract this week. At this sales pace, we now have about 2 months worth of inventory on the market.  (the quick math:  6 homes went under contract this week.  multiply that by 4 weeks and that means about 24 are going under contact per month.  We have 45 total Stapleton homes available right now so 45 available homes divided by 24 selling per month equals about 2 months of inventory)  Any time you have less than 4-5 months of inventory available I'd consider it a "Seller's market" because buyers just don't have a lot of options.
10 Stapleton resale homes closed in the last 7 days.
Stapleton Resale Homes This Week
Stapleton has a total of 45 resale listings at this time, which is consistent with inventory levels over the past few months.
Before I leave you for the week I wanted to share an infographic that shows some trends related to real estate throughout the Denver metro area.  I think it's consistent with what I'm seeing in the Stapleton market where we focus.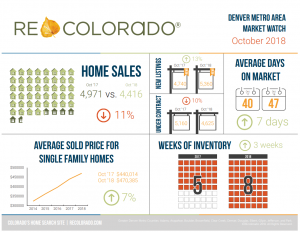 The key trends are:
Homes sales have dropped from this time last year.  (rising interest rates and rising home prices seem to be the culprits…it's tough to qualify for a home when both those things go up!)
Average "days on market" has gone up.  That means on average most homes are taking a little longer to sell.  (I like "median" days on market better that I quoted above in this post.  When you use averages things get distorted by the yahoo that lists his home for $100k more than he should and it takes him 6 months to sell it after he drops the price)
Prices have still gone up from this time last year but the pace of appreciation seems to be slowing.
That's it for our Stapleton update this week.  If we can ever be of service please let us know.   Amy, Mariel and I all live in the neighborhood with our families and helping buyers and sellers with their Stapleton real estate needs is our focus.  We help people with new build homes and resale moves.  We'd love to help you with your next move!
Disclaimer:  Our Friday real estate updates are meant to be a "roundup" type post where we discuss all listings in Stapleton, not just our own.  It's our way of making sure we follow the market closely and we share it with the Scoop readers because we know many of you like to track real estate in the area as well.  Many of the listings in these posts are not our company's listings and we wanted to mention that here to make sure it's clear. Thanks for reading the Scoop!