It's Friday, which means it's time for an edition of our weekly update on the Stapleton real estate market!  In this update we'll get you up to speed on the latest listings as always, but the star of this week's update is the Stapleton Scoop Open House Extravaganza!  (Read on to learn how you can get free gift cards, potentially win prizes and more just by checking out cool Stapleton open houses this weekend!)  Let's get to it…
New Stapleton Listings This Week
There are 12 new Stapleton listings that hit the market this week.  Here are a couple we want to make sure you don't miss:
7384 E 28th Ave:  This rare 3 bed, 2 bath condo for $350k has a highly walkable location and is in amazing shape!  Anyone looking in the $300k's in Stapleton knows this condo is a rare opportunity.  (you just can't find much in this price range and if you do it normally has less bedrooms and needs some work!) This home is not restricted to income qualified buyers and we expect it to go quickly!  You can check it out this weekend at our Stapleton Scoop Extravaganza (more details below).
5054 Uinta St: In the market for a ranch style home with great finishes and style?  Check out the new listing by our friend and fellow Realtor Jaryd Takushi with Kentwood Real Estate City Properties.  I love the natural light, tall ceilings, custom finishes throughout and the rare sauna in the master bathroom!  Looks like Jaryd is having an open house this weekend on Saturday from 1-3pm if you wanna swing by.
Speaking of open houses, I need to get you the info for our "Stapleton Scoop Open House Extravaganza" this weekend!  You'll wanna check it out, not only to see great Stapleton homes but to have a chance to win some free restaurant gift cards and to get a free $10 Starbucks card.  Below are the details: (almost said "deets" right there but remembered I'm 40 and assumed that slang is probably very dated)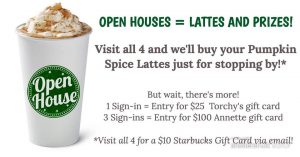 We're having FOUR Stapleton open houses tomorrow, Saturday 10/19, between 12pm and 4pm.  You'll want to sign in at the open houses to be eligible to win the prizes and to get your free Starbucks $10 gift card!
Here is a map of the 4 homes and below is a schedule.  To learn more check out this Facebook Event.
Here is a schedule and a link to each house's listing so you can check them out before you go:
12:00 PM – 3:00 PM
4975 Tamarac St
12:00 PM – 2:00 PM
11245 E 25th Ave
1:00 PM – 3:00 PM
5864 Alton St
1:00 PM – 4:00 PM
7384 E 28th Ave
Hope you come by the open houses, check out the homes and say hi to the Focus team!
Under Contract Stapleton Listings This Week
There were 11 homes that went under contract in Stapleton this last week.  The median "days on market" (which is how long a home is listed before it went under contract) was 28 days.  So sellers should expect their sale could take 3-4 weeks to go under contract this time of year.  (of course that can happen faster if the home shows great and is priced appropriately!)
Sold Stapleton Homes This Week
10 Stapleton homes sold and closed in the last week.  You can check them out in the link above if you want to snoop around a bit.
There are 64 total active Stapleton listings on the  market right now.  That doesn't include the new build options. Interested in the new builds?  Check out our Stapleton builder update page or check out our homesinNorthEnd.com page where we just put up our updated North End Builder Cheat Sheet.  The cheat sheet gives you a run down of all your new home series options and tells you the likely end price range.  Let us know if we can help, we do plenty of new builds and resale homes and love both options.
By the way, if you like the info you get from the Scoop, please sign up.  By doing that you'll get an email every other Friday with links to the latest posts.  You can do that here in just seconds.
Still haven't found anything interesting?  Here are some of our coming soon listings you may want to browse:
Focus Real Estate "Coming Soon" Stapleton Listings: (organized by price range)
Parkwood Homes Painted Ladies Model Home! Parkwood will soon be listing their gorgeous West facing, corner lot model home in Beeler Park for one lucky buyer!  Although it will be used as a model for 12-24 months, you'll be able to buy at today's prices and collect rent from an awesome tenant – the builder!  Listing super soon around $800k!
4 bed, 4 bath Thrive Home Builders home in Willow Park East.  This "ZEN" home will save you a ton on energy bills and it's beautiful!  It features 4 bedrooms, a finished basement, high end finishes throughout (including that white kitchen you've been wanting!)  Ballpark price low/mid $700s and likely to list around the end of 2019.
5 bed, 4 bath David Weekley with main floor bedroom suite in Willow Park East.  Light and bright with finished basement and low maintenance outdoor dining and turfed side yard.  Listing this Winter in the mid $600s.
4 bed, 4 bath modern Wonderland home just across from Swigert International!  Great floorplan with a main floor office, corner lot and even a fountain in the courtyard.  Listing this Winter in the mid $600s.
3 bed, 2 bath condo in the Westerly Creek neighborhood of Stapleton.  Mid $300k's.  Likely listing in October.
3 bed, 2 bath condo in the 29th Avenue neighborhood of Stapleton.  Mid $300s, located in the heart of Stapleton!  Two blocks from Founders Green. (This actually just went live – check it out here!)
Thinking about selling your home or need more information about how to purchase a new build? As always, if you're looking for a Stapleton-based agent (and neighbor) to help you find your perfect home – the team at Focus Real Estate is here to help!  My contact info is below if you want to chat.
Disclaimer:
Our Friday real estate updates are meant to be a "roundup" type post where we discuss all listings in Stapleton, not just our own.  It's our way of making sure we follow the market closely and we share it with the Scoop readers because we know many of you like to track real estate in the area as well.  Many of the listings in these posts are not our company's listings and we wanted to mention that here to make sure it's clear. Thanks for reading the Scoop!