Friday… time for our weekly update on the Central Park real estate market!
If you've been following Denver real estate stories in the news, like this one, you know that homes are selling fast and often for record prices.  (the average Denver price went over $600k recently!) So if you're a buyer you know it's more important than ever to stay on top of the market and get to the best new listings quickly. 
In this update we'll bring you all the new listings from the neighborhood this week as well as some info on new builds in Central Park and a nearby neighborhood, Painted Prairie.
Before we dive into local real estate for the week though I wanted to point out two Scoop posts we did recently that you might find valuable:
First, Mariel just published her latest "Inside Scoop" blog post on all the new businesses in the area.  These are some of our most popular posts (people love to be "in the know"!) and with this one having an update on the new "In-N-Out Burger" coming to the neighborhood we figure it will be no exception. 
Second, did you catch the ultra-comprehensive blog post Kailee Ackerman from our team did on the best 7+ passenger vehicles on the market!  She put so much detail into this post we're confident it will save some people a ton of time as they look for their next vehicle.  (Feel free to share it if you know anyone looking!)
If you find value in these types of Scoop posts don't forget to sign up here, that way you'll get an email from us every other Friday with the latest posts.
Ok, on to the real estate!
This week there are 14 new Central Park listings that have hit the market. Couple that with a weekend with sunny 80 degree weather and we expect it to be a busy real estate weekend!
Of the 14 new listings here are a few of our favorites:
The "lock and leave Colorado crash pad" (5819 Boston St):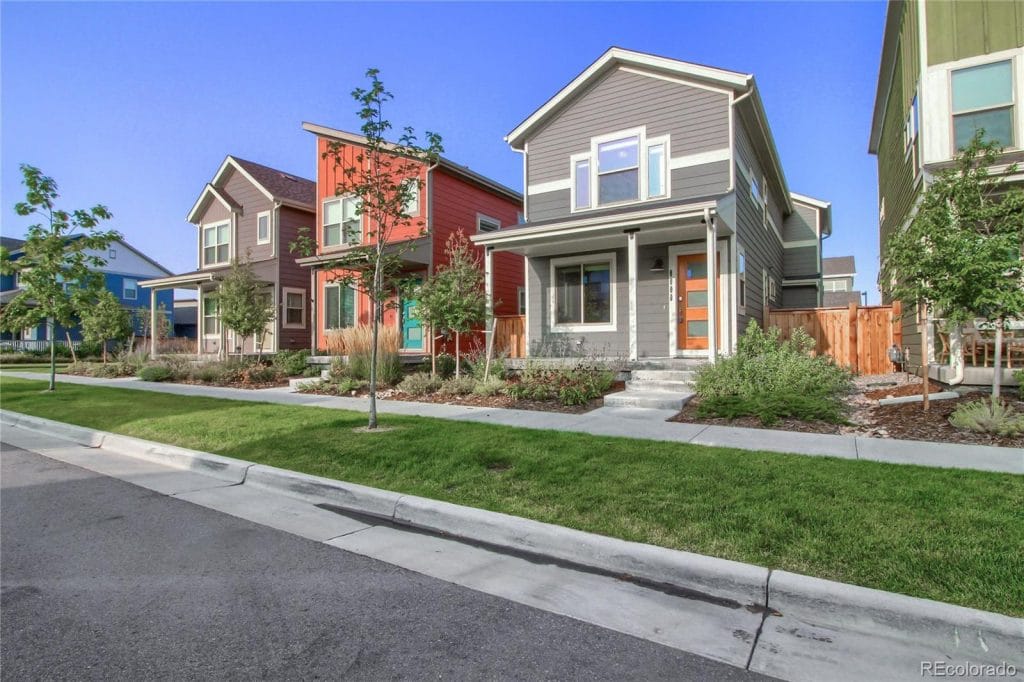 This Boulder Creek Builders "wee cottage" house is listed for $457,900 by Alex Johnson with Atlas Real Estate Group. We've had buyers love these wee cottages when they want a single family detached home but they don't want a lot of extra square footage or maintenance work. Even though the home is only ~ 1,400 sf it offers 3 bedrooms, amazing finishes (white kitchen!) and the low maintenance lifestyle some buyers are looking for in a home.
The "Infinity dream home" (9425 E 58th Dr):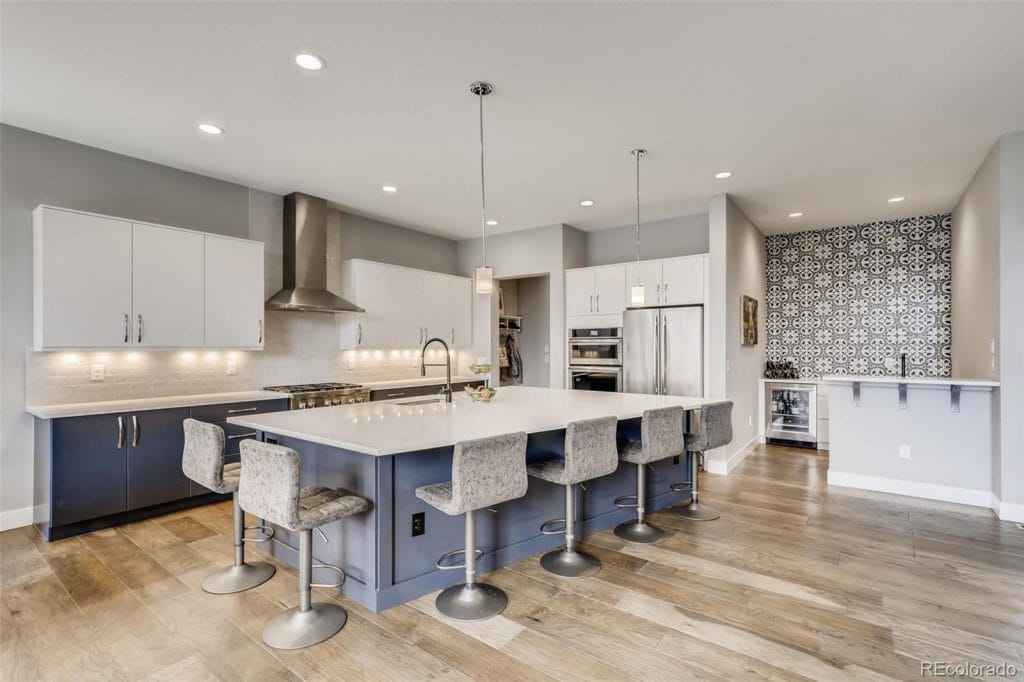 Ok the wee cottage in the last one wasn't the right fit for you…how about this decked out Infinity VIVE 2 home? Stacking doors that open to your backyard and outdoor fireplace, home theatre, fitness area, wide plank hardwood floors, hot tub…this one has all the bells and whistles buyers will love when we spend so much time in our homes these days. This home is listed for $1,070,000 by Liz Thompson with EXP Realty, LLC and it looks like she's having an open house this Sunday Sept 20th from 5:30 – 7:30 if you want to pop by.
The "Close to Everything home" (2172 Willow Ct):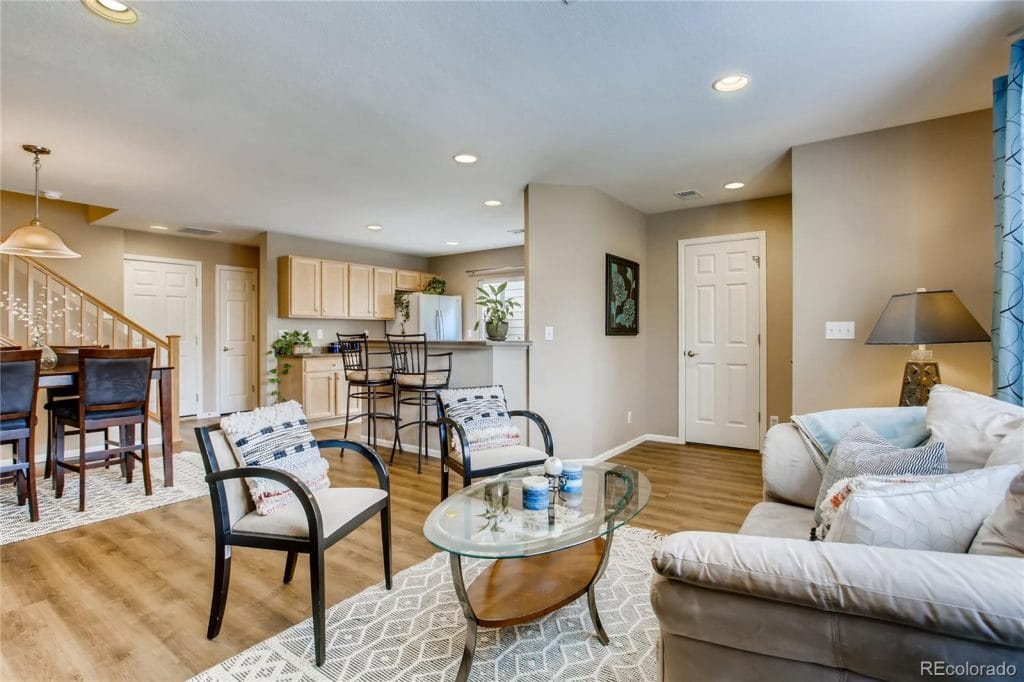 This brand new KB Home paired home listing on the South side of Central Park is listed for $450,000 and brought to you by Mariel Ross and Kailee Ackerman from our team at Focus Real Estate.  This home is right in the heart of the neighborhood, with quick and easy access to Sprouts,  80 acre Central Park, the Anschutz Medical Campus, Downtown Denver, light rail & more!  Homes in the mid $400k's are tough to come by so we don't expect this one to last long.
There were 12 Central Park homes that went under contract this week. You can check them all out in the link above.
Not seeing what you're looking for on the resale market? Two ideas for you!
First, there are still 600 – 700 new builds that will be built in Central Park!  These new builds are all located in the last phase of North End and builders are starting to release lots for sale.  So far Infinity and Parkwood have released lots and Thrive, KB Home and others plan to start releasing more lots in the next month.  Builders are starting to reserve lots though, so if you're looking to build a new home it's not too early to start!  We've set up a site where you can get the Scoop on the new builds and stay in touch via updates we send out.  Check that out at HomesInNorthEnd.com.
Second, there is a newer community called Painted Prairie that's just 15 minutes away from Central Park and has a ton of new build options in different price ranges.  Ashley Faller from our team is building a real niche expertise in that market and is your go-to resource for info in that area.  Check out her Facebook page dedicated to the area, Painted Prairie Living, for more information and her contact info.  She'd love to show you the area!
18 homes closed this week in Central Park!
Of these 18, two of them were homes that we at Focus Real Estate sold with our standard listing fees of 1.5%! So how much cash did those reduced commissions save our sellers? Let's crunch the math real quick and show you!
6110 Chester St:
Sold price $715,000
Listing commission of 2.8% would have been: $20,020
Focus listing commission of 1.5% instead: $10,725
Savings to Seller: $9,295!
3424 Wabash St:
Sold price $691,000
Listing commission of 2.8% would have been: $19,348
Focus listing commission of 1.5% instead: $10,365
Savings to Seller: $8,983!
As you can see, our 1.5% listing fees are saving sellers in Central Park real money! What could you do with that $9k in savings rather than giving it to your real estate agent? (I mean we'll take it if you want…but we figure you have some good ideas for the $!)
And the great thing is you're not choosing between neighborhood expertise and discounted commissions…we're giving you both!  If you want to learn more or connect with a Focus agent you can check out these buyer and seller FAQ videos we did or just contact me using my info at the bottom of this post.
There are 48 total active listings in the neighborhood right now. Given the current sales pace that means we have exactly 1 month worth of inventory available. That indicates it's still a strong seller's market.
Well that's a wrap for this week. As always, if you need help with your move our local team at Focus Real Estate would love to help.  My contact info is below and our whole team is here to serve.  Enjoy the beautiful weekend!
Disclaimer:
Our Friday real estate updates are meant to be a "roundup" type post where we discuss all listings in Central Park, not just our own. It's our way of making sure we follow the market closely and we share it with the Scoop readers because we know many of you like to track real estate in the area as well. Many of the listings in these posts are not our company's listings and we wanted to mention that here to make sure it's clear. Thanks for reading the Scoop!