It's almost that time of year – many of our local schools will be back in session … soon!
If you're like me and have been juggling the summer schedules of multiple children, I think it's safe to say this is one of the more exciting times of the year for us parents. And it's also this time of year when I feel most indebted and thankful for all our teachers, administrators, and support staff. They do one of the most important jobs I can think of, and I wish everyone the best for a smooth transition to the school year.
Now with that said, let's chat about the Central Park real estate market!
Here's one data point I wanted to focus on:
This week there are 53 total resale listings in Denver's Central Park!
In contrast, the week of January 7 there were approximately 10 total resale listings. And though inventory changes on a daily basis as homes are listed and sold, through a good part of the spring we consistently seemed to have around 10-20 or so total resale listings (give or take a few depending on the point in time you pull the data).
So what does that 53 number mean? Well, inventory continues to remain high. We have more homes to sell, and anecdotally what we've seen with home buyers across the Denver metro, there seem to be fewer buyers ready to pounce on listings these days.
You can blame interest rates, which are moving up, down, and sideways (pictures a seismograph machine measuring an earthquake), but there are likely many variables that are proving to be headwinds on the buyer side.
Here's what Freddie Mac said yesterday on interest rates:
"Mortgage rates remained volatile due to the tug of war between inflationary pressures and a clear slowdown in economic growth. The high uncertainty surrounding inflation and other factors will likely cause rates to remain variable, especially as the Federal Reserve attempts to navigate the current economic environment."
Ultimately, it seems we're continuing to move back to a more neutral market, where both buyers and sellers have leverage and smart marketing is more important than ever.
Our local real estate market is changing by the day – so get ready!
Last but certainly not least, my business partner and our managing broker here at Focus Real Estate, Joe Phillips, did a great video on the market shift we're seeing. Check out his Facebook video here.
Open Houses & Featured Listings
Be sure to swing by our team's open houses this weekend:
OPEN HOUSE: 12-2 pm Saturday August 6th
Looking for the perfect home with beautiful finishes and an amazing low-maintenance backyard? This meticulously crafted and cared for 4 bedroom, 3.5 bathroom Standard Pacific home welcomes you into luxurious everyday living with soaring ceilings and stunning warm wood floors.
8481 E. 54th is listed by Lisa Palladino and myself for $975,000.
Come say hi to Lisa on our team at her open house!
OPEN HOUSE: 12-3 pm Saturday August 6th
This brand new Brookfield Cadence floor plan features 3 bedrooms, 4 bathrooms, and since it's new the builder warranty still applies. Located in a fantastic spot in Central Park's North End neighborhood you'll be close to parks, trails, and the Rocky Mountain Arsenal.
6231 Dayton is listed by Ashley Faller for $575,000.
Come say hi to Ashley at her open house!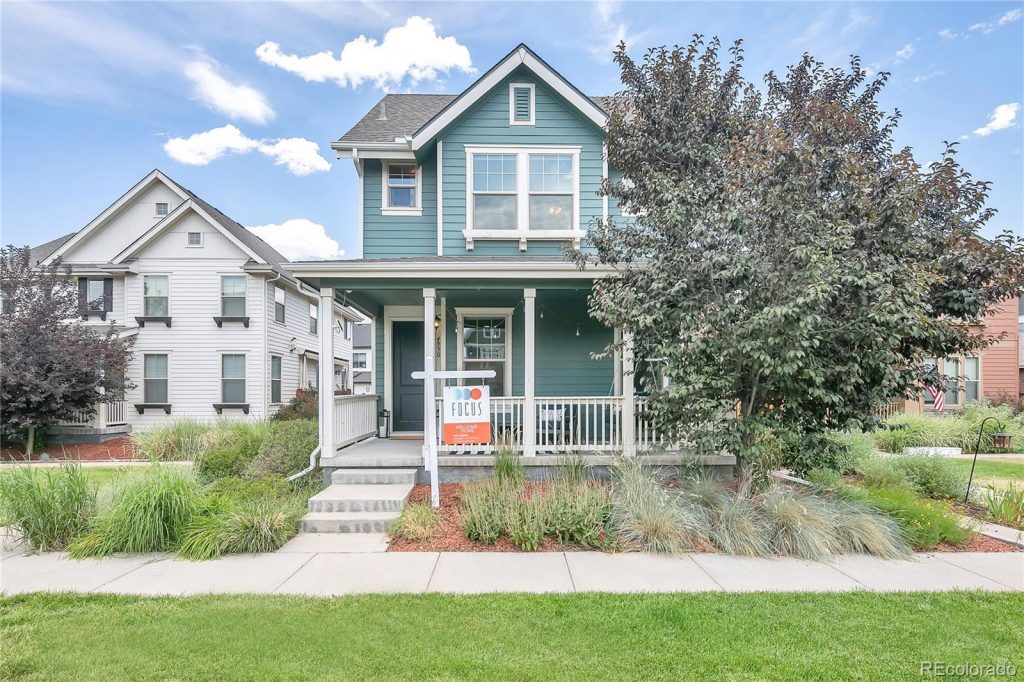 This darling KB courtyard home in a fantastic location in Conservatory Green. This home features 4 bedrooms / 4 bathrooms, a 2-car attached garage and over 2,800 sqft with beautiful upgrades throughout. Listed by Stacy Grissom and myself for $765,000.
Did you know?
Did you know our brokers work all over the Denver metro? From Erie in the north, to Castle Rock on the south side. We have you covered!
As one example of our listings outside Central Park, be sure to check out Kailee Ackerman's listings at 11785 Kittredge Street in nearby Commerce City. This 5 bedroom, 4 bath, 4,220 sqft home – with a POOL!!! – is listed for $735,000.
Whether you live in, or would like to purchase in, Central Park or anywhere else in the Denver metro, our 8 brokers here at Focus would love to help!
There are currently 53 active resale listings in Central Park.
This week we saw 15 new, non-builder listings in the neighborhood.
Right now there are 18 homes that are pending (meaning they are under contract, but have not yet closed).
And we also saw 10 homes close.
Disclaimer: Our Friday real estate updates are meant to be a "roundup" type post where we discuss all listings in Central Park, not just our own. It's our way of making sure we follow the market closely and we share it with the Scoop readers because we know many of you like to track real estate in the area as well. Many of the listings in these posts are not our company's listings and we wanted to mention that here to make sure it's clear. Focus and its agents make no representations, warranties, or guarantees as to the accuracy or completeness of any information in this post. Please confirm all information with your own advisors and do not rely on this post. Thanks for reading the Scoop!