Happy Memorial Day weekend! For many it's been a long and stressful week, so I hope you get a chance to enjoy a slow holiday weekend.
It feels like families are focused on year end school activities or weekend getaways, so we expected it to be a little bit slow this weekend on the real estate front. We also expect next week after the holiday to be pretty busy as buyers shift gears and try to make a move for the summer.
Before we jump into the new listings for the week, we wanted to share some construction updates on projects you may have noticed around the neighborhood.
First, let's make sure you have the scoop on the massive renovation of what my kids have always called "purple mountain park". Rebecca Fawcett from our team has the details in this post titled "Central Park Playground is Getting a Makeover!".
Second, we wanted to get you an update on Judi's House, the new 27k square foot facility being built for the non-profit at 25th Dr and Fulton (the huge building you drive by on the way to Stanley).  "The Scoop on Judi's House".
Finally, don't miss the latest on what David Weekley is building in the North End neighborhood. David Weekley Final Release of Cottages and Paired Homes.
Ok, on to the new listings for the week!
This week there were just 7 new listings that hit the Central Park market. As I mentioned above, we think it's a little bit of a slower weekend with people more focused on Memorial Day and end of year activities.
Of the 7, here are a few we wanted to highlight that a few of our friends in the real estate broker community are listing this weekend:
5493 Xenia St: $949,000
Listed by our friend Lori Pace with Kentwood Real Estate, this home boasts a modern, open floor plan and contemporary architecture with custom lighting and features throughout the home. We think buyers will appreciate the chef's kitchen, the 3 bedrooms + loft upstairs, the home office and the gorgeous primary suite which features two separate vanities and a spa themed rain shower with stone flooring.
Outside you'll find a low maintenance oasis with an oversized patio and a Jacuzzi perfect for year round entertaining and outdoor Colorado living!
10297 E 31st Ave: $650,000
This townhome, listed by Shaylisa Turner with Porchlight Real Estate Group, is just a one block stroll from all the shops and local restaurants that the Eastbridge Town Center has to offer. (That's dangerously close to Cholon, Cativella and Constellation…) The first thing that stands out to me is the abundance of natural light due to the home's South facing corner lot orientation. I love the soaring ceilings in the great room which is centered around the cozy fireplace.
The home features 3 bedrooms, 2 of which are primary bedrooms with their own ensuite bathrooms. Don't miss the built ins, plantation shutters and private patio too.
This week 20 homes went under contract this week in Central Park. That activity absorbed a lot of the available homes that were on the market, although we expect more inventory to start coming online again next week after the holiday.
This week 34 homes closed in the last week in what I like to call the "whoa, look what homes are selling for!" section. This has been a fun section for sellers, but not as fun for buyers looking to get into the market. With interest rates having jumped quite a bit in the last 2 months, we are seeing less buyer competition though, which could lead towards a more balanced market. That would be refreshing for buyers who have had zero leverage for quite some time now.
Right now there are 31 active resale homes on the market in Central Park. That's still extremely low given we have over 9,000 homes in the neighborhood.
If you're in the market for a modern town home here is one you don't want to miss:
Listed by Ashley Faller of Focus Real Estate for $715,000, this beautiful townhome is situated in a perfect location overlooking our beautiful Central Park, it's close to the Stanley Marketplace and it's near the 29th Street Town Center. It features 2 bedrooms upstairs and another in the large finished basement!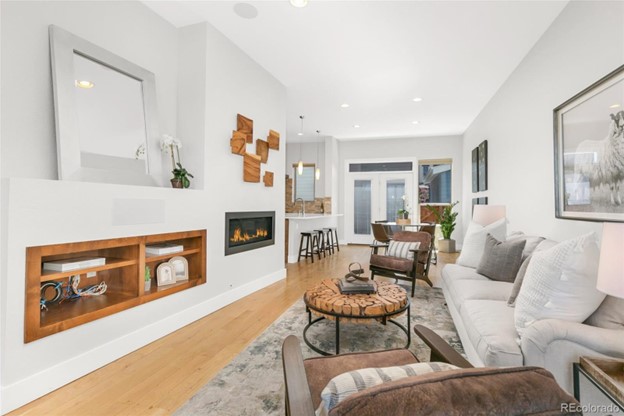 **Focus sells homes for a 2.0 % listing commission. Neighborhood experts, flexible commissions**
Well that's it for this week's update on the Central Park real estate market. If you ever need assistance from a team of local experts we'd love to help! I can be reached at joe@focus-realtors.com or (720) 299-1730. Call or text any time!
Disclaimer:
Our Friday real estate updates are meant to be a "roundup" type post where we discuss all listings in Central Park, not just our own. It's our way of making sure we follow the market closely and we share it with the Scoop readers because we know many of you like to track real estate in the area as well. Many of the listings in these posts are not our company's listings and we wanted to mention that here to make sure it's clear. Thanks for reading the Scoop!