Thinking about building in Central Park's last neighborhood, North End … but nervous that lot availability, your favorite floorpan, your timing, your ideal yard size, or something else might not work out before North End closes out for good?
North End is one of the last large infill new home neighborhoods close to central Denver. As you'd imagine lots and homes have been selling very quickly. The reality is there are still many new home opportunities in North End. For example, check out Joe Phillip's latest Scoop post David Weekley Homes New Builds Available Now in Central Park!.
But the reality is also that North End will sell out sooner rather than later.
Here at Focus Real Estate we have 3 new beautiful resale listings this week. Check them out below! These are always wonderful options even if you're thinking about building.
But if you're new home-focused only, where else might you look outside North End? Where do we see our clients building outside Central Park?
Be sure to check out My 5 favorite new home communities around Denver right now. From Windsor to Castle Rock, we walk through some of our favorite new home communities – and we have clients who have built or are building in all these neighborhoods.
(*Quick Tip* – The good news is you can use a real estate broker if you build in just about any new home community along the Front Range. The even better news is your home is the same price whether or not you use a broker. Your builder pays your broker separately, and there's no pricing impact to you. Check out How does a realtor fit into the new home construction process (and … what's the cost)? for more.
Before we dive into the new listings, a quick segue to some of my other favorite recent Scoop posts:
Lisa Palladino wrote a great post on all things skiing in Colorado: The Scoop on Ski Season in Colorado – Winter 2021/2022.
Rebecca Fawcett covers Denver Arts Week in this post: Denver Arts Week is Nov 5-13!
I also love Joe Phillips' latest post: Considering Fostering a Child? 10 Common Questions Answered!
Last but not least, be sure to check out Joe's video where he chats about an extended rate lock program offered by one of our lender partners, Peyton Fullerton of Fairway Mortgage. Peyton and Joe do a great job of walking through one thing our buyers who are building new homes worry about – interest rate changes – and how this program can reduce your risk in that area.
Now, on to the real estate update!
9 new listings went on the market in Central Park this week.
This might just be the best luxury home deal in all of Central Park right now.
This 5 bedroom, 4,100 square feet home has soaring ceilings, including a two-story grand foyer. Meticulously maintained and "turn key ready", this is exactly the type of home I was talking about above – if you are focused on new construction, this resale is as close to new construction as you're going to get and could be a great option for you.
I especially love the sun-drenched gourmet kitchen. If you're like me you probably spend a lot of time in your kitchen, and having features like a large granite island, double oven, light-colored cabinets, stainless steel appliances, and a dedicated coffee bar can make all the difference.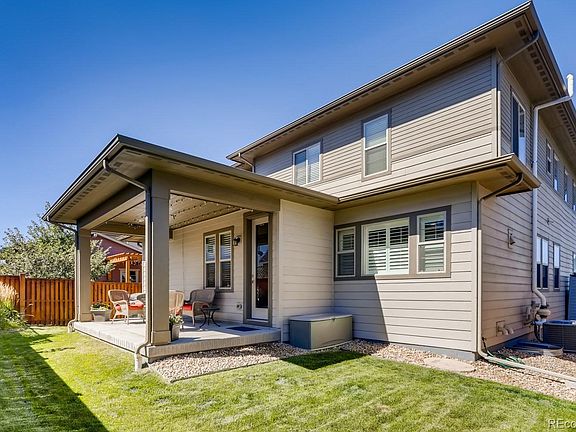 We also hear from buyers – quite often actually – that they really need 4+ bedrooms on the same floor. The second floor of this Standard Pacific built home in Willow Park East has the highly coveted 4-bedroom layout and laundry room you might be looking for.
With multiple outdoor spaces, the backyard catches the southern sun perfectly, and the adjacent covered patio is optimal for enjoying the amazing Colorado sunsets. An inviting front porch and extra patio located directly off the extra-long driveway is a bonus. And don't forget about the oversized garage!
8424 E. 55th Place is listed for $870,000 by Lisa Palladino and Mariel Ross of Focus Real Estate.
You'll love the unobstructed mountain views and walkability of this 4 bedroom, 3.5 bathroom home. Walkable to the F15 pool, Eastbridge, Stanley Marketplace, and more – also with a corner lot and open concept layout – this home is a great option if you need to commute to the Anschutz Campus, for example.
The main level includes hardwood floors, tall ceilings, door and window trim, and incredible oversized windows with custom solar shades. A stone flanked gas fireplace and custom built-in create a statement in the cozy living room that sits adjacent to the dining space and kitchen, allowing for excellent entertaining; no one gets left out!
The partially finished basement includes a large living room, bedroom with a walk-in closet, and a full bathroom with tub/shower combo. The additional unfinished space would make an exceptional workshop or home gym. The garage also has a 12' ceiling, natural light and exterior access to your private south facing yard.
2552 Iola Street is listed for $715,000 by Ashley Parsons Faller of Focus Real Estate.
This 4 bedroom, 3.5 bath home on Bouquet Park in Bluff Lake has stunning mountain views from the 3rd floor – and I mean stunning! Grab your morning coffee and step out onto the rooftop deck, or in the evening grab your favorite adult beverage and enjoy the big vistas. Regardless of what time of day you step out onto the deck, you're going to love the wonderful, expansive views that only a 3rd floor rooftop deck gives you.
Speaking of the 3rd floor, the sunny loft on the 3rd floor is one of my favorite rooms in this house. It also has incredible views of the Front Range and could become your perfect home office, playroom, bedroom, flex space, and more. I love the versatility of the space!
The main level of this David Weekley includes hardwood floors, tall ceilings, and elegant plantation shutters. The kitchen features a beautiful granite island that contains a gas cooktop with a hood, large sink, convection oven, stainless steel appliances, breakfast bar, soft close drawers and ample storage space.
11396 E. 27th Avenue is listed for $850,000 by Mariel Ross of Focus Real Estate.
5 homes closed this week in Central Park.
There are 12 total active listings in the neighborhood right now.
As always, if you need help with your move we'd love to help. My contact info is below and our whole team is here to serve. Have a great weekend!
**Focus sells homes for a 1.5% listing commission if you also buy your next home with us. Otherwise our fee is 2%. Neighborhood experts, reduced commissions**
Disclaimer:
Our Friday real estate updates are meant to be a "roundup" type post where we discuss all listings in Central Park, not just our own. It's our way of making sure we follow the market closely and we share it with the Scoop readers because we know many of you like to track real estate in the area as well. Many of the listings in these posts are not our company's listings and we wanted to mention that here to make sure it's clear. Thanks for reading the Scoop!