Summer is in full swing up here in the mountains. We have had a wetter weather pattern, which has lowered the fire danger and smoky conditions of the past few years. I hope you all can come up to enjoy the lower temperatures, sunny mornings, and endless activities (you can check out some fun events in this post).
Here is the monthly Summit County residential real estate snapshot report for June 2022.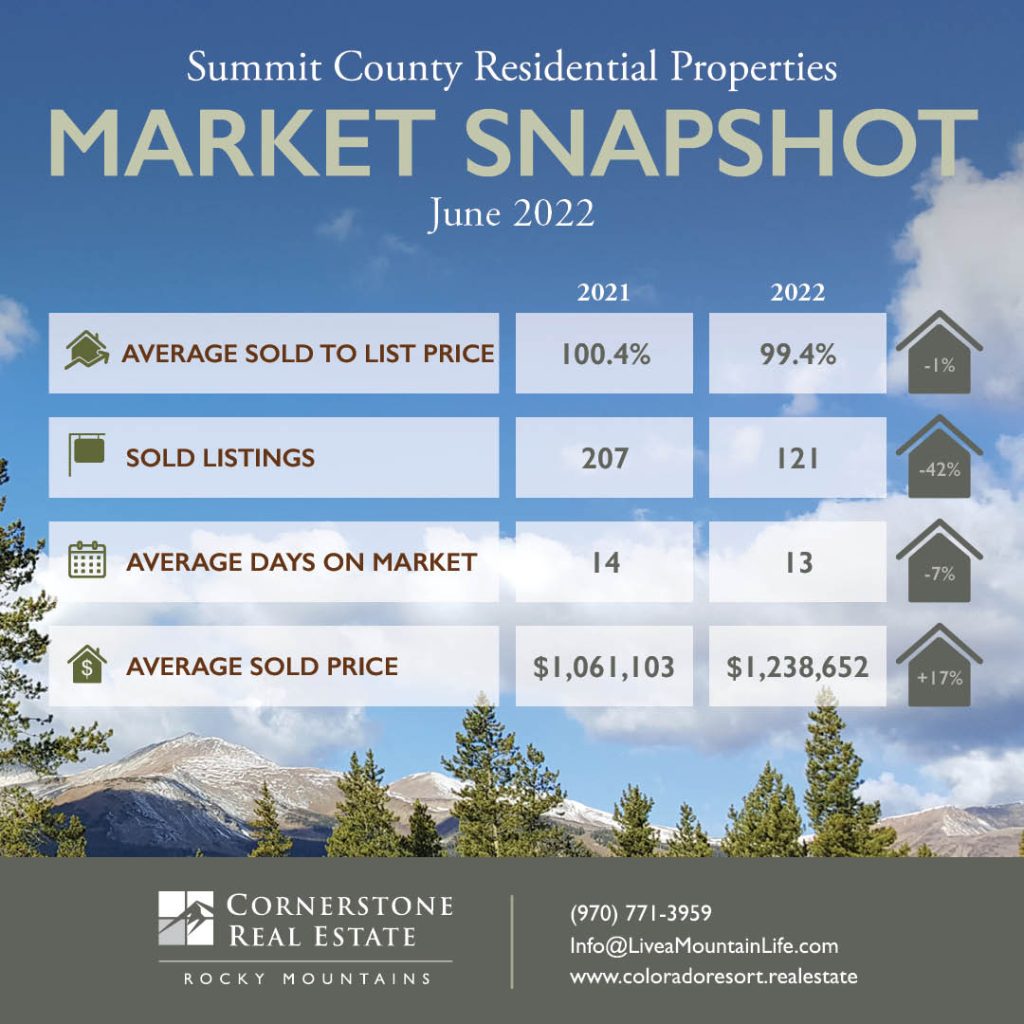 The market is finally starting to see a larger shift to more of a balanced market. We have seen the inventory spike in the last couple of months. However, we are still below what was normal back in 2019 and 2018. Average prices remain well above last year by very large margins (30% for single family homes and 20.9% for multi-family residential). However, we do not expect to continue to see these meteoric rises in prices with the new market dynamics. While inventory is much higher, demand has also slowed down and we are seeing fewer transactions than we had during this time of year in 2018 and 2019. Higher supply and lower demand is bound to slow the frenetic pace of sales and competition between buyers that we had been experiencing. This is already showing with the sold-to-list price percentage dropping below 100% for the first time in a while.
We will continue to watch the numbers closely over the next few months. Our inventory typically peaks out for the year in July and August, so it will be very interesting to see if that happens again, or if it continues to rise through the fall months.
The short-term rental rules also continue to change and be a topic of discussion for all our local governments throughout the county. The rules continue to evolve and most recently, Summit County enacted a 9-month moratorium on new licenses in unincorporated areas of the county (not resort zones). If you have any questions about how this may affect your buying decisions, give me a call anytime and I am happy to help you get the information you need. 
Want to learn more about real estate developments in Summit County? Check out this post.