Leave it to Parkwood Homes to bring another classic, iconic style to Stapleton! This week, Parkwood announced their Painted Ladies collection, a nod to the unique homes native to San Francisco, but with a distinctly Stapleton twist. Yes, they'll have all the detail and woodwork you would expect from a home with this inspiration, but unlike their San Fran counterparts, these floorplans include wide open spaces, extended kitchen islands, 2-car attached garages and all the energy efficiency of a new Energy Star certified home! Of course the best part is that it's a Parkwood, which means you're building a semi-custom home where you can refine and edit floorplans, add built-ins, design your stunning outdoor living and create a home as unique as you are.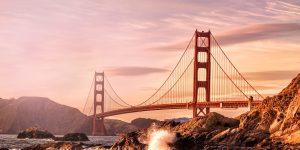 Did I mention you can get a west facing deck? Yep – west facing on the 4th floor…and you know what that means! Hello Mountains!  Oh, and did I mention that the first Focus Real Estate client to contract and close on a Painted Ladies Collection home will earn a free weekend trip San Francisco?!  You heard that right, Joe, Amy and I are giving away 2 nights with airfare to San Francisco to check out where your iconic home was born!  Pop us an email for details (and feel free to pack one of us in your suitcase).
Where are they located?
There will be 9 Painted Ladies on a beautiful parkway in Beeler Park (8 homes and 1 model). The first four lots will be released and available for reservation Saturday, 3/17. See lot location map here and be sure to call me to help you reserve one!
How big are they?
Each floorplan starts just shy of 2300 sqft with the option to add a 4th floor and/or garage level finished square footage (adding more than 1200 additional sqft). The base plan will have 3 bedrooms with options to get to 5, perhaps even 6 bedrooms! Another neat feature of these homes is that they are attached on the garage level, but the rest of the home is detached, so you really get the best of both worlds!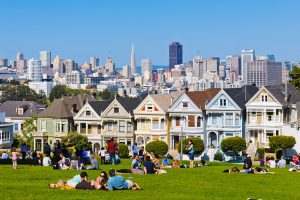 How much will they cost?
Starting in the mid 500s, I estimate "all in" costs will be in the high 600s to low 700s. I'm assuming you'll want to finish the top floor and add some fabulous porches – since if you snag one of these, you really have to! I would be happy to do a pricing workup if you'd like to see if one of the amazing homes could fit your needs and budget.
Painted Ladies Collection Floorplans (The Fillmore has the option for a 4th floor west facing deck and the Mill Valley has an optional 4th floor side deck so you can see the rest of the neighborhood (South), downtown AND the mountains!
Painted Ladies Floorplan Brochure
Painted Ladies Standard Features Flyer
Did you miss the launch this past Tuesday? Check out our video with Logan Wilcox, Vice President of Parkwood Homes, to get the full experience!