There's a lot going on in Denver's Central Park these days!
As a co-owner of Focus Real Estate, I track the latest business news around the neighborhood. Last year we featured 100+ local businesses here on the Scoop, all at no charge. If you have local business news you'd like to share email me at Mariel@Focus-Realtors.com.
I'm thrilled we were able to feature in this Inside Scoop post four new businesses that were all recently opened by local Central Park residents. Beeler Perk, Fit Learning Lab, Club Pilates, and TWST Fitness are all locally-owned.
And that's not all. Another locally-owned business, Mici Handcrafted Italian, recently secured commitments to open 50 new locations in different markets throughout the country. Congratulations to Mici and all our other local business owners!
Here at the Scoop and Focus, 8 of our 12 team members are local as well. Our offices are at Progress Coworking, close to Stanley Marketplace. We're proud supporters of Central Park! We've also been fortunate to grow over time and now have brokers in Erie, Castle Rock, and central Denver who help clients buy, sell, and build homes.
Last but not least, check out Ashley Faller's real estate update to see 3 of our team's new listings that just went live this weekend.
Now, on to the business updates!
Dutch Brothers site for sale for $2,687,500
The Dutch Brothers site located at 4601 Peoria Street is for sale for $2,687,500. According to Loopnet.com, the one story building has 14 parking spaces and was built in 2020. The location has approximately 862 square feet on an estimated .82 acres parcel of land. The sale price is for the land, building, and accompanying lease (Dutch Brothers is the tenant).
We're not commercial brokers here at the Scoop so if you have any questions please reach out to the listing agents: Glen Kunofsky, Alexandre Marietto, and Alexander Doolin at Marcus & Millichap (212-430-5115).
Locally-owned Mici adding 50 locations
Mici Handcrafted Italian, which is locally-owned by a Central Park family, recently announced that it is working with franchisees to open more than 50 locations. Where is Mici expanding to? Right now the goal is to open restaurants in Phoenix, Texas, and Detroit.
Mici operates seven corporate-owned locations around Denver and Colorado Springs. Our local Central Park Mici is located at 2373 Central Park Boulevard and is open daily. Check out Mici's website and order online here. Congratulations Mici!
Annette celebrates 5 years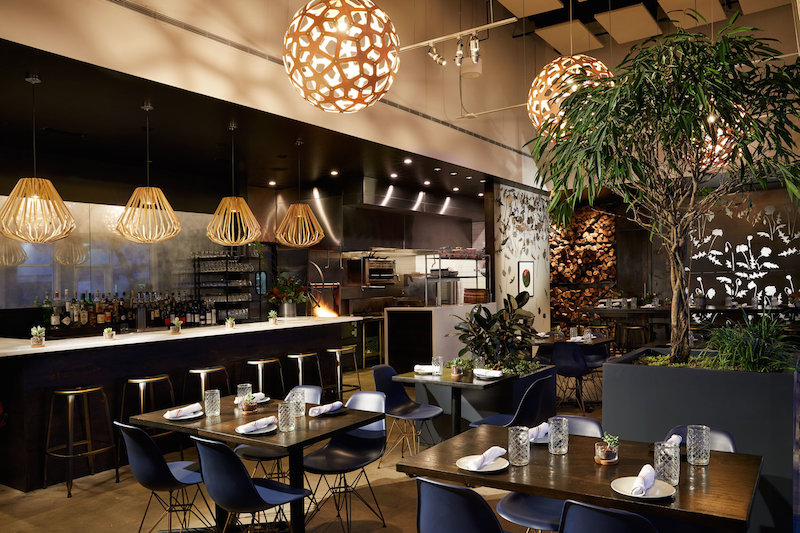 A quick shout-out to Annette for recently celebrating its 5 year anniversary!
Consistently ranked as one of the best restaurants in Denver, Annette serves scratch-to-table and wood-fired fare sourced locally and with the seasons that honors food producers, nourishes consumers, and embodies craftsmanship, creativity, and rustic simplicity.
Annette is located in the Stanley Marketplace. You can learn more about Annette here.
Wicker Park resident opening a new education lab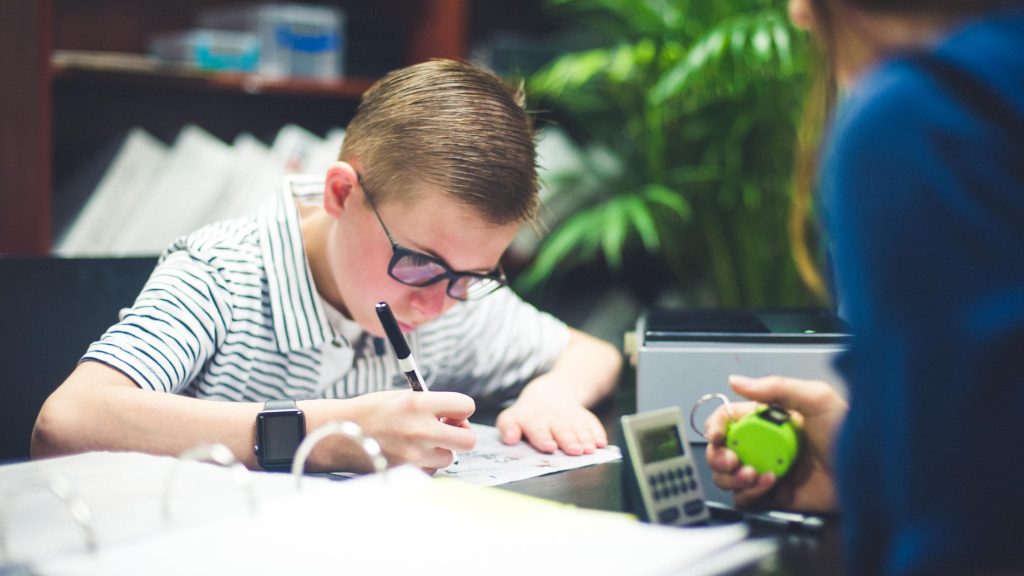 Local Central Park resident Sarah Howard is opening a new Fit Learning Lab in Central Park. While Fit Learning waits for its new facility to be completed, Fit is offering virtual services and the occasional in-person sessions in Sarah's home office in Wicker Park.
Fit Learning provides intensive one-on-one instruction in core academic skills using Precision Teaching and Direct Instruction during gamified and fun sessions where kids earn points and prizes for improving on their previous scores.
The Fit Learning Method is designed for every kind of student. Our adherence to the principles of learning science, a precise progress monitoring system, and a combination of evidenced-based instructional approaches enables us to rapidly accelerate the learning abilities of ALL students – regardless of age, disability, challenge, or label. Since 2003, Fit Learning Lab has dramatically improved the cognitive skills and academic performances of a vast range of students.
You can check out Sarah's Scoop post about Fit Learning here. We'll update you on the Scoop when Fit opens. You can also contact Sarah at: sarah@fldenver.com and check out more at www.fitlearners.com.
P.F. Chang's is coming to Northfield
A few weeks ago we learned that P.F. Chang's is coming to The Shops at Northfield. P.F. Chang's plans to open a full service sit-down restaurant in mid-2022. While we're not 100% sure where the new restaurant will be located in the shopping center, early reports suggest the old Toby Keith's "I Love This Bar & Grill" restaurant space, just southeast of Target, could be the restaurant's future home.
We stopped by the empty storefront the other day. As you can see from the picture above, it appears some type of work is going on inside the old Toby Keith restaurant space.
We'll update everyone on the Scoop when we learn more about P.F. Chang's projected opening date.
Central Park resident opens TWST Fitness
Local Central Park resident Kerri Schoen recently opened her own studio here in our neighborhood, TWST Fitness. TWST is focused on total well-being and centered around community.
Lisa Palladino of the Scoop stopped by to chat with Kerri the other day. You can check out Lisa's full article and interview here.
Here's a quick excerpt where Kerri describes how TWST came to be:
"TWST fitness began day one of the Pandemic. The world was shutting down. I took my clients to online to workouts, all without missing a day.
Most of the clients didn't have any home equipment, so I loaned out all the equipment I had access to for clients to do home workouts. Many clients used paper plates as floor sliders, it was amazing how we all did the "Pivot" to keep consistency and community in the midst of quarantine.
After this profound life changing event, my husband Doctor Jonathan Schoen encouraged me to stretch my wings and open up my own studio.
After training in Denver and working for other owners for 20 years, this was always a dream. I had the community behind me and most importantly my husband… So I leapt, with both feet.
The TWST Fitness doors opened on November 1st 2021 and all of my clients were there for me, I was in awe."
TWST Fitness is located at 2525 Geneva Street, Suite 1, Aurora, Colorado 80010. You can also check TWST out online here: www.TWSTfitness.com.
What's going on with the new QuikTrip station and regional HQ?
We stopped by the new QuikTrip location at 40th and Central Park Blvd the other day (south of I-70, across from Starbucks). As you can see, the convenience store is under construction and the gas pumps are going in.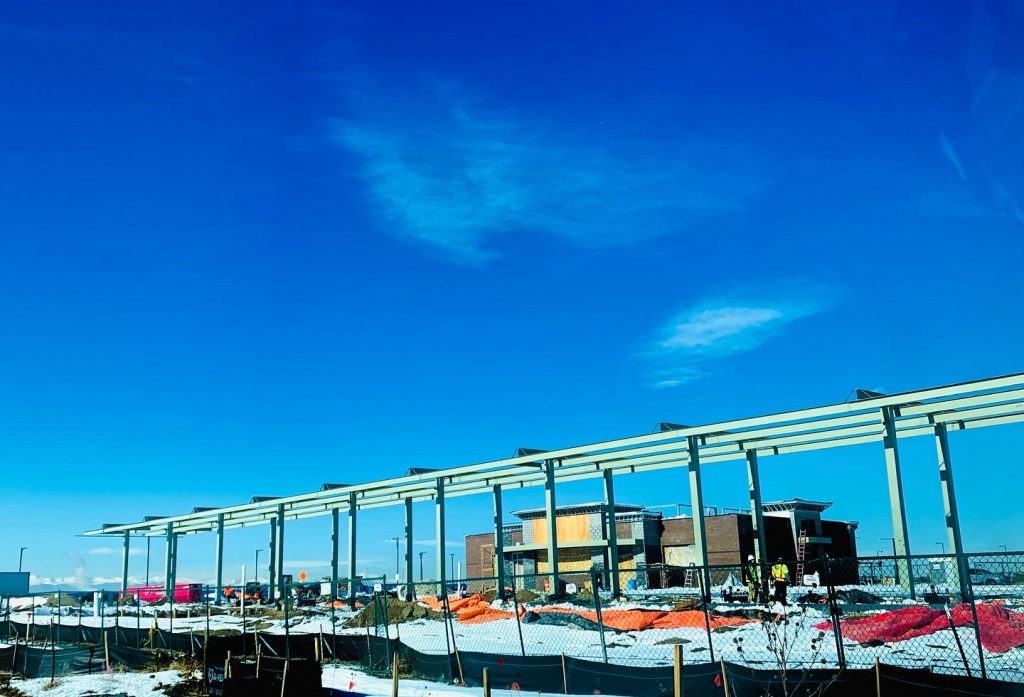 We've also heard that QuikTrip could be opening its regional headquarters in or close to Central Park. Interestingly, QuikTrip also recently leased space at 9305 Northfield Boulevard – just down the street from Anytime Fitness, Freddy's, MOD Pizza, and more.
The Midwest-based convenience store chain plans to open 50 to 70 locations in the Denver metro area.
We don't have confirmation yet on what QuikTrip's plans are in Northfield, but we'll update everyone on the Scoop when we learn more.
Kabod Coffee opens new DIA location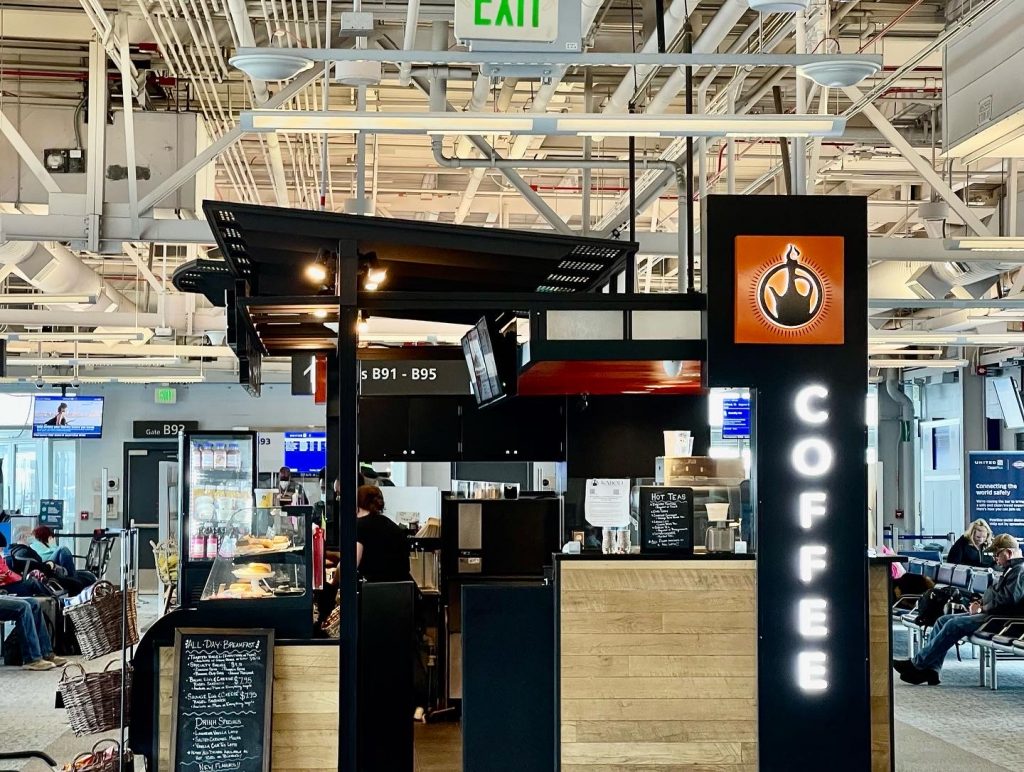 The Scoop recently stopped by Kabod – Organic Ethiopian Coffee at DIA. Kabod's first location is in Central Park off Northfield Boulevard (next to Anytime Fitness, Freddy's, MOD Pizza, and more).
Owned by Muluye Hailemariam, Kabod's coffee is roasted in Northeast Denver and features baked goods from Share Goods, a local, women-owned company. Kabod is woman and POC-owned and also part of DIA's Airport Concessions Disadvantaged Business Enterprise Program. The new location is in the main terminal on Level 6 near United's ticketing area. The kiosk we stopped by is in Concourse B (close to Gate B90 – the two pictures in this post are of the kiosk).
Kabod's Central Park location is at 9165 Northfield Boulevard. We heard that Kabod's Northfield location is temporarily closed and is making modifications to the kitchen for a new hot breakfast menu, so we're eagerly anticipating when our local Kabod re-opens!
You can check out Kabod's website here.
Ike's Love & Sandwiches now open in Central Park
Lisa Palladino of the Scoop went by to check out the new Ike's Love & Sandwiches sandwich shop recently. The new restaurant is located at 8300 E. 36thAve., close to Sprouts and next to the new Club Pilates.
Ike's Love & Sandwiches began in 2007 in San Francisco and quickly grew to over 100 locations around California. A cult following has surrounded Ike's due to their love-for-all attitude (vegan, meat lovers, vegetarian, halal and gluten-free), top notch customer service and delicious sandwiches.
Lisa chatted with the Central Park franchise owner, Blair Woodfield. You can check out Lisa's interview here.
Club Pilates opens next to Sprouts and Light Rail Station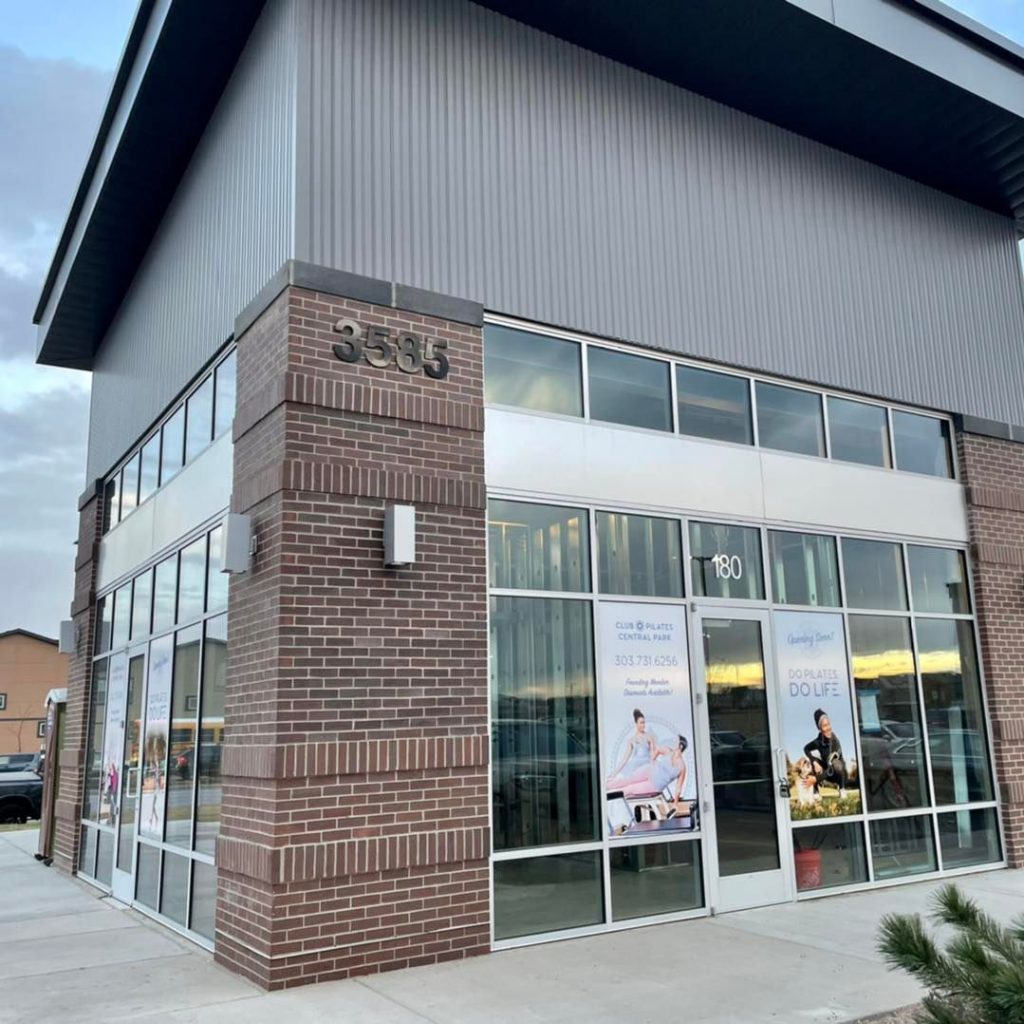 The new eagerly-anticipated Club Pilates next to Sprouts is now open. Rebecca Fawcett of the Scoop recently met with Andrea Cummingham, owner of the the Central Park Club Pilates, to get all the details about the new studio.
Club Pilates offers 50-minute classes with a fit for everyone using four level of advancement: Foundation, Progression, Evolution and Mastery. The full-body, low-impact workouts offered at Club Pilates provide a high-impact challenge to the stabilizing muscles of the core. In Club Pilates' studio, you'll find the Reformer, EXO-Chair, Bosu Ball, TRX Suspension Trainer, Springboards and more.
As a mom, I'm always on the hunt for fun, new programs and classes for my kids. This class at Club Pilates caught my eye:
Teen: Good habits start young (Level 1, 1.5)
"Earn a competitive edge in your favorite sport. The perfect class for athletic or inactive teenagers, CP Teen aims to build healthy habits in young participants. Build self esteem, strong muscles, and coordination in a body that is changing and growing. Club Pilates is a fun, safe environment where proper movement and body alignment is learned using the Reformer, Springboard, TRX and more."
The new studio is located at 3585 Central Park Blvd, Suite 180. Here is Rebecca's interview on what to expect! You can also check out Rebecca's article here.
The Shops at Northfield sell for $71 million
Multiple news sources have reported that The Shops at Northfield was recently sold by QIC, an Australian firm. QIC purchased the shopping center in 2017 for $86.9 million.
The buyer of the 769,359 square foot, almost 90 acre shopping center is Stockdale Capital Partners. The sale doesn't include a number buildings that are owned by third parties, such as Target and Bass Pro Shops.
We'll update everyone on the Scoop when we learn what Stockdale's plans are for The Shops at Northfield.
Summer camps … it's time to start planning!
It's February … so time to think about summer camps! Wait, what? If you're new to the game, many camps are already filling up this time of year.
Our local summer camp expert here at the Scoop Ashley Faller dug deep again this year and has all the details you need on more than 40 summer camps.
Check out all the summer camp options here.
In case you missed it …
Local resident starts Beeler Perk specialty mobile coffee
Central Park resident and Scoop friend Cindy Wright recently decided to fill a need on the north side of I-70 for European-style gourmet coffee.
The Beeler Perk is open in front of the Beeler Park splash pad or close to the Shops at Beeler Park from 7:30 AM – 11:30 AM from Monday through Saturday.
With an emphasis on locally-sourced products – Cindy uses Little Owl coffee beans, which is a local downtown Denver roaster, and Longmont Dairy milk products – Beeler Perk is a great option.
With a delicious maple bourbon latte in hand, Kailee Ackerman of the Scoop chatted with Cindy the other day. You can check out Kailee's Facebook Live video here.
Order online and learn more here. You can email beelerperk@gmail.com with any questions or suggestions as well.
Punch Bowl Social site sells for $8 million; FlyteCo Brewing moving in
The former site of Punch Bowl Social – the iconic airport control tower – recently sold for $8 million according to several news sources. What's the plan for the site? Well, an aviation-themed brewery, FlyteCo Brewing, is planning to open a 17,000 square foot brew pub concept in 2022 in the control tower.
Ashley Faller chatted with the team behind FlyteCo recently. You can check out her article and interview here.
So … where around Denver are our clients building new homes?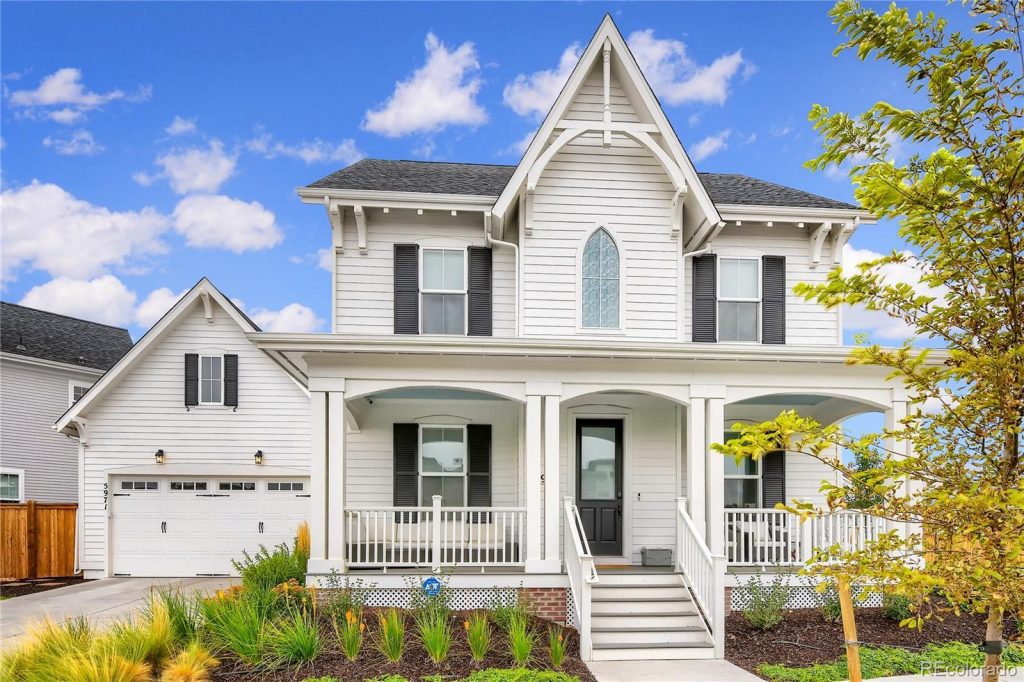 One of my favorite jobs here at Focus is helping our clients budget for, design, and build new homes all around Denver. In fact, as I'm writing this I'm getting ready to head over to the design center to meet with our clients who are building in a new, popular Shea community next to Chatfield State Park called Solstice. Our goal? Pick out the best combination of upgrades, appliances, flooring, and more to maximize what our clients can get – all within their budget.
Here's a fun fact: almost every builder in Central Park and every other new community in Denver will pay your broker a separate commission, with no impact on your purchase price. So our new homes services are at no additional cost to you. From lot selection to "all-in" estimated budgeting to design consultations to a free predrywall inspection by a professional inspector to a free 3D digital model of your home and much more – we can help you build the home of your dreams anywhere in Denver.
We've helped clients build in Central Park, Sterling Ranch, Macanta, Painted Prairie, RainDance, Solstice, Wild Plum, The Canyons at Castle Pines, among other Denver new home communities. If you're interested in building a new home in Central Park – or anywhere else around Denver – we'd love to help.
Last but not least, don't miss this post if you love new homes:
My 5 favorite new home communities around Denver right now
So there you have it, friends! Be sure to follow the Scoop on Facebook and Instagram. 
If you missed our other recent neighborhood updates, here they are:
December 2021: Inside Scoop: Little India opens, FlyteCo Brewing coming, Beeler Perk coffee arrives, $6.3M parcels next to the Stanley for sale, See's Candies opens, car wash for sale for $2.15M … and more!
August 2021: Inside Scoop: Spanish churros and chocolate, Popeyes across from Northfield High, yoga with puppies, sneak peek at the new (big!) QuikTrip, Aerial Cirque, and more!
June 2021: Inside Scoop: In-N-Out site update, new coffee shop (with beer!), $4.6M deal, Kung Fu Tea opens, "Shark Tank" doughnut shop is here, Epic Cycles opens, and more!
May 2021: Inside Scoop: Ike's Love & Sandwiches, Popeyes rumors, Doughnut Club coming, new hospital opens, 6 story building next to Sprouts … with a rooftop deck, and more!
April 2021: Inside Scoop: Little India coming, Tattered Cover's big news, corporate HQ planned, patio lounge to debut, dog-friendly bar with volleyball & bocce coming, and more!
March 2021: Inside Scoop: Stanley news, Raising Cane's coming, Hook & Reel for sale, a hiking trail from Central Park past Boulder, and more!
January 2021: Inside Scoop: $77m deal, Natural Grocers coming, new Sprouts tenants, Chook opens, Dirty Laundry is here, and more!
September 2020: Inside Scoop: new Starbucks gains steam, In-N-Out coming, 12-yr-old's bike ramps go big, James Beard winner opening new restaurant, and more!
July 2020: Inside Scoop: $85M deal closes, 150 jobs at new Northfield hospital, Sprouts update, Mamabird Interviews, luxury condos open with saltwater pool and beer garden, and more
May 2020: Inside Scoop: New Starbucks, farmers market is on, Sprouts opening and hiring plans (110 jobs), big real estate news, famous dumpling shop opens, and more!
March 2020: Inside Scoop: Kung Fu Tea, a new hospital, Lady Justice Brewing, a $21.1M deal closes, Carm & Gia, Stanley updates, and more!
February 2020: Inside Scoop: An Indoor Ski Hill, Beeler Park's Pho Spot, Primrose Update, Third Culture Bakery, a Famous Dumpling Shop Opening Soon, Boost Hydration, and More!
June 2019: Summer Scoop on Sprouts, Punchbowl Putt-Putt, a new Primrose, and more!
July 2019: Inside scoop: A new Starbucks, 7 new stores coming to Beeler Park, grocery store rumors, what's up with North End's pool, and more!
October 2019: Inside Scoop: Illegal Pete's, a famous dumpling shop, Cholon, two new pizza joints, a Disney store, and more!
*Focus is a residential real estate brokerage in Denver's Central Park and doesn't represent commercial, office, industrial, or other buyers/sellers. Focus and its agents make no representations, warranties, or guarantees as to the accuracy or completeness of any information in this post. Please confirm all information with your own advisors and do not rely on this post.*