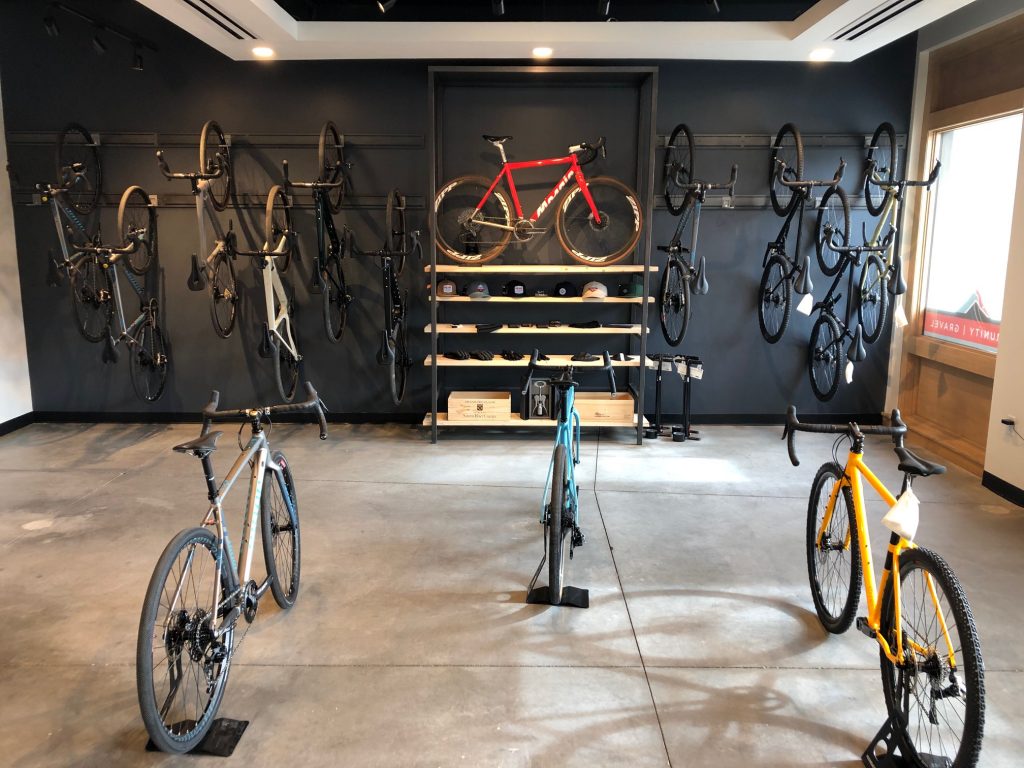 There's a lot going on in Central Park these days! While many local openings, developments, and expansions have understandably been on hold, things are starting to pick up locally and elsewhere in the Denver metro.
As a co-owner of local real estate brokerage Focus Real Estate, I'm always tracking the latest business news around our wonderful neighborhood. I normally try to publish an Inside Scoop post every couple months. But there's so much going on, even though our last update was only a couple weeks ago, we had to rush this update to press!
Here's a sneak peak at some of the new stores and projects we're tracking.
Runway 35 North & South projects to transform Central Park Blvd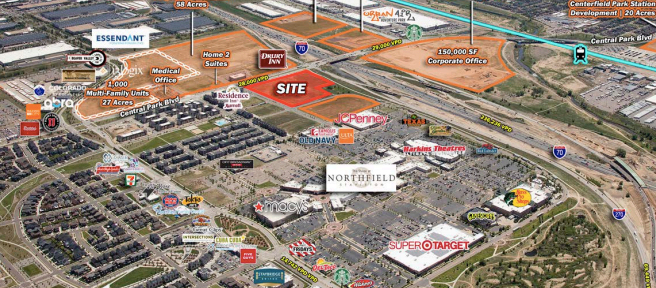 As the final home lots continue to sell in Central Park's last neighborhood, North End, we're approaching the end of a 20+ year development era. Once North End is complete, residential and commercial development will primarily be infill.
A few of those big infill projects? A Line Square (the new Sprouts development), Victory Crossing (next to Dick's), Runway 35 North (next to I-70 where In-N-Out is potentially moving in), and Runway 35 South (next to I-70 across from Fuzzy's, Starbucks, and F45) are 4 of the largest infill projects we're tracking.
What's the latest on Runway 35 North? Construction appears to be moving forward, with at least portions of the project having contractor bid deadlines last December.
In terms of potential tenants, you may have heard the In-N-Out news. Though still early, it sounds like In-N-Out is eyeing one of the restaurant parcels at Runway 35 North. The preliminary site plan has 11 commercial lots total, which include 3 drive-thru restaurants (1 of which could be In-N-Out), 2 sit-down restaurants, 1 daycare, 1 church, 1 hotel (likely will not be a hotel, based on what we're hearing), 1 medical building, 1 ~30,000 sq ft retail tenant, and 1 bank.
Runway 35 South is located across I-70 from Runway 35 North and is equally large in scale. Current plans call for a QuickTrip fuel station, 2 drive-thru restaurants, 2 full-service restaurants, 1 bank, 1 entertainment user, 1 car wash, and a Fairfield Inn & Suites.
The QuickTrip location will also include the company's regional headquarters, so we're expecting a larger facility than you might normally see for QuickTrip. The Midwest-based convenience store chain plans to open 50 to 70 locations in the Denver metro area, so having the regional headquarters in Central Park is a big coup for our neighborhood.

We'll keep everyone updated on these transformative projects on the Scoop's Facebook and Instagram pages.
New bike + bottle shop make a splash on the Anschutz Campus
Joe Phillips of the Scoop recently met with Dustin Chiappetta, owner of Pearl Wine Company, to learn about their new location and adjoining bike shop on the Anschutz Medical Campus in Aurora. You can watch Joe's interview and read more about Pearl here.
Here's an excerpt of what Dustin told the Scoop:
"Our journey began almost a year ago, we loved the new location but the space was a little large…so we turned to another passion. Cycling! Pearl Bike Company is connected to our bottle shop, with a full service mechanic and a gravel lean. PBC is the realization of a lifelong dream to work with friends and family. The same principles remain in Pearl Bike Company, where we focus on family-owned operations, supporting and championing the products that we ride."
Welcome to Anschutz, Dustin and Pearl!
What's going on with bubble tea hot spot Kung Fu Tea?
Update: The Shops at Northfield told the Scoop they're anticipating a tentative early spring opening for Kung Fu. Fingers crossed!
One of the most eagerly-anticipated new shops in the neighborhood last year, Kung Fu Tea was poised to open last spring. Kung Fu features bubble teas, milk teas, green teas, and more, and was set to open next to Harkins Theater in The Shops at Northfield. And then COVID-19 hit. Kung Fu understandably delayed opening.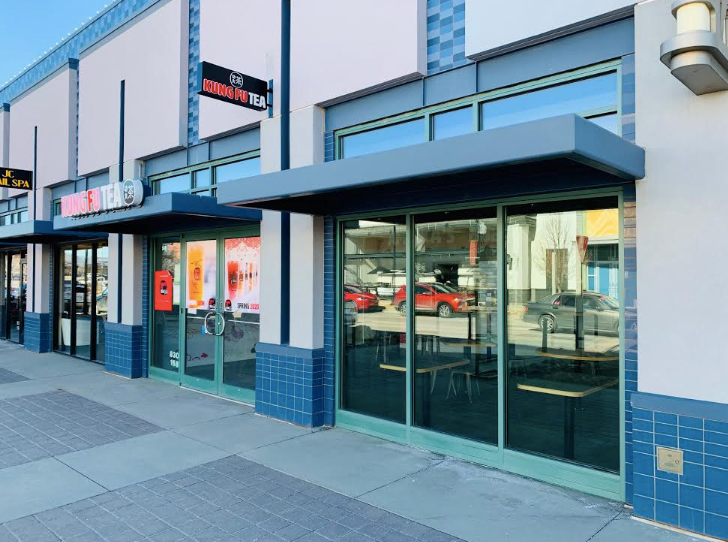 I stopped by Kung Fu's storefront the other day to see if there was any progress, especially since we're heading into the warmer months. From the storefront, Kung Fu still appears to be almost ready to open, though the interior isn't 100% built out yet. Also, City and County of Denver permit documents from last March still hang in the windows.
We have an inquiry in with The Shops at Northfield about Kung Fu's official status. We'll update everyone on the Scoop Facebook and Instagram pages when we know more. Until then, we'll all have to get our bubble tea fix elsewhere.
Another big deal next to I-70
Continuing with a trend I chatted about in our last Inside Scoop post, another big deal was recently inked just a few blocks from I-70.
According to BusinessDen.com, Groundworks Colorado LLC leased 29,693 square feet just north of I-70 between Havana and Peoria on 45th Avenue. The building's address is 11795 E. 45th Avenue.
Other big deals nearby? The 3 buildings that comprise the Enterprise Park Business Center were purchased by TGA Enterprise Park Business Center LLC. The Enterprise complex is just southeast of the intersection of I-70 and Central Park Boulevard – close to the new Starbucks, F45, and Fuzzy's. The 3 buildings contain almost 461,224 square feet and sold for $77 million, or about $166 per square foot.
Just across the street from Enterprise, the building leased to Breakthru Beverage Group was sold in 2020 (which we covered in this Inside Scoop update). The purchase price was $85.7 million, or about $132 per square foot.
Carm & Gia celebrates 1 year anniversary
After a 2 year building renovation, local favorite spot Carm & Gia recently celebrated its 1 year anniversary after opening last February.
With a menu inspired by Denver's unique DenMex favorites and Chicago street food, Carm & Gia Metropolitan is a casual joint serving a menu of fresh, local, authentic essentials – burgers, hot dogs, burritos, shakes, fries, and local beer.
Carm & Gia is located on Montview Boulevard, just south of Stanley Marketplace. Carm & Gia's address is 9598 E Montview Blvd.
$39m deal for up to 1,000 housing units on Central Park Boulevard
The 26.92 acre dirt lot just south of Anytime Fitness, Waxing the City, and Kabod Coffee on Northfield Boulevard recently sold. The tract is entitled for multifamily development.
According to CBRE, the sale was to Mid-America Apartment Communities, based in Germantown, Tennessee.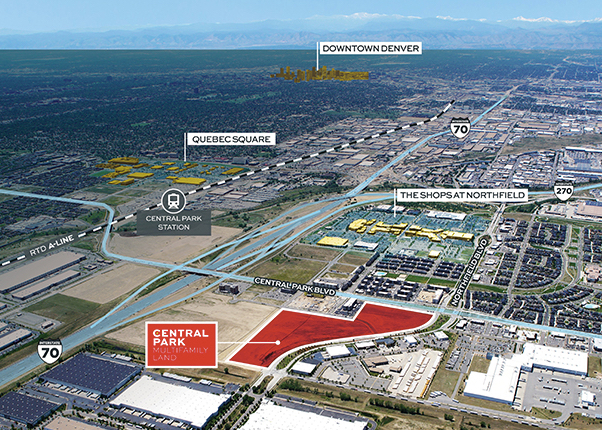 "This site is a premier apartment development opportunity in one of the most sought after master-planned communities in the entire metro area," said Eric Roth, senior vice president of CBRE. "With development potential of up to 1,000 units, we expect that the buyer will enjoy a significant pipeline in Central Park for years to come."
Eric Roth and Martin Roth of CBRE's Denver office represented the seller, FEI Holdings, a family office based in Greenwood Village.
The 26.92 acre lot is next to the new Home2 Suites – Northfield, which Kailee Ackerman of the Scoop visited a few weeks ago. Check out her article and video here.
New Chase opens next to Sprouts
The long-awaited Chase next to Sprouts on Central Park Boulevard recently opened. Located at 3585 Central Park Boulevard, Unit 160, the new Chase branch is open Monday – Friday: 9:00 AM – 5:00 PM and Saturday: 9:00 AM – 2:00 PM.
New tenants for A Line Square, which is the development anchored by Sprouts, may be in the works. A new site plan is now publicly available that shows Blue Sky Nails & Spa occupying one end cap of the northern strip center. Restore Hyper Wellness + Cryotherapy is shown occupying the middle space.
Central Park-owned Mici's is adding a new location
Mici Handcrafted Italian, which is locally-owned by Central Park residents, is adding a new location. The Colorado Springs location is Mici's 7th restaurant and will be located at North Carefree and Powers.
Mici's Central Park restaurant is located at 2373 Central Park Boulevard.
Factory Five Five opening film school, photography studio, and more
Art collective Factory Five Five announced it's opening a fashion design school, film school, photography studio, recording studio, and a new factory theater troop.
Factory Five Five's mission is to empower and embolden aspiring artists, designers, and creators bringing their imaginative visions to life. Through their own original projects, students will be guided by Factory Five Five's highly-trained teachers to find their unique voice.
Factory Five is located at 25th and Galena (10255 E. 25th Ave, Suite A3 & A5), just a few blocks from Neighborhood Music in the Stanley. Learn more at FactoryFiveFive.com. Welcome to the neighborhood Factory Five Five!
Epic Cycles coming to Central Park
There's a new bike shop coming to the Shops at Beeler Park in Northfield: Epic Cycles. Epic told the Scoop they're super excited to be opening their second store in our neighborhood (their first store is in Delray Beach, Florida).
Stay tuned to the Scoop Facebook and Instagram pages for more details as Epic gets closer to opening. In the meantime, here's what Epic's website has to say about their first location:
"Epic Cycles is a full-service community-oriented bicycle shop in the Delray Beach, FL area. From small adjustments to full overhauls, we service all bikes and we are happy to help you find your new ride. Our shop offers a variety of choices from all-season commuting to road racing, or just simple weather cruising bikes. We are an authorized dealer of Pinarello, BMC, Scott, and also carry kids' bikes, high-tech gear, accessories, and much more."
What are our buyers looking for in Central Park right now?
Here at Focus Real Estate our 8 brokers have 18+ buyers looking for homes in Central Park right now. Here's what those buyers are looking for. Send us your listings or MLS coming soons!*
$1.2M or less. Central Park North or Central Park West, 4+ beds upstairs
$1.15M or less. Parkwood or Infinity with 4 beds up, finished basement, mudroom & good pantry
$1.1M or less. Looking for a Parkwood. Prefer north of I-70. Minimal carpet desired
$950k or less. South side of I-70 preferred, 4+ bed / 4+ bath, office space needed, larger yard, larger bedrooms
$925k or less. South side of I-70 preferred, 4+ beds, finished basement preferred
$900k or less. 4+ beds, more yard the better
$900k or less. North side of I-70 preferred, minimum 4 bedrooms (ideally 5), separate master suite (late summer or early fall move-in preferred)
Around $850k. North or south of I-70. 3-4 beds and an office
$650k or less. 3+ bed / 3+ bath, Craftsman style courtyard home with a finished basement
$650k or less. South end or Central Park West. Single family or paired.
$650k or less. North of I-70. Single-family or paired home with a finished basement
$500k or less. 2+ bed / 2 bath, south side of I-70 preferred, attached or detached
Infinity Vue II or III. North or south of I-70
KB Starlight (any floor plan)
Wonderland Cimarron south of I-70
Income qualified with a main floor master. North or south of I-70
Income qualified that allows up to 90% AMI ideally with covered parking space or garage
Income qualified with 3 bedrooms. North or south of I-70
*Focus Real Estate complies with the MLS Clear Cooperation Policy. Please send, or have your broker send, properties that comply with the policy only.
75+ local businesses featured in the Scoop in 2020
Here at the Scoop we featured 75+ local businesses in 2020. We don't charge our fellow local small businesses advertising fees or anything else – we're here to help and support the entire community. If you have business news you'd like to share on the Scoop or on our Facebook or Instagram pages, email me at Mariel@Focus-Realtors.com. We're also always looking for blog post contributors to the Scoop, so if you're interested in contributing let us know.
If you missed our other recent neighborhood updates, here they are:
January 2021: Inside Scoop: $77m deal, Natural Grocers coming, new Sprouts tenants, Chook opens, Dirty Laundry is here, and more!
September 2020: Inside Scoop: new Starbucks gains steam, In-N-Out coming, 12-yr-old's bike ramps go big, James Beard winner opening new restaurant, and more!
July 2020: Inside Scoop: $85M deal closes, 150 jobs at new Northfield hospital, Sprouts update, Mamabird Interviews, luxury condos open with saltwater pool and beer garden, and more
May 2020: Inside Scoop: New Starbucks, farmers market is on, Sprouts opening and hiring plans (110 jobs), big real estate news, famous dumpling shop opens, and more!
March 2020: Inside Scoop: Kung Fu Tea, a new hospital, Lady Justice Brewing, a $21.1M deal closes, Carm & Gia, Stanley updates, and more!
February 2020: Inside Scoop: An Indoor Ski Hill, Beeler Park's Pho Spot, Primrose Update, Third Culture Bakery, a Famous Dumpling Shop Opening Soon, Boost Hydration, and More!
June 2019: Summer Scoop on Sprouts, Punchbowl Putt-Putt, a new Primrose, and more!
July 2019: Inside scoop: A new Starbucks, 7 new stores coming to Beeler Park, grocery store rumors, what's up with North End's pool, and more!
October 2019: Inside Scoop: Illegal Pete's, a famous dumpling shop, Cholon, two new pizza joints, a Disney store, and more!