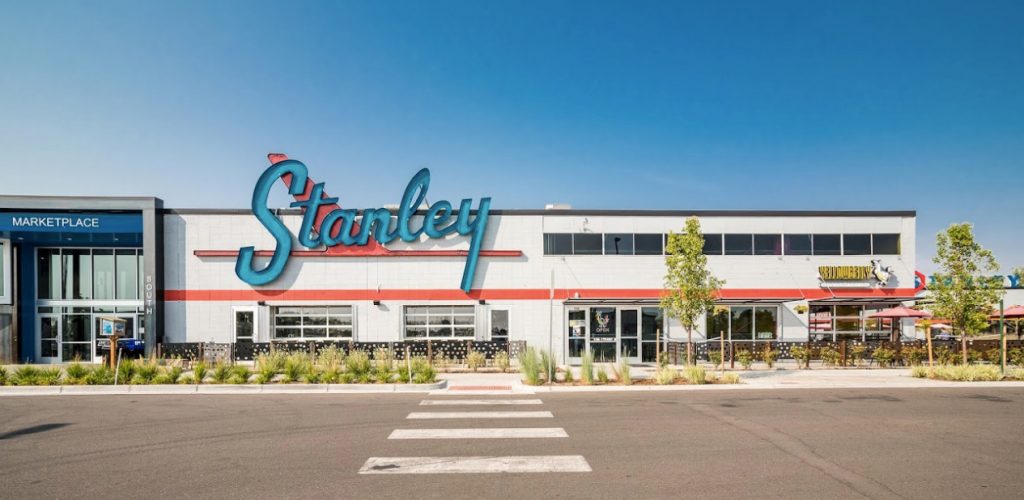 There's a lot going on in Central Park these days! While many local openings and developments have been on hold, things are starting to pick up.
As a co-owner of Central Park-based real estate brokerage Focus Real Estate, I'm always tracking the latest business news around our wonderful neighborhood. If you have business updates you'd like to share, send them along. You can email me at Mariel@Focus-Realtors.com with your news.
Now, on to the business updates!
Tattered Cover – for kids – coming to the Stanley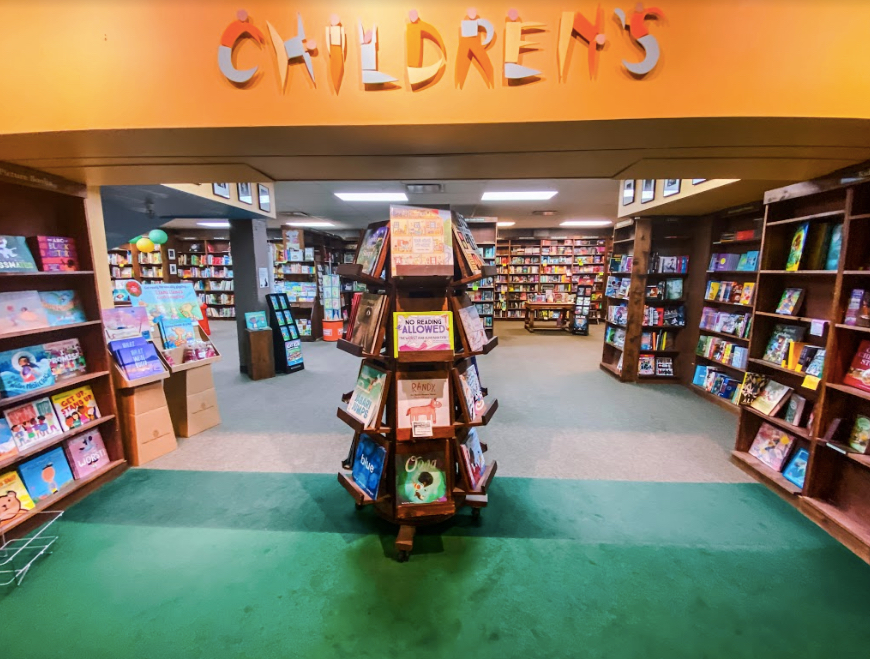 The team at Stanley Marketplace recently announced that the Tattered Cover Book Store will debut its first-ever children's-focused concept at the Stanley this summer.
Joining the 50+ locally-owned, independent retailers, restaurants, services and businesses in the Stanley community, the new Tattered Cover concept will focus on books and non-book items for just for kids, creating an experience totally focused on children. The new concept plans to host kid-friendly events and programming like birthday parties, children's authors, story times, and more.
Check out Kailee Ackerman's Scoop post Children's-Focused "Tattered Cover" Bookstore Coming to Stanley this Summer for more on the new bookstore.
New volleyball courts, bocce ball, and outdoor patios coming?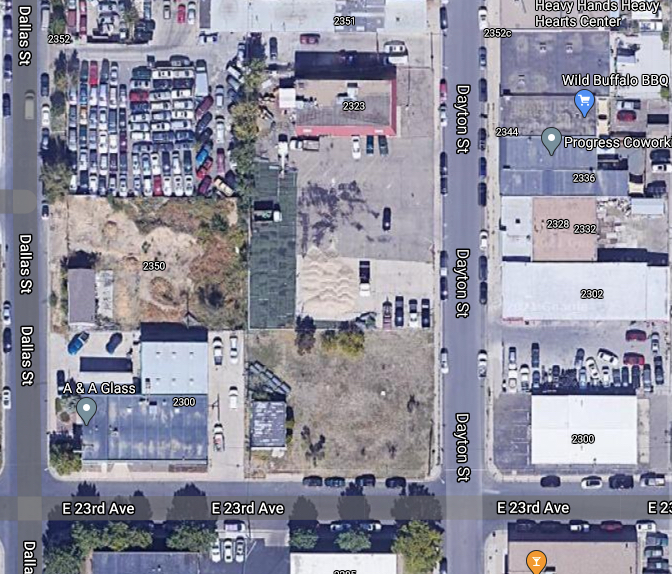 Is the Watering Bowl, a dog-friendly restaurant, bar, and outdoor entertainment complex, coming soon?
Coincidentally, our offices here at the Scoop and Focus are across the street from the site at Progress Coworking. I've been eagerly watching what appears to be preliminary site work, including the installation of astroturf.
Early plans we dug into a few years ago indicate that the Watering Bowl could have volleyball courts, bocce ball, and outdoor patios – making it a perfect summer destination for Central Park residents.
You can see plans for the facility here.
Watering Bowl is located at 2323 Dayton Street in Aurora. This is one project I'm particularly excited about (after all, who wouldn't want a dog-friendly bar across the street from their office?), so I'll update everyone on the Scoop Facebook and Insta sites when I learn more!
Outdoor lounge coming to the Stanley's north patio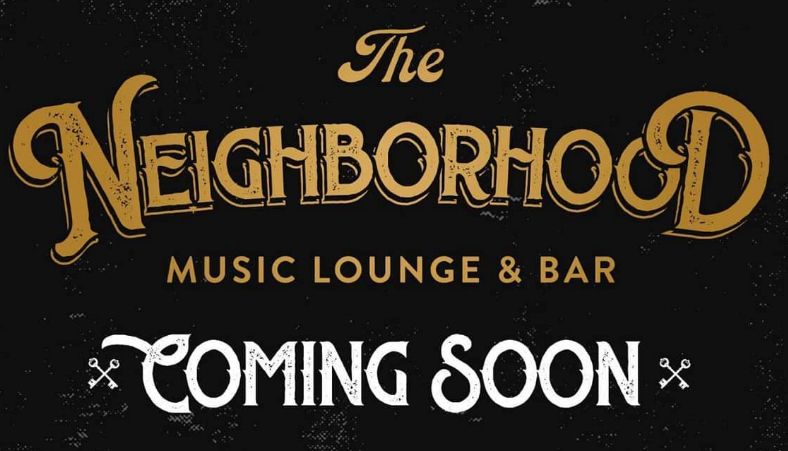 Create Cooking School recently announced it is opening a new seasonal patio bar, The Neighborhood Music Lounge & Bar. The bar will be located on the north patio of the Neighborhood Music & Theatre at the Stanley and will include a great selection of wines, beers, and hand crafted cocktails.
The bar will feature comfy lounge furniture, umbrellas, foliage, fire pits, and live music with the cocktails you've come to love from the Create Cooking School bar. This concept is a collaboration between Neighborhood Music and Create Cooking School.
Little India coming soon to the 29th Ave Town Center
Little India Restaurant and Bar is opening a new restaurant in the 29th Ave Town Center, according to Central Park United Neighbors.
The first Little India opened in 1998 and has grown to three locations. This fourth location will be located in the space formerly occupied by Berkshire and the Coral Room. We're looking into a projected opening date.
500 rental homes planned next to I-70
Brookfield is eyeing the land at the southwest corner of I-70 and Central Park Blvd for a large single family home development – specifically of rental homes. According to the Denver Business Journal, Brookfield is looking to build 267 single family homes, 87 townhomes, and 138 income-restricted rental homes.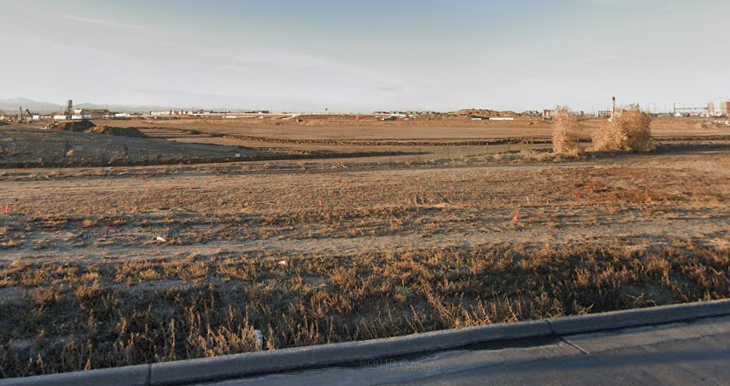 Brookfield is also under contract to sell almost 9 acres on the 40 acre parcel (the large dirt lot across the street from Starbucks, Cheba Hut, and F45). The potential owner is a credit union.
Virtual reality gaming coming to the Stanley Marketplace
The Stanley Marketplace recently announced that VR Social is opening a virtual reality arcade in April. VR Social is eyeing an early April opening and anticipated hours are 10 am to 10 pm.
Here's what VR Social's website describes the virtual reality experience:
"As we say, why go see a movie, when you can LIVE the movie? From fighting bad guys in the medieval times, to escaping your rocket ship in a mission gone wrong in space, as soon as you put on the head gear, everywhere you look and hear is a new virtual world. Pick up objects, jump to platforms, solve puzzles, all while not having to move from your seat. With over 250+ games to choose from, imagine what new worlds and challenges await you to experience."
VR Social's first virtual reality arcade is in Broomfield.
Central Park brokerage adds new broker
Here at the Scoop and Focus Real Estate it's been a busy 2021! What's been going on in our world the past 90+ days?
We are diving into the Youtube game with our own film studio at Progress. Check out our latest video Pros and Cons of Central Park and let us know what you think.
Our brokers have been fortunate to successfully list 27 homes for sale so far this year. That's about 1 home listed by our team every 3 days. Results have been tremendous.
We represent several dozen wonderful buyers actively looking to buy in Central Park – see all our buyer needs below.
We're adding a new real estate broker, Rebecca Fawcett.
I want to pause on that last bulletpoint and chat about Rebecca for a minute. Rebecca is a mom to an active little girl, an energetic Border Collie, and a wife to her Canuck husband. Rebecca's background in corporate event planning provides her with the aptitude to work effectively in extremely demanding, time sensitive situations. We're so excited to have Rebecca on our team!
You can reach Rebecca at Rebecca@Focus-Realtors.com.
Focus now has 10 team members, including 8 Denver real estate brokers and a real estate attorney. We help clients buy, sell, and build homes in Central Park, as well as the rest of Denver now, from Eerie to Castle Rock.
Our clients appreciate that we're a full service brokerage with broad digital marketing strategies, sophisticated brokers, real estate legal assistance, and much more. Our pricing is simple and transparent. We list homes for a 1.5% listing commission if you also buy your next home with us, and 2% if you only list with us.
We hope you'll consider us if you're thinking about buying, selling, or building.
4th of July fireworks in Northfield on? Fans at DICK's?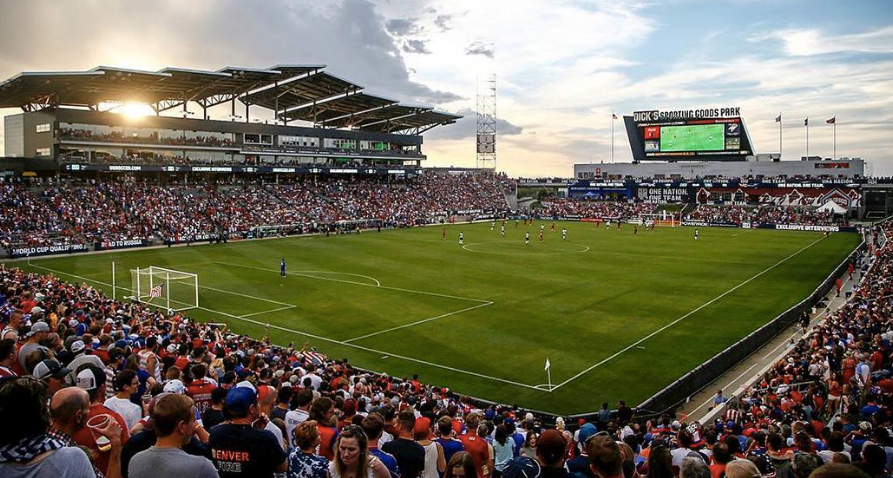 One of the neighborhood's biggest businesses and anchors, DICK's and the Rapids, recently announced that they're working on holding their annual 4th Fest celebration. The fireworks show is the biggest in Colorado and one of the most popular annual events in Central Park. The Rapids are currently scheduled to play the Seattle Sounders FC on July 4, 2021 We'll have to wait to see what happens next.
Speaking of soccer games, the Rapids' 2021 schedule is out, and Kroenke, the MLS, and the Colorado Department of Health are having discussions about fans returning to DICK's for the team's home opener on April 24th against Austin FC. This would be a boon for local businesses in and around Dick's, including the Shops at Beeler Park and other businesses along Central Park Blvd and 56th Avenue.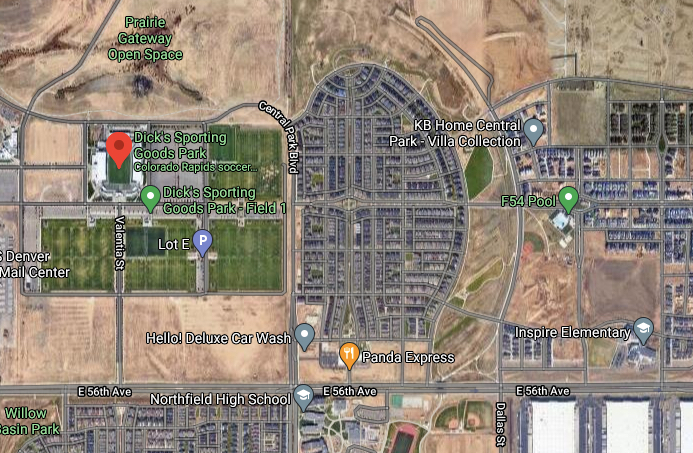 In other Rapids news, the team recently unveiled new uniforms that are inspired by Colorado's many 14,000 ft mountains. The topography lines on the new kits are authentic Colorado maps of six 14ers – Grays, Torreys, Pikes, Mt. Bierstadt, and Quandary. As part of the Rapids also are partnering with the Colorado Fourteeners Initiative (CFI) to help complete trail reconstruction projects on Mt. Wilson, Mt. Shavano, and Mt. Princeton.
Central Park area hot with big developments and deals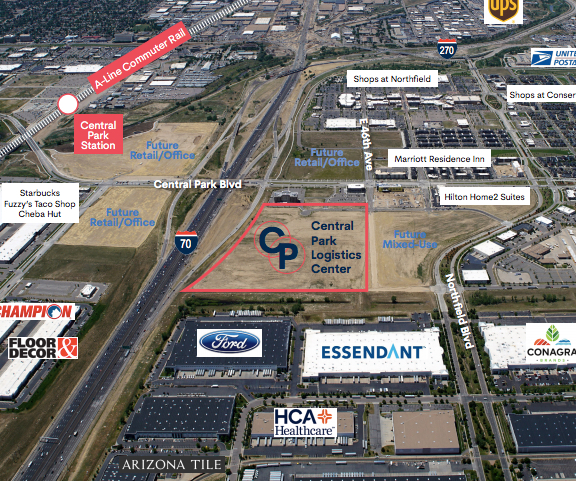 Curious about other large infill projects along the Central Park Blvd corridor? Another big project – the Central Park Logistics Center – is leasing 693,460 sf of industrial space just east of Central Park Blvd and north of I-70. We're anticipating that the two buildings that comprise the development will come online in April 2022.
The Logistics Center is a Class A industrial development registered with LEED certification and 300+ parking spaces.
The two buildings are located at 9300 & 9400 E. 46th Place. If you'd like more information, you can contact Mike Wafer, Michael Wager, and Tim D'Angelo at Newmark (303-260-4242). *Focus Real Estate is a residential brokerage and is not associated with this listing.
The I-70 corridor around Central Park continues to be hot with developments and deals. As we covered in this Inside Scoop post on February 9th, Groundworks Colorado LLC leased 29,693 sq ft just north of I-70 between Havana and Peoria, according to BusinessDen.com.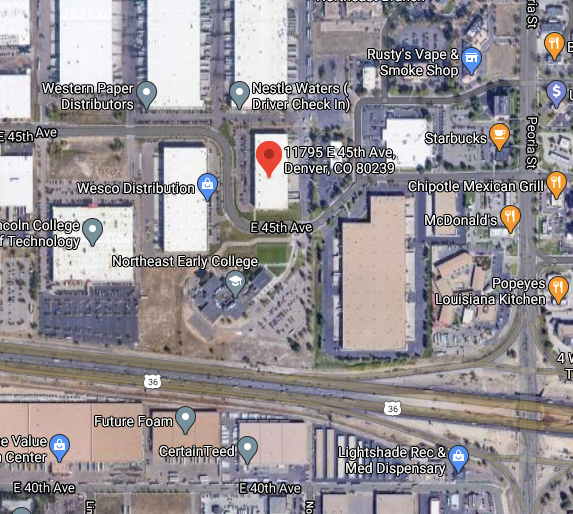 Also, the 3 buildings that make up the Enterprise Park Business Center were recently purchased by TGA Enterprise Park Business Center LLC. The Enterprise complex is just southeast of the intersection of I-70 and Central Park Boulevard – close to the new Starbucks, F45, Cheba Hut, and Fuzzy's Tacos. The buildings contain almost 461,224 sq ft and sold for $77 million, or about $166 per sq ft. Tenants include Floor & Décor and Champion Windows.
Just across the street from Enterprise, the building leased to Breakthru Beverage Group was sold in 2020 (which we covered in this Inside Scoop update). The purchase price was $85.7 million, or about $132 per sq ft.
Adding to all this, the Kroger Co. recently leased 79,646 sq ft of space a few blocks east of the Sysco facility in Northfield at 10405-1045 E. 49th Ave. Kroger's affiliated companies include City Market, King Soopers, Ralphs, and many others.
Whew! This doesn't capture all the deal activity we've been tracking, but it gives you an idea of how popular industrial and business space has been around Central Park the past 6+ months!
Corporate headquarters headed next to Sprouts
According to the Front Porch newspaper, Credit Union of Colorado (CUC) is building its headquarters at 40th and Central Park Blvd. CUC is eyeing a late 2022 on the purchased land.
CUC was founded in 1934 and was previously known as Colorado State Employees Credit Union. In the early days, only active state employees could be members, but CUC now serves all Coloradans. CUC's deposits grew 24.29% the past year, and the credit union has approximately $2 billion of total assets.
With CUC headed next to the light rail station, Sprouts and Chase open, and several new tenants headed into A Line Square (check out the latest on the other tenants here), we're closely following the condominiums and townhomes that were previously planned to be sold at the project.
While COVID-19 has understandably slowed down the development, we're still expecting that approximately 130 condos – mostly 1 and 2 bedrooms – will be built and then on the Sprouts parcel, just west and north of the new grocery store. These condos will be about 50 yards from the entrance to Sprouts and about 500 yards from the Central Park light rail station, making them some of the most walkable condos we've seen in Central Park. On the townhome front, we're anticipating fewer than 40 units total. Plans could change, so we'll be sure to update everyone when we learn more.
In case you missed it:
Is Raising Cane's coming to Northfield?
One project that caught our eye recently is a proposed Raising Cane's location at 4535 N. Central Park Boulevard, which is where the new Runway 35 North development is being built in Northfield.
Here's how the City describes the project: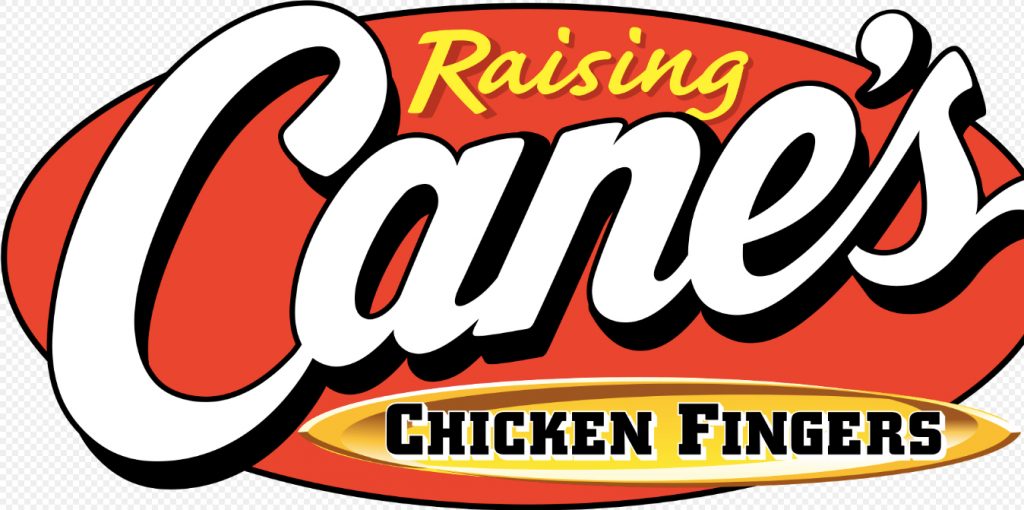 "A quick serve style restaurant specializing in chicken fingers with a drive-thru. Project will include construction of the drive-thru restaurant, dumpster enclosure, parking lot and drive aisles, site lighting, and drainage facilities."
Raising Cane's has over 530 locations and, as a former Louisiana resident myself, has a great Louisiana backstory (the first location was next to LSU). Raising Cane's offers a limited menu of different chicken finger combinations.
If you recall, In-n-Out Burger also confirmed late last year that it hopes to build a new restaurant at Runway 35 North. Runway 35 North hasn't been developed yet, so plans for Raising Cane's and In-N-Out could change. We'll keep everyone updated as we learn more!
What are our buyers looking for in Central Park right now?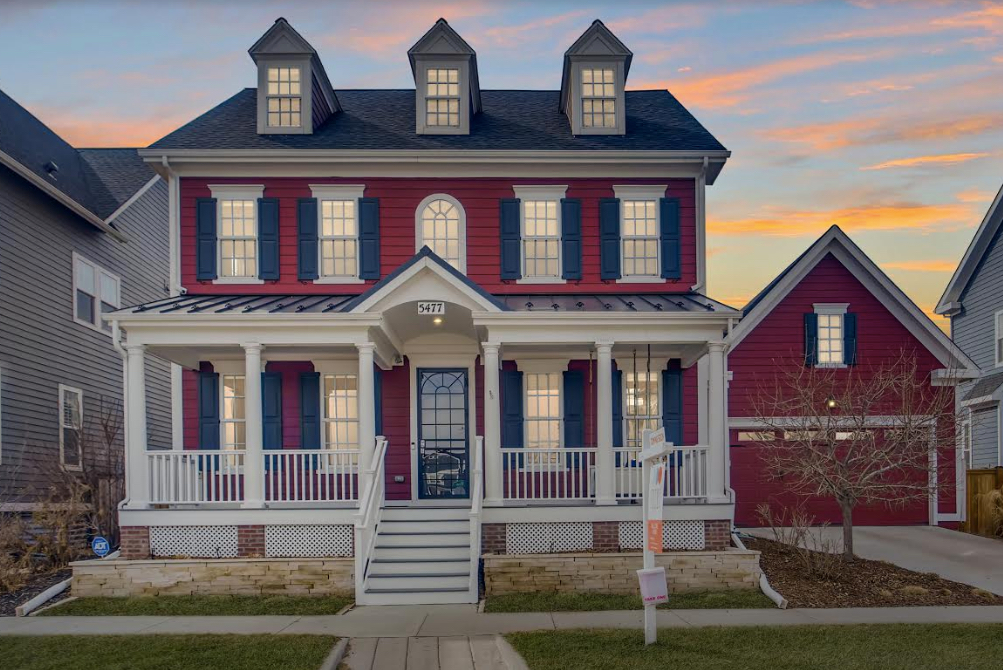 Here at Focus our brokers have 20+ active buyers looking for homes in Central Park right now. Here's what those buyers are looking for. Send us your listings or MLS coming soons!*
Around $1.2M. Parkwood, Thrive, or Infinity with views or proximity to open space.
$1.2M or less. Central Park North or Central Park West, 4+ beds upstairs
$1.15M or less. Parkwood or Infinity with 4 beds up, finished basement, mudroom & good pantry
$1.1M or less. Looking for a Parkwood. Prefer north of I-70. Minimal carpet desired
$950k or less. South side of I-70 preferred, 4+ bed / 4+ bath, office space needed, larger yard, larger bedrooms
$925k or less. South side of I-70 preferred, 4+ beds, finished basement preferred
$900k or less. CalAtlantic single-family in Northfield.
$900k or less. 4+ beds, more yard the better
$900k or less. North side of I-70 preferred, minimum 4 bedrooms (ideally 5), separate master suite (late summer or early fall move-in preferred)
$900k or less. Single family home in Willow Park East or Northfield area preferable. Ideally Thrive or Lennar.
Around $850k. North or south of I-70. 3-4 beds and an office.
Around $800k. 4 bed (or 3 + office), preferably south of I-70, at least a small yard.
$650k or less. 3+ bed / 3+ bath, Craftsman style courtyard home with a finished basement
$650k or less. South end or Central Park West. Single family or paired.
$650k or less. North of I-70. Single-family or paired home with a finished basement
$500k or less. 2+ bed / 2 bath, south side of I-70 preferred, attached or detached
Eastbridge 2 bed / 2 bath condo in the Artisan sub-HOA.
Infinity Vue II or III. North or south of I-70
KB Starlight (any floor plan)
Wonderland Cimarron south of I-70
Income qualified with a main floor master. North or south of I-70
Income qualified that allows up to 90% AMI ideally with covered parking space or garage
Income qualified with 3 bedrooms. North or south of I-70
*Focus Real Estate complies with the MLS Clear Cooperation Policy. Please send, or have your broker send, properties that comply with the policy only.