There's a lot going on in Stapleton these days!  Northfield is growing by the day, the south side of the neighborhood is full of development news, and new homes are going up left and right in Beeler Park, North End, and Bluff Lake.
As a local Stapleton realtor and resident, I'm always tracking the latest and greatest "coming soons" on the residential and commercial fronts for our wonderful neighborhood. Here's a sneak peak at some of the stores and projects that have recently opened, or will be opening soon!
(By the way, if you missed our last update – with the latest on Sprouts, the Central Park Light Rail station development, and more – be sure to check out this Scoop update from June).
Pizzeria Locale opening in the 29th Ave Town Center
A new Pizzeria Locale is moving into a ground level floor location in the 29th Avenue Town Center. Affiliated with Chipotle Mexican Grill, Pizzeria Locale is hoping to open in a few weeks in The Mint. If you've never been to a Pizzeria Locale, picture a fast casual pizza version of Chipotle. Fast, fresh, tasty pizza!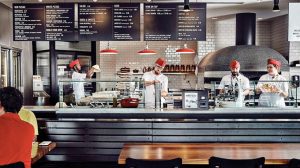 Pizzeria Locale will join another new tenant in the Mint Town Center, Sweetwaters Coffee & Tea, which opened several weeks ago.
Be sure to stop by Sweetwaters and try the French Vietnamese Au Lait, the Dragon Eye, or a Napali Brew shake!
New southside Starbucks, Pizza Hut in the works
Two of the three retail spaces available at the northwest corner of Central Park Boulevard and Montview have been leased. A new Starbucks and Pizza Hut are projected to go into the "Shops at Stapleton Crossing." The third vacant space may end up housing one or two additional yet-to-be-determined tenants.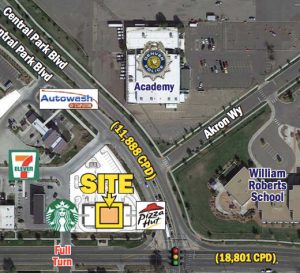 The new Montview Starbucks will be around 2,200 square feet and is on the west side of the parcel, directly facing the 7-11 gas pumps and parking lot. For those wondering about size/seating availability at the new store, for comparison's sake Starbucks' newer free-standing locations are generally between 1,900 and 2,100 square feet.
The new Pizza Hut faces Central Park Boulevard and Bill Roberts.
We'll update you when we learn more details, including projected opening dates for both Starbucks and Pizza Hut.
What's going on with the North End pool?
While not retail or commercial news, one of the hotter topics in Northfield these days is the status of the North End pool and whether it will open this summer. If you're not familiar, Stapleton is building a new community pool in its newest neighborhood, North End, which will be the largest pool in Stapleton, feature a two-story waterslide, and generally be an awesome asset for the entire community. Here are a couple renderings of what the pool will look like when completed.
I was touring homes in North End for Focus' new construction clients and stopped by the pool complex. As you can see from the photos, there's been a lot of progress over the last couple months.
However, given it's already mid-July, it seems unlikely that Stapleton can finish construction, hire staff, run through any necessary testing, and so on quickly enough to get the pool open before Labor Day. So I'm thinking a May 2020 opening may be more realistic. We'll update you on the Scoop as we learn more!
 A Beeler Park Taco Bell, Panda Express, Box State Barbers, and more
The Shops at Beeler Park recently broke ground on the north side of 56th, close to the entrance of Beeler Park and next to the new Prestige Preschool Academy. Which tenants might be moving in later this year and in 2020?
Word on the street is that this new Beeler Park development is getting a Box State Barbers (a full-service gentleman's barber shop) and a Paw N Play (pet store/pet daycare). Other tenants include a Murphy's gas station, a car wash, and a dental office.
Also, a new Taco Bell is slated to go in at 56th and Beeler. The Taco Bell will have a drive-thru and will be located in front of Prestige Preschool Academy. The location will be about 2,000 square feet and is could open in December 2019.
Last but not least, Panda Express is opening a new location in The Shops at Beeler Park as well. Panda Express is expected to open in February 2020.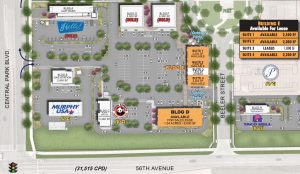 Other retail tenants are still being finalized.
What's under construction east of Central Park Boulevard in Northfield?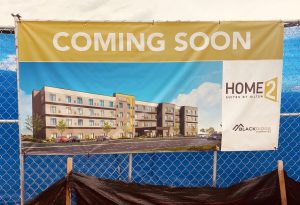 For those wondering about the construction on Central Park Boulevard and 46th, Hilton is building a Homes 2 Suites hotel on the northeast corner. Homes 2 Suites is an all-suite extended-stay hotel. We are anticipating a 2020 opening date.
Grab your skates! SummerSkate is open in Northfield
Looking for something new to try with the family this summer? Good news – the ice rink at The Shops at Northfield has been converted into a summer roller skating rink. SummerSkate opened July 5 and is open Fridays and Saturdays from 5 pm to 10 pm and Sunday from 3 pm to 8 pm.

Admission is $10 for adults, $9 for kids (ages 4-12), $8 for college students and military (with valid ID), $8 for seniors (65+), and free for children 3 and younger. Skate rental is included.
Also, if you or the kids aren't skating experts, while helmets/pads aren't supplied, you can bring your own safety equipment if you'd like.
New seafood restaurant coming this summer
As a former New Orleans resident, I'm always excited to hear, see … and of course, eat anything that reminds me of my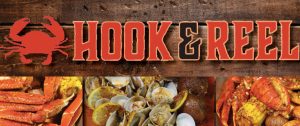 old Uptown life. I'm not sure there's anything in Colorado more NOLA than Hook & Reel – a Cajun seafood restaurant – which is taking over the former Country Buffet space in the shopping center off Quebec, close to Stapleton's Swigert International School.
Hook & Reel is a casual family dining restaurant that offers a variety of seafood including clams, crawfish, lobster, and shrimp. Its menu also offers po' boy sandwiches, sliders, soups and salads, as well as cocktails, wine, and beer.
Hook & Reel will be located at 7407 East 36th Avenue and is anticipated to open this summer.
New Vasa Fitness gym east of Anschutz
Vasa Fitness has leased 56,028 square feet east of the Anschutz Medical Campus at 15200 E. Colfax. While not in Stapleton, the new Vasa is located just east of the Anschutz Medical Campus. As a former Children's Hospital Colorado employee, I remember how it wasn't exactly easy finding a good, close-to-campus workout spot. So it's great to hear that our east Stapleton/Anschutz friends are getting another gym option.
Early word is that Vasa will also have a pool and childcare options. We're also hearing that Vasa will open in late 2019.
A new grocery store in Northfield (or not)?
We've heard the new grocery store rumor from a number of people, so we decided to do some digging. From the best we can tell, the rumors may relate to the Victory Crossing development that may someday surround Dick's Sporting Goods Park. The project website states that the development could include "a larger format retail and grocer at 56th & Central Park."  So this grocery store would be directly across the street from Beeler Park and The Shops at Beeler Park mentioned above.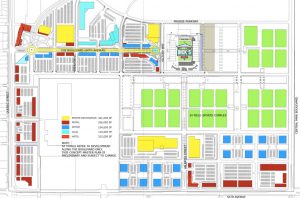 In addition to a potential grocery store, Victory Crossing could include 100 +/- total acres of retail and entertainment, multiple restaurants, hotels, 275,000 square feet of office space, government offices, and even an amphitheater.
We reached out to the developers of Victory Crossing to see what the status of the project is, and at this time they're not able to comment. So right now we only have the Victory Crossing website (www.victorycrossing.com). Regardless, when and if Victory Crossing moves forward, this would be a substantial development with dozens of retail, entertainment, office, and other tenants.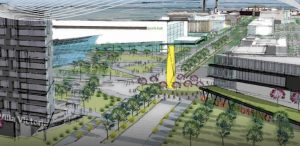 In other grocery store related news, for those of you who are fans of Natural Grocers and are willing to drive a bit, Natural Grocers signed a lease for a new store at Green Valley Ranch Boulevard and Tower Road, which is about 10 miles east of Stapleton. The grocery store is scheduled to open in 2020.
Also, don't forget that Lucky's Market broke ground in Lowry in April. We're anticipating a late 2020 opening for Lucky's.
New 180 unit affordable housing development in Bluff Lake
Stapleton, in conjunction with the Northeast Denver Housing Center held a ribbon cutting ceremony to celebrate the completion of the Moline @ Stapleton Apartments on Wednesday, July 10th in Stapleton's Bluff Lake neighborhood.
This three story apartment building will provide 180 units of affordable rentals to the Denver area, offering 69 one bedroom, 69 two bedrooms and 42 three bedroom apartments serving households making less than 60% of the area median income.
So … what comes after North End?
What happens after North End is built out is another topic that seems to keep coming up when I've been chatting with friends at the pool this summer. So while not retail or commercial news, I thought I'd add to this update.
After Beeler Park, North End, and Bluff Lake are built out, there are about 600 lots in the last section of Stapleton, which is north of North End, that will be sold and built on – and then that's the end of the large-scale residential development phase of Stapleton.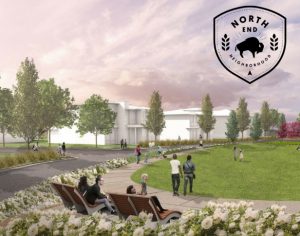 After the final 600 lots are sold, new residential development will mostly be in-fill. For example, the Central Park Station development condos and townhomes going in next to Sprouts (another hot topic!) are moving forward but are a ways out from completion (if you're interested in learning more about Stapleton's light rail station condos and townhomes, shoot me an e-mail at Mariel@Focus-Realtors.com).
Given the limited number of buildable lots remaining, I like to tell friends and clients that if you've ever thought about building your dream Parkwood, Infinity, or one of the other Stapleton builder homes with all the features, upgrades, and bells and whistles you've always dreamed of, the good news is that lots are still available. The bad news is that these lots could sell out soon, perhaps as soon as the next 18-24 months.
If you're thinking about grabbing one of these final Stapleton lots, I wanted to mention that here at Focus Real Estate we've helped hundreds of clients build Lennars, KBs, Thrives, Wonderlands, and virtually every builder in between. We are experts at new home budgeting, provide design center assistance, help with everything from lot selection to pre-drywall inspections and more. And best of all, our services are at no cost to you (no, really – your builder pays us; your home costs the same whether you retain a realtor or not). Happy to chat any time! Mariel@Focus-Realtors.com.
So there you have it, Stapleton! Look for our next retail and commercial update later this summer/early fall. If you'd like us to look into a rumor you've heard, just post in the comments and we'll do our best to track down more information.