Father's Day is this Sunday, June 20th! Check out these local events and food & drink specials to celebrate that special Dad, Grandpa, or father figure in your life.
Get Communal at Stanley Marketplace:
Stanley Marketplace is not just an urban food hall, marketplace and small business collective; they are also a community center with 50+ independent and locally owned businesses. The independent restaurants, bars, boutiques, and services housed in the former aviation warehouse offer opportunities to spend time in the community every day, but on Father's Day they have a few special happenings for dads – and non-dads:
Various food and drink specials including award-winning Cheluna Brewing, Colorado's first Latino owned production brewery, where on Father's Day they are offering a free 10oz of Beso de Sol Light Lager for dads who are 21+. Bring the whole family for bites, brews and good times.
Launching the day before Father's Day, the Junior Achievement Parade of Playhouses are a series of imaginative and unique playhouses created by local designers and builders; bring the kids for free to check them out and purchase raffle tickets for a chance to win.  Proceeds benefit the JA Programs; learn more here.
LEGO model train pop up from Friday June 18 through Father's Day will be a 10' model train LEGO layout from the Colorado Wyoming Lego User Group. This pop up is in conjunction with the O Scale National Convention taking place over the weekend in the nearby at the Hyatt. Come see the Lego model trains in the Stanley common area over the course of the weekend.
Two-For-One Bowls at Whole Sol
On Father's Day all the dads, grandpas, and father figures in your life deserve a special treat; now as Denver cautiously reopens, make that treat something that is good AND good for him: all day on Father's Day, bring dad in to Whole Sol – you can even FaceTime/bring a photo of him or that special dad-figure in your life – for a special two-for-one bowls offer. Grab one for you and one for dad; he might like the energy he gets from the Power Greens Bol, packed with kale, poached eggs, and delicious flavors; if he's craving something sweeter, grab a PB & J Bol with housemade raspberry chia jam for the sweet/salty/crunchy bite. Everything at Whole Sol is always 100% organic, sustainable, dairy- and gluten-free, clean and delicious, with smoothie bowls, toasts, wraps, snacks, and juices alongside a robust coffee program offering drip coffee, CBD lattes, matcha tea, golden milk, chai, and cold brews.​ The Whole Sol locations LoDo, RiNo, and 29th St. are open on Father's Day at 7 am; Pearl Street opens a little later at 8 am, while the Sloan's Lake opens at 6 am for early-risers. ​
Raise Money for the Great Outdoors
Does your dad like the outdoors? Smōk (3330 Brighton Blvd., Denver) in the Source is hosting a Father's Day event to celebrate the dads in our lives and raise money for a good cause at the same time. Father's Day with Conservation Colorado at Smok will benefit the organization, whose mission is to protect Colorado for future generations. The best part? Executive Chef/Owner Bill Espiricueta and his team are Smok is preparing a whole hog feast, prepared onsite in the smoker and fresh carved sandwiches all day for dad. Prizes, raffles, drink specials with Jack Daniels are also on tap for the day; $1 of every JD drink or shot goes to Conservation Colorado. Top prizes include a $500 gift card to Proud Souls BBQ & Provisions, and 100% of the $3 raffle tickets go 100% to Conservation Colorado. Learn more here.
Barcelona will have a couple options for dads who like to eat (who doesn't?). Barcelona is warm, welcoming and great for families looking for a little something for everyone – open for indoor and outdoor dining including a courtyard patio vibe that's fun and full of energy for a families to enjoy a welcoming Father's Day Brunch with a menu of tapas and dishes both simple and elegant, with seasonal picks alongside Spanish specialties and Mediterranean flavors like benedicts, torrijas and huevos estrellados, and of course, paella.
Still need a gift? Forget a boring tie for Dad on Father's Day and instead elevate your gift-giving game with a Barcelona Wine Bar Experience: four in-restaurant "experiences" designed to showcase the best of the restaurant in a VIP way, including the Charcutería Experience, the Spanish Wine Experience, a Wine & Tapas Experience, and a Paella Experience. Charcutería and Spanish Wine Experience are each $60 and the Wine & Tapas and Paella are $130. Gift cards for the experience are beautifully designed cardstock with gold or silver foil accents.

If you're looking for a takeout idea that's outside the box, look no further than the Steuben's Lobster Roll Kits. With all the fixings of Steuben's signature sandwich –  fresh Maine lobster, split-top buns, butter, mayonnaise dressing, pickles, lemons and house-made chips  – you can place your order now for a 2-pack ($60) or 4-pack ($120). Preorder at https://www.opentable.com/restaurant/takeout/222688 by June 18 for pickup June 19 or June 20.

Treat dad to a real treat. The Bourbon Caramel Ice Cream Sandwich with Bacon Chocolate Chip Cookies is the perfect salty-sweet finish to your Father's Day meal. Make your reservations now, because this dessert has limited availability. You can add it to the end of your meal for $8 when you dine in on Father's Day only.​

Game Day with a Side of Summer at Ace Eat Serve

Ping Pong is back at Ace, and you can reserve a table for your family tournament this Father's Day. Call 303-800-7705 to reserve your table for $15 per hour. After you serve up the friendly competition, take in Summer Sessions on the Ace patio. The weekly Saturday celebration of the season features live music as well as food and drink specials.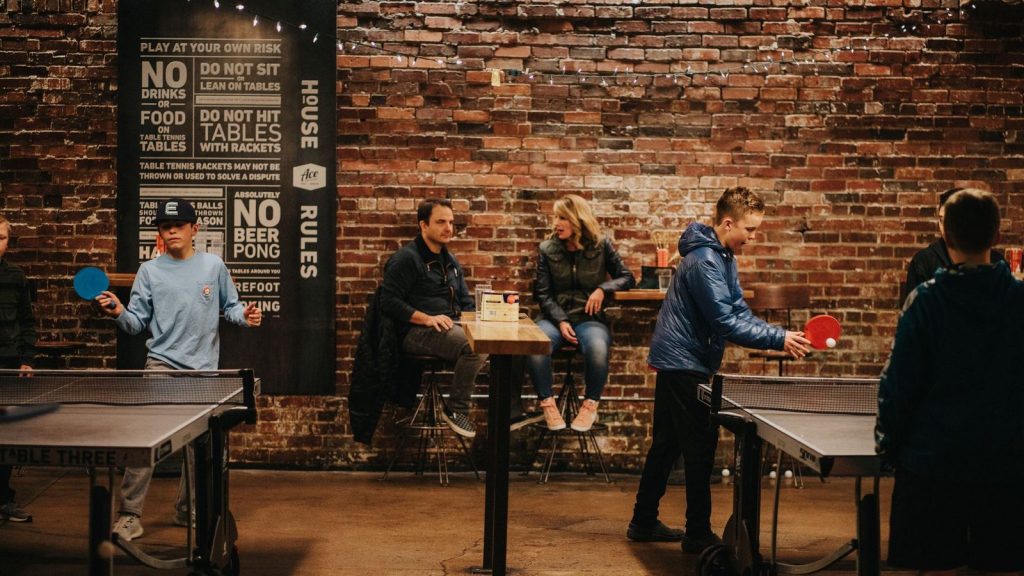 Happy Father's Day to all the dads out there!