Hey All, I just wanted to quickly share this story and opportunity with you. My neighbor and his middle-school-aged son, Henry, have been building and selling these great bike/scooter ramps. It's something fun for the kids to do to burn off some extra energy during all our extra time at home right now. We bought one for our three girls and they have spent countless hours over the past several days entertaining themselves by ramping their bikes, scooters and skateboards off the ramp. It's been going well and has turned into a business for Henry.
Here's a little more about Henry's bike/scooter ramp business, Ramp It Up. Henry started the business because he wanted to earn money for a new mountain bike and raise money for COVID-19 relief. It has provided an opportunity for Henry to spend more time with his dad and improve his ability to safety operate power tools. One thing he's really enjoyed is seeing his neighbors and other kids spending hours outside on the jumps and having fun. As far as running a business he has learned that it's important to keep inventory organized, there is a lot of planning involved and it is necessary to understand your costs relative to the price. So far Henry has built over 40 ramps and has donated over $250 to the CO COVID Relief fund!
The solid-wood ramps are well built, easy to transport and will last many years. If you're interested in a ramp please contact Glenn (Henry's dad) at (720) 219-5002. This would also make a great gift!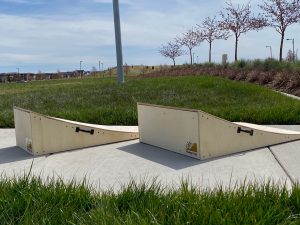 *10% of sales will go to the CO COVID Relief Fund.
Ramp Sizes and Pricing:
18" W x 8" H x 4 ft L – $60
18" W x 12" H x 4 ft L – $60 (shown in photo)
2 1/2 ft W x 12" H x 4 ft L – $75
*A handle can be added for additional $5.