If you're a Stapleton mom or dad, you've likely explored the various childcare options available to Stapleton families.  As a Northfield mother of 2 children (soon 3!), I feel like I've spent as much time analyzing different childcare options as NASA's scientists spent analyzing the first mission to the moon!  I'm kidding of course, but suffice to say childcare is often top of mind for many local parents.
If you're pondering childcare these days, there's another wonderful option opening in Eastbridge in the next few weeks – Tinker Town (anticipated opening date is May 13th!).  Mandy Tamisiea, Tinker Town's owner, was kind enough to chat with the Scoop about this amazing new childcare option.
To quickly introduce you, Tinker Town is a preschool and childcare center keyed to fit the unique schedule of busy families.  Tinker Town offers hourly care set in an early childhood learning environment for children ages 12 months to 12 years – complete with drop-in availability, online booking, hourly pay options, and more!
Without further ado, here's our new friend Mandy with all the details!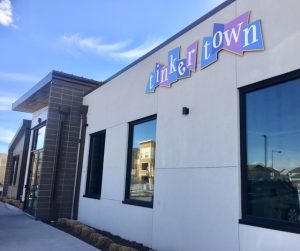 Can you tell us a little bit about Tinker Town and how the drop-in process works?
We at Tinker Town believe in providing early childhood education in a caring, engaging, and structured environment for children to learn through personal experiences and creative play.  Our center is licensed for children ages 12 months to 12 years.  During Denver Public School (DPS) hours, our center focuses on a preschool creative curriculum for children ages 12 months to 5 years.  When there are DPS closures, our center offers structured "camps" for a larger mixed age group of children, highlighting a weekly theme that will capture the interest of all children.
At Tinker Town, you have the option to pay hourly or receive a discount through our monthly membership program.  In addition, our website will have the ability to book your child's time in advance, so you are guaranteed a spot.  Or you can always drop-in based on availability.
Due to our structured schedule, we book care in 1-hour increments (beginning of each hour) to minimize disruption of activities.  We encourage a 2-hour minimum to engage children in our daily lesson plans.
According to state rules and regulations, children are allowed to attend our center up to 15 hours a week, but not to exceed 6 hours in one day.  So we are a perfect solution for families that need part time preschool or care!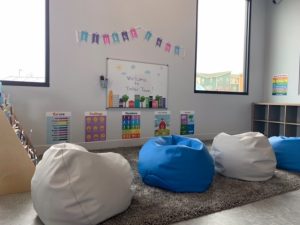 What does the pre-enrollment tour look like, and how long does it take?
All families need to take a pre-enrollment tour if they'd like to use Tinker Town.  Our pre-enrollment tour is an exciting time for families to bring their children and become familiar with our program.  During the tour, families will explore our two classrooms and receive information on Tinker Town's daily schedule, curriculum, and how to successfully utilize our drop-in program.  Children can explore and play with our age-appropriate toys.  This allows children to get comfortable with our center and nurturing staff!
We schedule 30 minutes for each tour, so parents have time to ask questions and ensure Tinker Town is a good fit for their family.  Following the enrollment tour, families are encouraged to fill out the enrollment packet so the fun at Tinker Town can begin!
To set up an enrollment tour please call us at (303) 377-6217 or email us at ChildCare@TinkerTownDenver.com!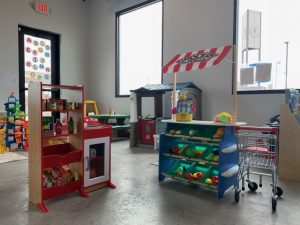 Can you tell us more about Tinker Town's curriculum?
At Tinker Town we strive to provide children with quality education while they are in our care.  We use The Creative Curriculum to create activities that are engaging, hands-on, and age appropriate for our children.  While at Tinker Town children will be participating in structured activities throughout the entire day.  They will rotate around the classroom with similar age children to engage in activities with their new friends!
How many children do you expect would normally use Tinker Town?
At Tinker Town we have two classrooms, Toddlers and Preschoolers.  Our toddler room is for children ages 12-24 months. In this classroom the ratio is 1:5, never exceeding more than five children at any given time.  Our preschool classroom is for children ages 2-12 years old.  Our ratio in our preschool classroom is 1:8, never exceeding more than 32 children at any given time. We would love to be a part of the weekly routine of families in our community!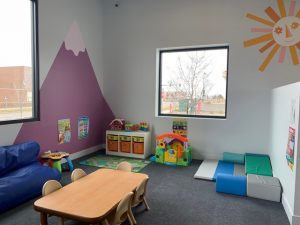 If you'd like more information about Tinker Town, you can call (303) 377-6217 or email ChildCare@TinkerTownDenver.com.  You can also visit Tinker Town's website or Facebook page.
Thanks again for speaking with the Stapleton Scoop, Mandy.  On behalf of Stapleton's moms and dad, welcome to the community!  We're so glad to have you!
Check out this quick tour of the space!