Talia and Daniel Haykin went from cidermaking hobbyists to winning national awards and opening their own tasting room in matter of a few years. And it all started after visiting the Stapleton Farmer's Market.
Around Halloween in 2013, the couple went to the Farmer's Market and purchased apple juice to use to try to make their own alcoholic cider in their Stapleton townhouse.
"That first batch was a horrible failure," admits Talia, with a laugh. "My husband kept playing around with it, knowing we could do better. He was reading a lot and it finally dawned on him that making cider was not like brewing beer, it was in actuality a type of winemaking."
With this new winemaking approach, Daniel started experimenting with different varietals of apples just as wine makers ferment different grape varietals. He sought out to let each apple express itself through the magic of fermentation. Subsequent batches started to taste good – really good.
A sticky situation
Even as the taste improved, there were mishaps along the way. Talia recalls one incident where a large glass carboy container (used in the fermenting process) shattered in their Stapleton townhouse living room, and five gallons of partially fermented cider spilled onto their hardwood floors.
"The floor was so sticky and we would have to mop it again and again because the juice soaked into the hardwood," Talia recalls. "Before we sold our place and moved Lowry, we had to completely refinish all the hardwoods."
Taste the difference
As they refined their process, they began collecting champagne bottles from anywhere they could for bottling because they used  higher carbonation in their cider. Regular bottles just couldn't handle the pressure. The high carbonation makes Haykin Family Cider different than many others.
"We love sparkling wine. We make what we like to drink. We make what we love. I don't want us to ever make anything we would not enjoy," Talia says. The effervescence of a sparkling wine is the sensation we want. It requires a bit of extra work and skill, but it is worth it."
From competitions to running a business
At the urging of friends, the Haykins began entering cider competitions in 2016. That first year, Daniel came back to Denver with several top awards. The next year, they ramped up their cider making and won the best in class award at an international competition.
"We had a few investors tell us they would invest if we wanted to start a business. After the best in class award, we said, 'Ok, let's do this.'"
They found a space on Peoria just outside of Stapleton and built a production facility and a tasting room. Daniel, an investment advisor, became the official Cidermaker and Talia, a writer and social media strategist, became the Chief Marketing Officer. The tasting room opened in February 2018, just six days before their second child was born.
The tasting room is open four days a week, offering several kinds of cider by the glass or flight, served either from the bottle or from the tap. Bottles are available for sale at the tasting room, and several liquor stores and restaurants have begun to feature Haykin Family Ciders as part of their offerings.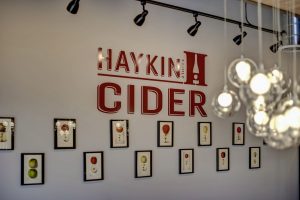 Daniel works closely with Colorado orchards to source as many apples locally as possible. They also work with farmers in Washington State since sometimes Colorado's apple supplies are low due to hail and late frosts.
The Haykins are open to collaborating with surrounding neighborhoods on events like food truck nights and other opportunities, so they encourage neighbors reach out to them if they have an idea.
Learn more about Haykin Family Ciders and check out tasting room hours and cider menu on their website.
DEAL ALERT: Receive one free 3 oz. taster if you mention Stapleton Scoop during the month of July!