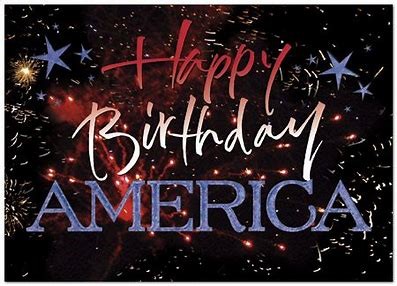 Summertime is in full swing and America's birthday is upon us. July 4th is the perfect day to celebrate and enjoy summer traditions with friends and family. You don't have to go far to join in the festivities – Central Park and surrounding areas offer parades, pool time, sporting events, and the largest fireworks display in Colorado – right in our own backyard! Check out a few local events happening below. We hope everyone has a safe and happy holiday!
When: Monday, July 3rd – 5-10pm
Where: Civic Center Park 101 W. 14th Ave., Denver, 80202
Celebrate community, culture and country at Independence Eve presented by the City and County of Denver. This longtime Civic Center tradition is highlighted by a concert featuring the Colorado Symphony, a light show on the majestic City and County Building, and a spectacular fireworks finale.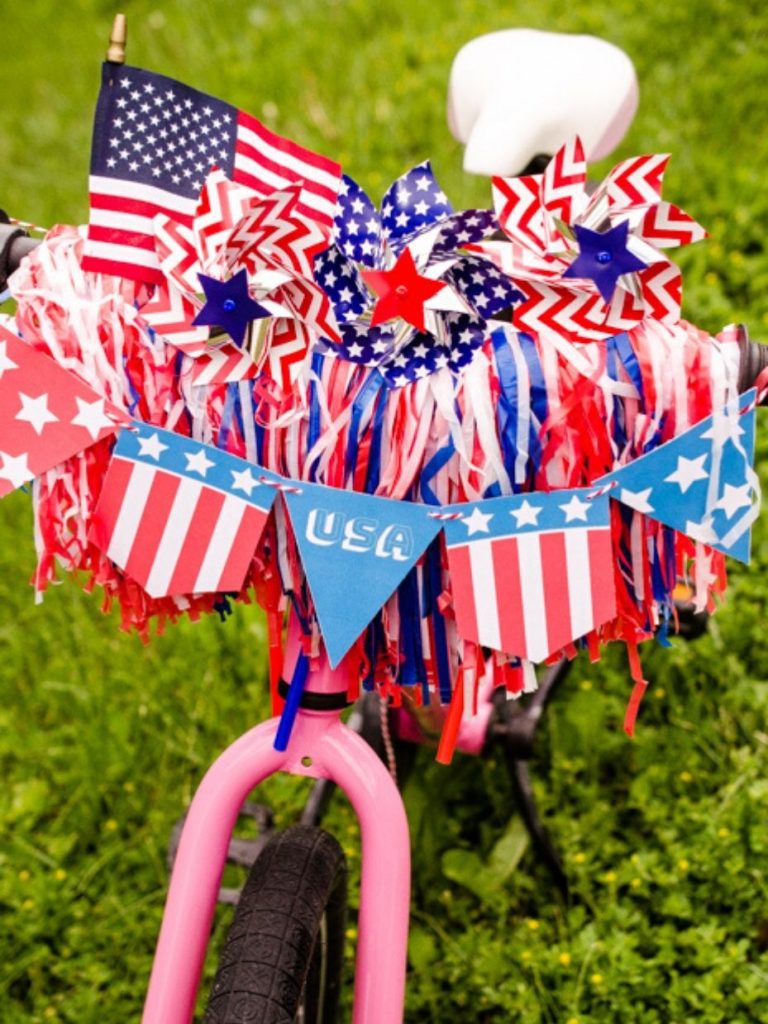 When: Breakfast starting at 9am; Parade starting at 10:30am
Where: The South Green (aka Founder's Green) – 29th & Roslyn
Breakfast will be on the stage and provided by one of the sponsors, Journey Point Church. There will be a suggested donation for the breakfast with all proceeds going to Moms Demand Action For Gun Sense in America. There will also be a balloon artist and a face painter.
Bring your decorated bicycles, tricycles, wagons or scooters for the parade, which will begin at 10:30am. There will be parade leaders at the start of the parade to guide participants through the course.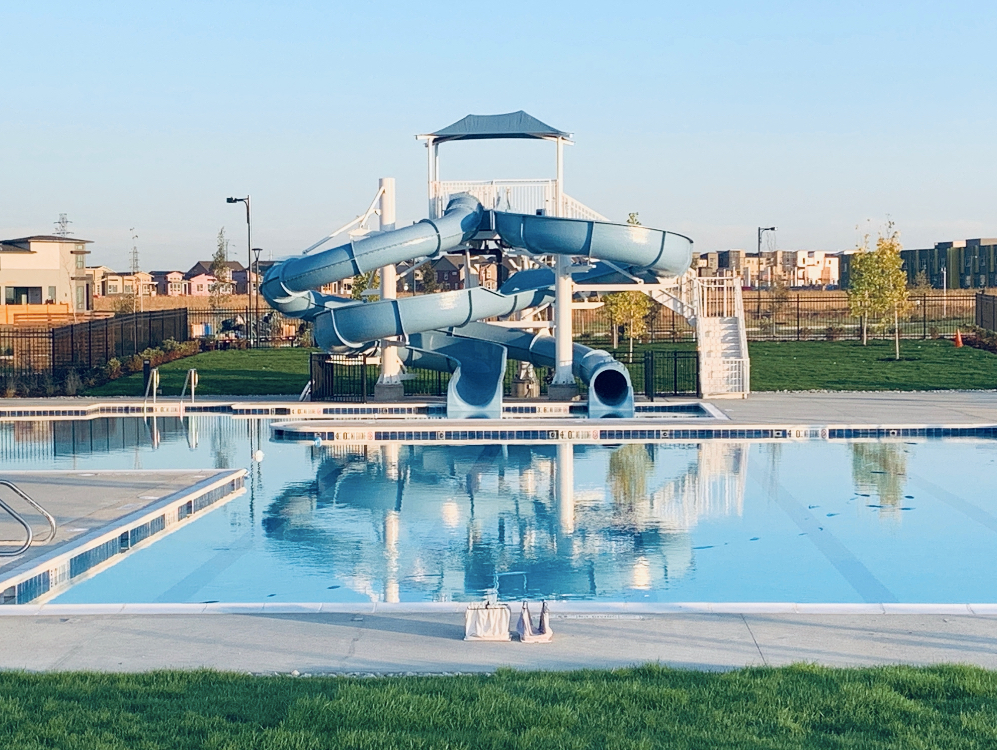 When: July 4th – 12-2:30pm & 3:00-5:30pm
Where: Central Park community pools
Pools will operate on holidays with an advanced reservations for Active Pass members and day-of entry for guests. This number will allow approximately 75-100 people to enter day-of at the top of the reservation block without a reservation.

Holiday Day Pool Schedule:
12-2:30* (Reservations + day-of drop in) 3:00-5:30* (Reservations + day-of drop in)
*all reservations will be held for up to 1 hour after opening. Any no shows after one hour will be absorbed if there is a line waiting to get into the pool. The facility will be cleared between reservation blocks.
Each household is limited to one reservation block per holiday.
** Early Drop-In Swim @ Puddle Jumper, F15, and Maverick**
The toddler-friendly pools will offer a member's only drop-in swim from 10am-11:30am on July 4th. Ideal for a quick family pool visit before nap time and your Independence Day celebrations! The pool will be cleared at 11:30 to allow for noon reservation check-in to begin.
Families who participate in the early swim who also have a noon reservations will need to re-enter.
When: July 4th starting at 1:30pm
Where: The Park Hill neighborhood, from Dexter St. to Krameria St
The annual Park Hill Parade is Denver's largest Independence Day march and runs through the heart of Park Hill, one of Denver's oldest, most historic and diverse neighborhoods. The parade includes floats, marching bands, costumed performers and tons of red, white and blue fun.
Stretching from Dexter St. to Krameria St., this year's parade will include more than 50 groups, including floats, marching bands, costumed characters, classic cars, and more!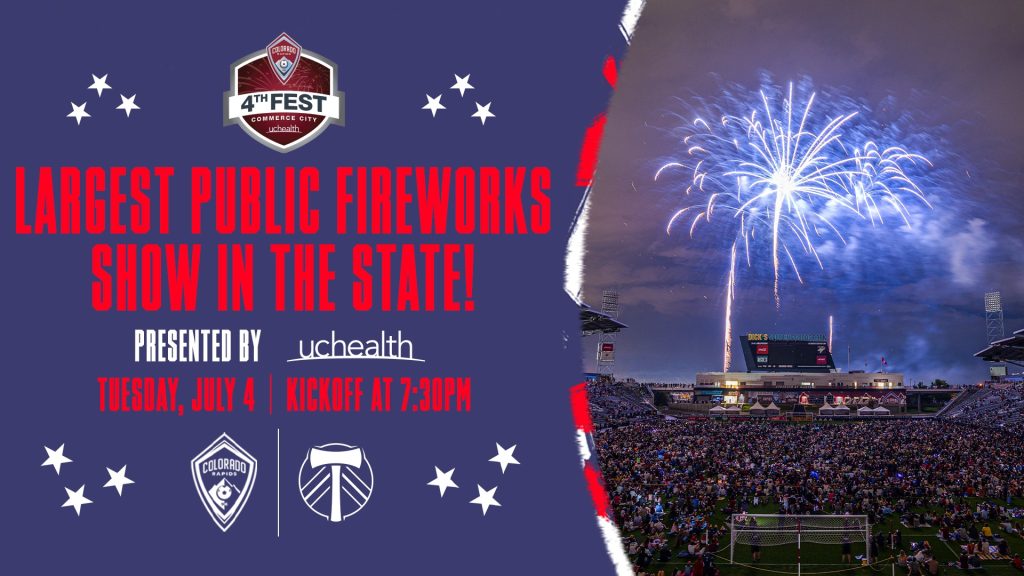 When: July 4th – 4thFest & Block Party – 5pm
Where: DICK'S Sporting Goods Park – 6000 Victory Way, Commerce City, CO 80022
The 25th annual fun-filled Independence Day celebration includes a pre-game festival, a Colorado Rapids vs Portland Timbers match at DICK'S Sporting Goods Park and the LARGEST PUBLIC FIREWORKS SHOW IN THE STATE OF COLORADO!
As part of the 4thFEST celebrations, the Rapids and Commerce City will host a family festival at DICK'S Sporting Goods Park prior to the Rapids' match that will include live music, a bounce house, soccer darts, a rock-climbing wall, a mobile ropes course, an alpine tubing slide, a mechanical bull, a trackless train, pedal carts and a toddler zone among the activations. 4thFEST is free and open to the public.
In addition to the pregame festival, the Rapids will be hosting a block party as part of 4thFEST. The additional activation, which is part of the Rapids Block Party Series, will be located along the South side of the stadium and will include a live DJ, drinks, food trucks, and an LED wall that will stream the Rapids' game and other MLS games live. Local fans who live within the vicinity of the stadium can bike to 4thFEST and park their bikes at the Rapids' Burgundy Bike Lot, which is located on the East side of the stadium between gates B and C.
The Block Party and 4thFEST open at 5:00 PM and entry is free, but make sure to secure your tickets to the match against Portland at 7:30 PM before they sell out!
Where: DICK'S Sporting Goods Park, Commerce City, CO – 6000 Victory Way, Commerce City, CO 80022
Grab your tix HERE.
When: July 4th – following the soccer match
Where: DICK'S Sporting Goods Park, Commerce City, CO – 6000 Victory Way, Commerce City, CO 80022
Cap the night off with the LARGEST public fireworks show in the state of Colorado! Following the game, fans in attendance are invited to sit directly on the field and view the postgame fireworks. All fans interested in viewing the fireworks but unable to attend the game can park in the lots surrounding the stadium starting at 7:00 PM.