"In acrylic, happiness comes a bit faster." – Robert Genn (Canadian landscape painting artist)
A few years ago, Stapleton residents Amy Calabrese and Becky Berman began experimenting with the acrylic pour painting in their basement.  After teaching the technique to friends and family, the business began booming and can now be found at their very own studio in the Montclair neighborhood (a 10-minute drive from Stapleton).
Have you ever tried acrylic pour painting?  Have you ever heard of it?  If your answer to both of these questions is "no", then let me explain. (and keep reading for an awesome DEAL for Scoop readers!)
When I walked into the studio, I really didn't know what to expect.  I did not do my homework on what acrylic pour painting is.  I honestly thought this was going to be a place where they teach you to paint.  I was wrong.
You simply cannot make a mistake when making this art.  You start by picking your base color (black or white).  You place this paint into the bottom of a cup.  You then layer three colors (no specific color scheme) on top of the base paint to make what looks to be just a cup of random paint colors.  Then you pour your colors onto a canvas (or any other medium – I'll get to that later on).  The paint spreads along the canvas and begins to make a beautiful and colorful image.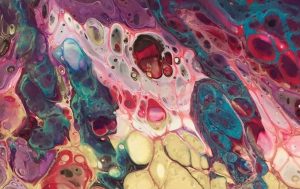 Sounds easy, right?  It is!!
It's also surprisingly really calming and relaxing.  Amy and Becky were wonderful at pointing out the unique characteristics that were starting to form on the canvas.  These two are truly talented and have an eye for beautiful color combinations.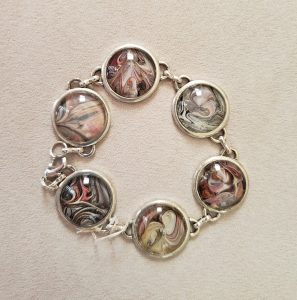 It takes about 1 week for the art to dry.  Once the art is dry, the remnants from the paint can be used to make a variety of items:  necklaces, earrings, ornaments, tables, mirrors and more.  There is an endless amount of what you can do with this.  One interesting thing Becky made was she covered the glass plate from a microwave with the paint.  I am personally thinking of some end tables and picture frames!
Wonder Lab can facilitate a private event for you and your family or coworkers.  They even have an open studio time when you can come in and create your own piece of art.  They will also travel to you.
Check out this YouTube video to see my experience at Wonder Lab.
DEAL ALERT: For 15% OFF workshops, open studio, retail, and private parties use code SCOOP15 through 3/31/2020!
To learn more about Wonder Lab, check out their website and Facebook.
Do you know of a local business that should be on the Scoop?  Send me an e-mail to ashley@focus-realtors.com to let me know!