Discover How Our Reading Assessments Can Help K-12 Students Excel

Guest post courtesy of Abby Belasco of Dear Abby Tutors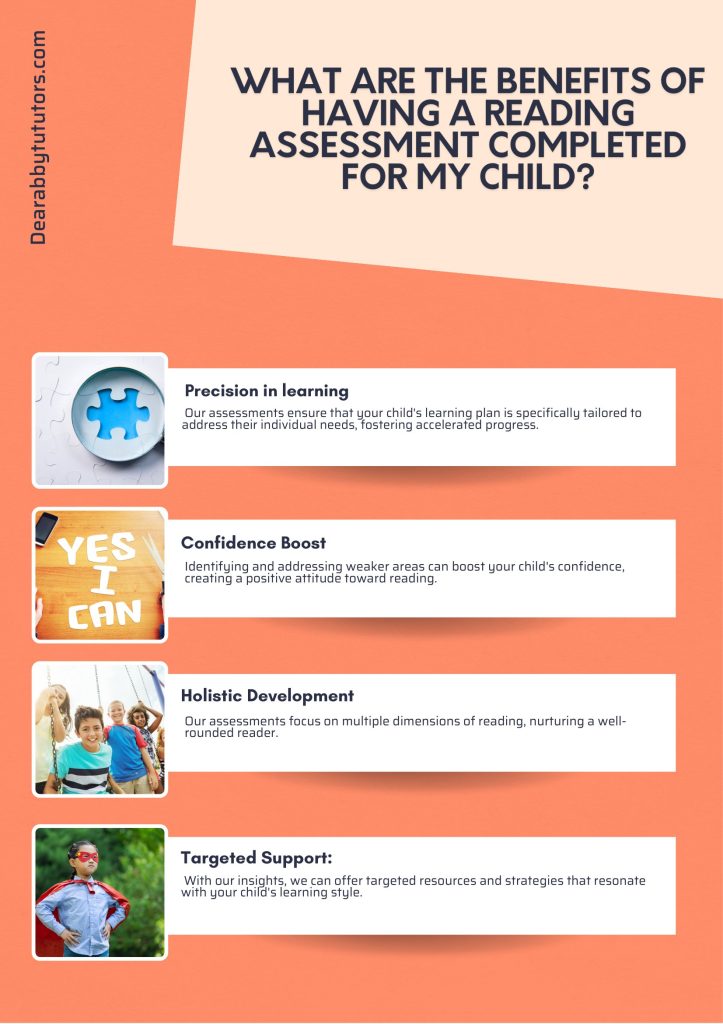 Setting the Foundation for Reading Success
Reading is the cornerstone of academic achievement and personal growth. At Dear Abby Tutors, we understand that every student's reading journey is unique. That's why we're excited to introduce our comprehensive reading assessments for K-12 students. Whether your child is struggling with comprehension, vocabulary, or critical thinking skills, our assessments will pinpoint their strengths and areas that need improvement, ensuring a tailored path to reading excellence.
The Power of Assessment: Unveiling Hidden Potential
Our reading assessments go beyond traditional testing. They are designed to unravel the intricacies of your child's reading abilities, allowing us to gain a holistic view of their skills. With our expert educators at the helm, we delve deep into their comprehension, vocabulary retention, fluency, and critical analysis skills. This thorough analysis equips us with the insights needed to create a personalized learning plan that maximizes their reading potential.
What to Expect: The Assessment Process
Comprehensive Evaluation: Our skilled educators will administer a series of targeted assessments, each designed to evaluate different aspects of your child's reading capabilities.
In-Depth Analysis: We meticulously analyze the assessment results, identifying areas where your child excels and areas that require more attention.
Tailored Recommendations: Based on the analysis, we will provide you with detailed feedback and personalized recommendations for enhancing your child's reading skills.
Benefits of Our Reading Assessments
Precision in Learning: Our assessments ensure that your child's learning plan is specifically tailored to address their individual needs, fostering accelerated progress.
Confidence Boost: Identifying and addressing weaker areas can boost your child's confidence, creating a positive attitude toward reading.
Holistic Development: Our assessments focus on multiple dimensions of reading, nurturing a well-rounded reader.
Targeted Support: With our insights, we can offer targeted resources and strategies that resonate with your child's learning style.
How to Get Started: Taking the First Step Towards Reading Excellence
Reach Out: Contact us to express your interest in our reading assessments.
Assessment Scheduling: We'll schedule a convenient time for your child to undergo the assessments.
Analysis and Recommendations: After the assessment, we'll provide you with a comprehensive analysis and personalized recommendations.
Tailored Learning Plan: Based on the results, we'll design a customized learning plan to help your child excel in reading.
Unlock Your Child's Reading Potential with Us!
(303) 907-7135