I know we're still a couple weeks away from the holidays, but I can't help but think of all the things I'm grateful for this year.  One thing I'm grateful for, of course, is all our awesome Stapleton neighbors who make this job we do so enjoyable.  We're so thankful for all of you who follow the Scoop, watch our (sometimes silly) videos, and read our weekly posts.  We couldn't be successful without you!
What a year we've had!  From the new Hygge Birth and Baby Center opening just south of Stapleton last March, to the opening of Sweetwaters Coffee & Tea and so many other new restaurants and businesses (Urban Air, Pizzeria Locale, Constellation, and on and on), to the continued progress at Stapleton's light rail station development and anticipated opening of the new Sprouts, Stapleton has grown in so many ways this year.
With that said, on to the real estate update!
3 New Stapleton Listing This Week
We only have 3 new resale listings this week, which is somewhat common this time of year, but don't let the low inventory fool you – there are great homes to see this weekend.  Including…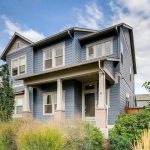 4 bedroom, 4 bathroom paired home directly across from Maverick Pool in Conservatory Green!  This like-new home is surrounded by parks (Maverick Pool and Spinning Spokes) and has a huge private yard.  How big is the backyard?  Check out the photo above!  That's a 14′ trampoline in the backyard … and there's plenty of room to spare!
This David Weekley home is listed for $549,000 by (me!) Mariel Ross at Focus Real Estate.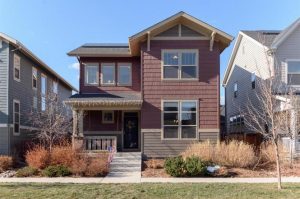 5487 Uinta Way
Listed for $665,000, this upgraded 4 bedroom, 4 bathroom home features one of Thrive's most popular and open floorplans and includes a pre-paid solar lease!  With a large finished basement and oversized attached two car garage, you'll have plenty of storage and you're only a quick walk to Prairie Meadows Park.
All told, there are only 26 resale homes on the market this week, so if you don't see the right fit in a resale – why not check out what the builders have to offer with projected closings in the next few months!
Quick Move-In Opportunities in Stapleton
Did you know that as of last week there were more than 30 spec homes available in Stapleton?  A "Spec Home" (short for speculative home) is a home that a builder starts building without a buyer for the home yet.  Also known as "quick move-in" homes, spec homes can be at almost any stage in the construction process – from excavation to framing to drywall to 100% complete, and any stage in between.
Builders have spec homes for a variety of reasons. For example, Stapleton's builders often build homes in groups or blocks, and if a builder has sold most of the lots on a block the builder might elect to start construction on the whole block while looking for buyers for the remaining unsold homes. Other times, a home may have once had a buyer, but the buyer's financing fell through or some other issue arose, and the buyer had to walk away from the home.
Regardless, there are a lot of spec home opportunities right now.  Here are some of my favorites.  Also be sure to check out this Scoop post for a more comprehensive inventory list:  Stapleton's "Secret" New Home Inventory – Over 30 spec Homes Available Today!
Thrive North End Rows
5674 Galena St.
Move-in: December 2019
$375,000
2 bedrooms, 1.5 bathrooms, 1,166 sq. ft.
Contemporary, open floor plan. The 3rd level features a large master bedroom with a walk-in closet and second bedroom. Whirlpool appliances, gas range, microwave hood and dishwasher all in stainless steel.
Parkwood Newbridge
10342 E. 59th Ave.
Move-in: December 2019
$668,987
3 bedrooms, 3.5 bathrooms, 2,550 sq. ft.
Three bedrooms on the second floor along with a full bath in the third-floor loft. The third-floor loft space also comes upgraded with a covered, south-facing rooftop deck.
Parkwood Brookline
10322 E. 58th Ave.
Move-in: December 2019
$658,003
3 bedrooms, 3.5 bathrooms, 2,652 sq. ft.
Master suite sits next to the covered rooftop deck on the third floor. Second floor includes two large bedrooms and a full bath, with a common study area in the middle.
Wonderland Intersection Rows
2513 N. Newark Ct.
Move-in: December 2019
$449,900
2 bedrooms, 2.5 bathrooms, 1,492 sq. ft.
Open concept, high ceilings. Spacious rooftop composite deck. Second composite deck off of the dining area, upgraded Maytag chef's kitchen with stainless appliances.
Lennar Next Gen – Generations Collection
5785 Hanover St.
Move-in: Available now
$749,925
4 bedrooms, 3.5 bathrooms, 2,978 sq. ft.
Across from wildlife refuge. Independence floorplan. Additional main floor entrance and living space for an additional family member or guest. Private suite features one private bedroom with walk in closet, private living area, kitchenette laundry area and private entrance. Includes deck, full front and backyard landscaping, private yard with 6' fence and front and back gates, gas double-ovens, 2 refrigerators, 2 microwaves, washer & dryer in Next Gen suite, double sinks in master and in secondary bath, quartz countertops, and more. 3 car garage and unfinished basement.
Thrive Z.E.N. 2.0
10190 E. 59th Dr.
Move-in: December 2019
$749,900
5 bedrooms, 3.5 bathrooms, 3,258 sq. ft.
Corner lot with an extended covered porch. Main floor includes engineered hardwoods throughout. The upstairs features three guest rooms, with a shared bath. Upgraded Magnolia design package with white and grey tones. Oversized 2.5 car garage and finished basement with a 5th bedroom and full bath.
Boulder Creek Possibilities
11560 E. 25th Drive
$669,065
2 bedrooms, 3 bathrooms, 2,504 sq. ft.
Low-maintenance patio home, with designs focused on ranch-style, main floor living.
Creekstone Approach Collection Paired Villas
11567 E. 25th Ave.
$500,606
4 bedrooms,3 bathrooms/2,259 sq. ft.
Craftsman style home features an open floor plan with main level living. Stone counters throughout, stainless steel appliances with gourmet gas range, upgraded Java cabinets, hardwood flooring, upgraded tiles, carpeting and more.  Full finished basement with 9' ceilings.
Wonderland Henry Plan (Elevation B – Contemporary Pagoda)
9862 E. 60th Ave.
Move-in: December 2019
$575,757 ($8,000 preferred lender closing cost credit available)
3 bedrooms, 2.5 bathrooms, 1,795 sq. ft.
Fireplace in great room, chef's kitchen appliance package, and upgraded white cabinets. 2-car detached garage and 816 sq. ft. unfinished basement. Huge backyard.
Wonderland Edward Plan (Elevation A – Modern)
9882 E. 60th Ave.
Move-in: December 2019
$643,090
4 bedrooms, 3.5 bathrooms, 2,915 sq. ft. (includes 911 sq. ft. in the finished basement)
Fireplace in great room, chef's kitchen appliance package, and upgraded cabinets. 2-car detached garage. Unfinished basement.
Coming Next Week from Focus Real Estate
4 bed, 4 bath Wonderland single family courtyard home on 29th Place.  With over 2000 finished square feet, this home features a beautifully updated kitchen and baths with white cabinets, quartz countertops and thoughtful design elements throughout.  Listing in the mid-high $500s.
Thinking about selling your home or need more information about how to purchase a new build? As always, if you're looking for a Stapleton-based agent (and neighbor) to help you find your perfect home – the team at Focus Real Estate is here to help!  Mariel@Focus-Realtors.com if you'd like to chat.
Disclaimer:
Our Friday real estate updates are meant to be a "roundup" type post where we discuss all listings in Stapleton, not just our own.  It's our way of making sure we follow the market closely and we share it with the Scoop readers because we know many of you like to track real estate in the area as well.  Many of the listings in these posts are not our company's listings and we wanted to mention that here to make sure it's clear. Thanks for reading the Scoop!