I can't believe it's already Labor Day weekend! Since we just turned the page on August, I wanted to pause and reflect on the overall state of the Denver metro real estate market.
If you haven't heard, many Denver homes are selling quickly and for elevated prices these days. In fact, Denver posted a number of real estate records in August:
– August 2020 saw the most home sales of any month of August on record
– Meanwhile, housing inventory hit the lowest point for any month of August on record with 40% less homes on the market than last year
– The average single family home price hit a new record high of $606,330
Wow!
If you've been following our Friday real estate updates on the Scoop, you also know that Central Park real estate is performing well.  Of course, real estate is hyperlocal, and anecdotally what our brokers at Focus Real Estate have seen is that well-priced homes with desirable floor plans, upgrades, yards, and locations can, if everything aligns, have multiple bidders and sell quickly.  Other homes are selling on more normal sales cycles.
This is a long way of saying that while it is a seller's market, it's more important than ever to strategically update your home to reflect what's attractive to today's buyers. As just two examples of home trends we're seeing, extra office/work from home/remote classroom space is extremely desirable right now, as are great outdoor living spaces. While these aren't always easy to add to your current home, maybe now is the time to start the process.
If you happen to be one of those buyers looking for an updated home, be sure to check out Lisa Palladino's tour of a Thrive model revive home in North End.  Or if you're house hunting up in the mountains, Joe Phillips sat down with Todd Rankin with Cornerstone Real Estate in Breckenridge to chat about Summit County real estate.
Last, on a non-real estate note, want to know one of my favorite Scoop articles so far this year?  Check out Kailee Ackerman's article about every 7+ seat vehicle out there.  I'm constantly hurting for car space – between staging gear, sports gear, and 3 kids, sometimes I feel like I need a U-Haul just to get around.  Kailee does a great job of breaking down all your different options.
Check out all 16 new listings this week! 
The "Why you live in Colorado" Home  (5085 Valentia Street, Denver, CO 80238)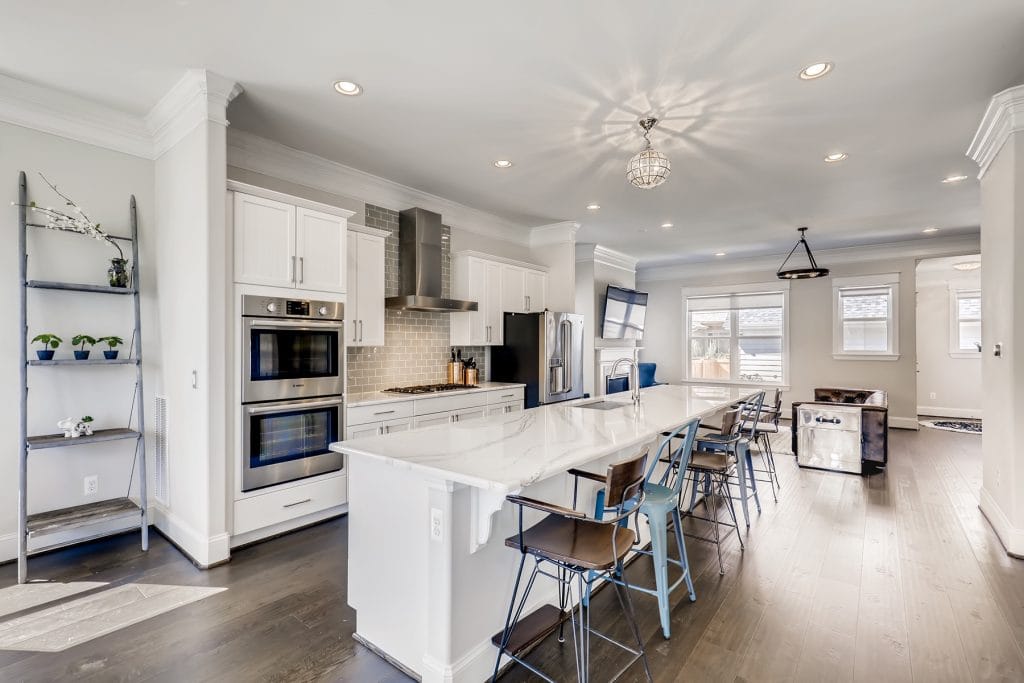 Why do you live in Colorado?
If you're not sure what the answer to that question is, all you have to do is go up to the third floor of this Parkwood Newbury townhome and step out onto the viewing deck. When you're on the deck, you'll be greeted by unobstructed, booming mountain and downtown views.
Imagine summer sunsets, maybe watching storms roll in, all from your own private oasis in the sky. And if you work from home like I do, imagine taking calls or Zooming from the roof with Mt. Evans looming in the background. Perfectly wonderful, and perfectly Colorado!
This 4 bedroom, 3.5 bathroom, 3,800+ square foot end unit home sits at the entryway to one of Central Park's biggest parks, Prairie Meadows Park, and overlooks the Valentia Street greenway and walking path that leads into the park.
Listed at $715,000 by Mariel Ross of Focus Real Estate.  Check out the 3D model here.
The Grand Main Floor Master (5065 Valentia St, Denver, CO 80238)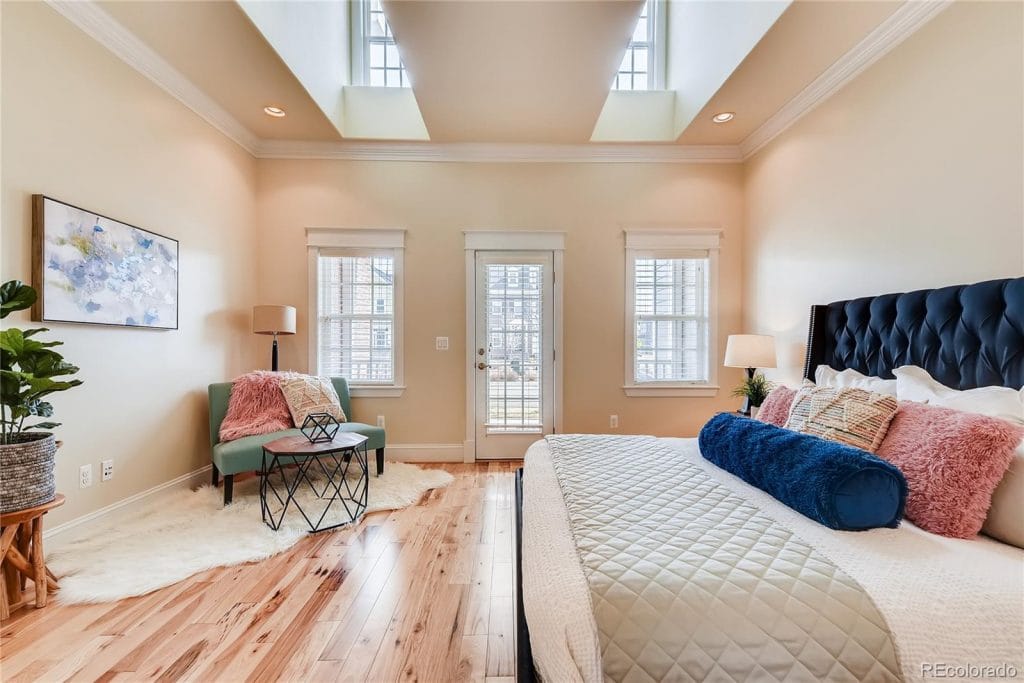 If you're looking for the most gorgeous main floor master bedroom in Conservatory Green, be sure to check out this beautiful Parkwood Rockport townhome.  If you haven't seen the master bedroom porch on a Rockport, this one shows why main floor bedroom living can be grand.  I'd love to have a morning coffee out on the porch while catching up on emails.  In the evening?  Maybe a glass of wine as the summer evening grows dark.
The master bathroom is a special surprise as well with a five-piece bath set, heated flooring, and beautiful tile throughout.
This 3 bedroom, 4 bathroom, 3,957 square foot townhome is listed by Ashley Parsons Faller of Focus Real Estate for $697,000.  Check out the 3D model here.
Model Home Worthy Infinity (3549 Beeler Ct, Denver, CO 80238)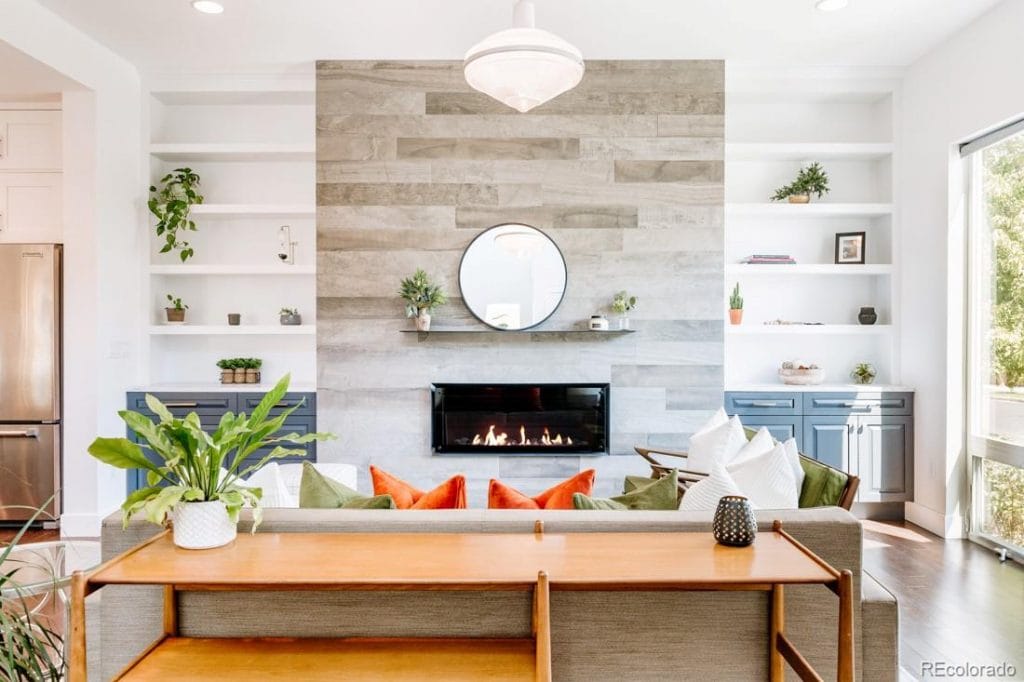 Have you ever seen an almost all white master bathroom? This Central Park North Infinity Lime goes all-in on white, and how wonderful it is! Once inside the luxurious master bedroom you'll be impressed by the size, with space for multiple seating areas. The master bath features double vanities, a glass walk in shower & a walk-in closet.
Listed for $900,000 by Jason Cummings of Compass, this 5 bedroom, 4 bathroom, 3,607 square foot home is a stunner in so many different ways.
Million Dollar Views – Back on the market! (5925 Beeler Street, Denver, CO 80238)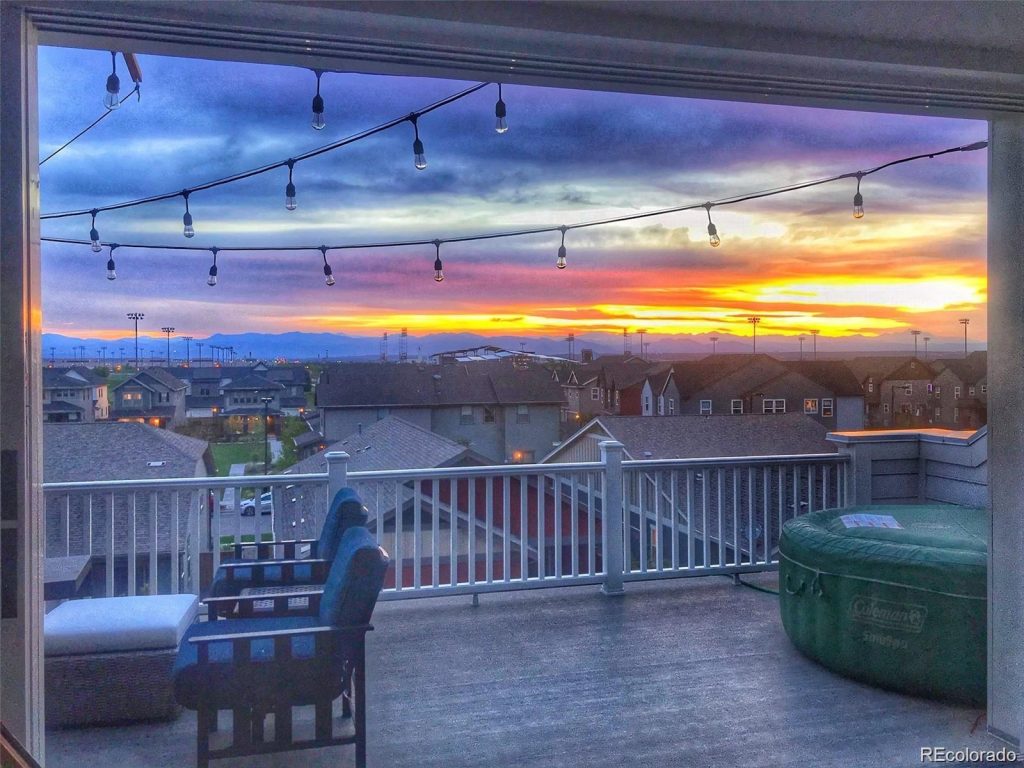 This stunning Parkwood Newbridge is back on the market and listed for $715,000.
With 4 bedrooms, 5 bathroom this home delights from the basement theater room to the 14 foot kitchen island to the beautiful master bath with free standing tub.  And on the third floor deck?  Million dollar views.  This townhome is listed by Ashley Faller and Mariel Ross at Focus Real Estate.  You can check out the 3D model here.
There were 18 homes that went under contract this week.  Of the 18, half went under contract in the first week.
20 homes closed this week in Central Park with an average sale price of $624,820 and 9 days on the market.
There are 51 total active listings in the neighborhood right now.
As always, if you need help with your move we'd love to help. My contact info is below and our whole team is here to serve. Have a great weekend!
**Focus sells homes for a 1.5% listing commission. Neighborhood experts, reduced commissions**
Disclaimer:
Our Friday real estate updates are meant to be a "roundup" type post where we discuss all listings in Central Park, not just our own.  It's our way of making sure we follow the market closely and we share it with the Scoop readers because we know many of you like to track real estate in the area as well.  Many of the listings in these posts are not our company's listings and we wanted to mention that here to make sure it's clear. Thanks for reading the Scoop!