It's been a busy few weeks in Central Park! We're seeing a major uptick in activity in the neighborhood, from summer camp news to commercial real estate deals to new businesses opening. 2020 was a tough and at times tragic year for so many, and it's exciting to see signs we might be returning to some level of normalcy.
So what are some of these signs of normalcy? I know it's only January, but it's time to start the summer camp conversation – and why not start with a local Central Park camp, Camp Galileo. Camp Galileo was started last summer by Central Park parents Angie Peluse and Abbey Esposito.
Camp Galileo is an innovation camp that uses STEAM activities to help campers grow, think differently, and be scientists. Check out this post and Joe Phillips' interview with Angie here.
There's been a lot of new commercial real estate and business news as well. Just yesterday we posted on the Scoop's Facebook page about a new bike shop – called Epic-Cycles – opening its second location in Beeler Park. Epic told us they were "super excited" to be opening in the neighborhood.
On the Anschutz Medical Campus on the other side of the neighborhood, Pearl Wine Company opened a fabulous bike shop and bottle shop. You can catch our Facebook Live interview with the owner Dustin here.
Finally, on the residential real estate front, Central Park's last neighborhood – North End – continues to release lots. Parkwood Homes recently released 3 new Painted Lady home lots, as one example. *The cover photo to this blog post shows the location of these 3 iconic Painted Ladies. See bottom right of the map.
Also, if you're a fan of Infinity Homes, check out Kailee Ackerman's post on the latest with Infinity.
We'll keep you updated as we learn more about North End builder news!
13 new listings hit the market this week. Here are a few of my favorites:
This home is Central Park courtyard living at its finest. What do I love the most? This perfectly tucked-in home has a porch that looks out over the cute courtyard. And if that wasn't enough, the master bedroom on the second floor has a balcony that also looks out over the courtyard.
I'm picturing Friday summer evenings on the porch chatting with neighbors, and Sunday morning coffee on the second floor porch.
This "coming soon" home will be listed for $675,000 and is going live on the MLS tomorrow (Saturday).
This 4 bedroom home – with a finished basement and yard with a firepit – is listed by Mariel Ross at Focus Real Estate.
*Professional photographs and 3D model will be available Saturday when listed. "Coming Soon" status complies with the MLS Clear Cooperation Policy.
This 5 bedroom (with 4 on the second floor) home is "on trend" with one of the features a lot of buyers are interested in. What exactly is that feature?
How do 2 offices sound – both on the main floor?
In our current work-from-home, school-from-home environment, some buyers are interested in additional office space, and/or flex space. This home gives buyers the workspace they need to get work done, without interfering with whomever is using the other office.
This home is listed for $850,000 by Joe Phillips of Focus Real Estate.
11278 E. 25th Drive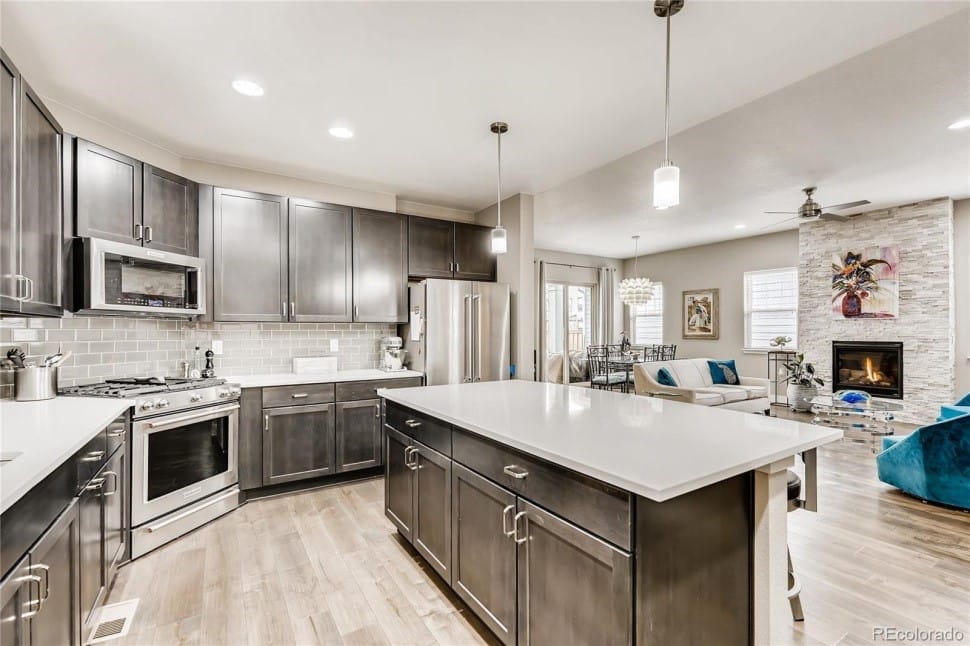 Know anyone looking for a ranch style home on the south side of Central Park? If so they may want to check out this Boulder Creek listing Amy Atkinson from Focus has at 11278 E 25th Drive.
I love the gorgeous hardwood floors, the well-designed kitchen, and of course who wouldn't like the floor-to-ceiling stacked stone fireplace. Also on the main level is the spacious master suite, den/office, guest bath, laundry room and mudroom room leading to the attached garage.
This Boulder Creek is listed for $675,000.
There were 9 Central Park homes that went under contract last week.
Curious what your Central Park home would sell for? We're happy to meet, provide a free home valuation and show you what you could expect to walk away with. You may be surprised, especially since Denver single family homes have gone up 14% in just the last year!
These valuations are always no obligation and you can learn more about our services, (including our 1.5% listing agent fees!) in these buyer and seller FAQ videos.
There were 4 properties that closed this past week.
There are just 16 total Central Park active listings right now. This lack of inventory has been great for sellers, and a challenge for buyers.
So there you have it, Central Park friends!
Disclaimer:
Our Friday real estate updates are meant to be a "roundup" type post where we discuss all listings in Central Park, not just our own. It's our way of making sure we follow the market closely and we share it with the Scoop readers because we know many of you like to track real estate in the area as well. Many of the listings in these posts are not our company's listings and we wanted to mention that here to make sure it's clear. Thanks for reading the Scoop!