**NOTE** This article will be updated to reflect pricing on both the lots and base pricing as soon as we get them. There will be a Part II to this article when we have that information.**
Are you looking for a ranch-style floor plan in the last section of the North End neighborhood? Look no further than the KB Starlight Collection.
These mid-century modern beauties are available in five floor plans ranging in size from 2300 square feet up to close to 2900 square feet – all on one level! You can also add a finished basement for more square footage. My favorite feature is definitely the high vaulted ceilings, large open kitchen, master bathroom, and the 3-car garage option.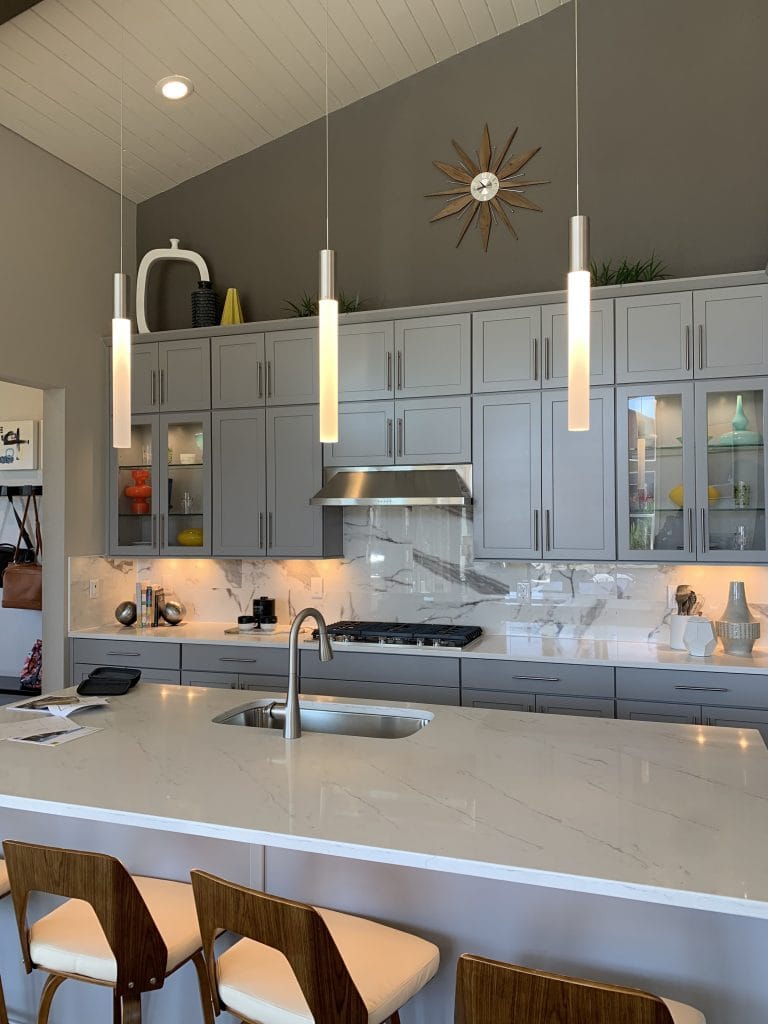 2-4 bedrooms
2-3 car garage
2301 square feet
This is also the model home
3-4 bedrooms
2-3 car garage
2483 square feet
2-4 bedrooms
2-3 car garage
2617 square feet
3-4 bedrooms
2-3 car garage
2714 square feet
3-4 bedrooms
2-3 car garage
2890 square feet
As of right now the base pricing is starting in the mid $700s.
KB Home was one of the original home builders in the neighborhood and remains a highly sought-after builder in Central Park. KB has also built homes in many other Denver communities and across the country. When building a KB home, you are not going to be given a lot, if any, structural leeway on the home (i.e. you cannot move walls, put in skylights, etc.).  However, when picking out your plan, you will be able to decide some structural elements early on.  HERE is a link to the Twilight floor plan where you can see the floor plan and make additional changes such as adding a double island, optional sliding glass door in the bedroom, etc.  This is a fun way to see how you can personalize your home with a little more detail.  And HERE is a link to the Facebook Live tour I just took of the model home in the North End.
After you've picked out your structural elements, it's time to head to the design center. After signing the contract to build, we will make your appointment at the design center where you will pick out all of your interior finishes. This is a great time to have an additional set of eyes with you. As Realtors, we are here to help guide you through the process as well as help you make any decisions on your interior choices. Know that we are not here to advocate one way or another when it comes to your design choices, but we are here to aid you in letting you know what items would be great for resale value, and what items could potentially be a waste of money. It is ultimately your decision on what you decide to do with design, and it's always fun to see what clients come up with!
The design center appointment will take place approximately one month after signing the contract. The KB design center is located in Centennial and this is the design center used by all KB homes being built in the Denver metro area.
As with most things in life, having a plan before going into the experience is key. Here at Focus we've helped hundreds of families build their new homes and are often asked about how much clients should budget for when it comes to finishes and interior design elements. Check out this article Mariel Ross wrote "How much will a new construction home *really* cost you?"
Building a New Home? Let's chat about the design center!
Onto the Lots!
Currently at the time of this writing, KB has not yet finalized the lot premium prices. We are hopeful to know this information by next week (October 8, 2020) or earlier. As soon as we know these prices, we will let you know!
Below is a map of the first release of lots for the Starlights.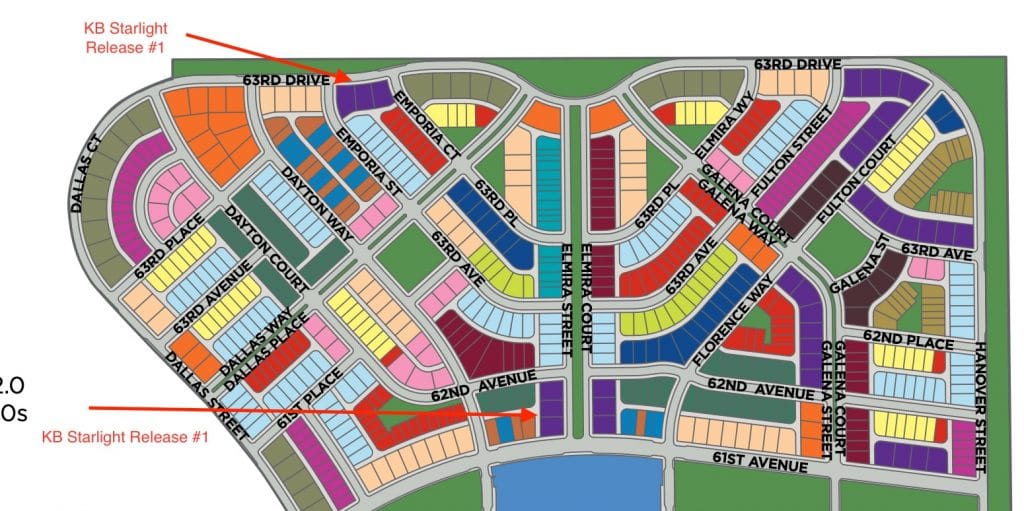 As you can see, there will only be six lots available in the first release (I'll explain the process of obtaining one of these lots below). The three lots on 63rd Drive will have fantastic unobstructed north views of the Rocky Mountain Arsenal. These lot prices will likely be on the higher side of what we're used to seeing (possibly in the $50k range). The three lots facing east on Elmira Street near the new school will also have lot premiums, and we will let you know as soon as we know.
After these lots are released, KB will then release the next lots that are east on 63rd Drive and will continue down to the south end of the final phase of the North End neighborhood. In total, there will be 35 lots for the Starlights.
So, I'm interested… how do I obtain a lot? How do I get started?
Glad you asked! (haha).
The first thing you will want to do is make an appointment to view the model home, sit down with the builder (and favorite Realtor hint, hint), and put your name on the interest list. Once KB knows what the base pricing for the model homes will be, then they can begin to build their interest list. It has been undecided at this time if the process to obtain the lots will be a lottery system or first-come-first serve. It all really depends on the interest level. Word to the wise: if you have even been contemplating building a Starlight, now is the time to get your name on the list – we can help you do that.
The first six lots should be released at the end of October. If you are one of the six families building a home during this first release, your timeline will look roughly like the one below:
Late October — Choose floor plan and lot
Late November/Early December — Ground breaks on home
Late November/Early December — Structural issues must be all decided upon and agreed to (i.e. finished basement)
Late December — Design center selections final
Mid-Summer 2021 — Close and move in
The second release of the lots will likely come in late November/early December for a fall 2021 move-in date.
A few other helpful things to know…
The earnest money (or deposit) is $10k if you are not contingent on selling your home. The deposit is $20k if you are contingent on selling your home (towards the end of the below video, Joe explains how we can help with this process and possibly sell your home for free!). As I stated earlier the base price of these homes will be in the mid $700ks. This is an amazing option to build a truly spectacular home, with a TON of upgrades for less than $900k all-in. Obviously, everyone's budget and tastes can differ, but the KB Starlight option is truly a fantastic option. Check out our FAQ section on building a new construction home. These FAQs are applicable to every builder.
If you're interested in getting on the interest list or would like any further information, please e-mail me or text/call me and I'd love to meet up with you and talk about what you are looking for in your next home.