Stapleton's new trampoline and ultimate adventure park to open in several months
You may have heard the news on Facebook.  Or your kids may have told you about the rumors circulating amongst their friends at one of the local Stapleton schools.  Or perhaps you just assumed that someday, someone would open an incredible trampoline and indoor adventure park right here in kid-friendly Stapleton.
Regardless of where you heard the news, wait no more!  Urban Air Adventure Park – the ultimate indoor trampoline and adventure park – is tentatively scheduled to open in mid-to-late May of 2019.  The indoor park will be located a few blocks east of the new Starbucks on 40th Avenue, just south of I-70.  Urban Air's address is 9550 East 40th Avenue, Denver, Colorado 80238.
Here at the Stapleton Scoop I was fortunate to have had the opportunity to chat with Mike Lapp, the owner of Urban Air's new Stapleton location.  So here's your inside scoop on Urban Air, Stapleton friends!
Attractions
From performance trampolines to a climbing wall to unique attractions like the Wipeout, Urban Air Adventure Park will have an amazing assortment of safe, indoor, and fun activities and attractions for you and your children.
Here are a few that Mike says will go in the Stapleton park.  Let us know in the "Comments" to this article what attraction you're most excited for!
TUBES PLAYGROUND
Playground or obstacle course?  You decide.  Race a friend or beat your own personal best time.  Climb, crawl, and slide your way through to victory.  Exclusively for racers 9 and under who want to take on the challenge.  You can make it a competition by racing with a friend, or just let your little one explore while their imaginations run wild as they develop their fine motor skills.
SKY COASTER
Time isn't the only thing that flies when you're having fun.  You can too with our Sky Rider indoor coaster.  Strap in and zigzag overhead while you scout out all the other attractions.  It's literally a way to take your fun to new heights.  Plus it's a no skill, all thrill ride, so everyone can enjoy.
SPIN ZONE
Hit and run has never been so fun.  Trade paint with your friends as your whirl around in our battle of the bumpers.  Perfect for the kids who love cars but aren't quite old enough to drive.  Or for grown up drivers who dream of taking out their rush hour frustrations on other drivers.  It's a smashing good time for everyone.
CLIMBING WALLS
Dreaming of free climbing?  Maybe start in the harnessed safety of our climbing walls.  Build muscles and hone your skills as you defy gravity and master your ascent while enjoying some cliff side fun.
ROPES COURSE
Get some extra hang time with our 10 gravity-defying obstacles on the Urban Air ropes course.  Learning the ropes has never been more exciting; with another up-in-the-air adventure that tests your balance and agility.  The stakes are high as you and your friends learn confidence, however safety is assured since you are securely harnessed as you make your way through the course.
Adults
Is there anything for adults while the kids play the day away?  There will be a full café serving great tasting and quality fun food, according to Mike, as well as sodas, slurpees, and locally-sourced beer and wine.  You read that last part right, Moms and Dads!  And how about this – parents can also enjoy getting a massage in one of Urban Air's eight massage chairs strategically located throughout the park.
Young Children
Children under 7 years old who aren't quite ready for the big attractions will have their own soft play area.  I'm sure my 3-year-old is going to love a little kids area!
Birthday Parties, Corporate Events, and More!
I suspect Urban Air will quickly become a go-to birthday location for Stapleton families.  Urban Air is perfect for birthday parties and handles everything from setup and hosting to entertainment and cleanup.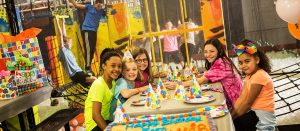 Parties at Urban Air are perfect for kids of any age, which is why Urban Air Trampoline Park is voted Best Kids Birthday Party Place year after year.  Whether you go with a Classic Kids Birthday Party package or want to make it extra special with the famous Glow Party, Urban Air goes the extra mile to make your next kids birthday party special.
Urban Air also hosts corporate events, school fundraisers, and more.
Like many Stapleton moms, I can't wait for Urban Air to open.  You'll likely see me at Urban Air's indoor café trying to get some food in my boys before they bounce and play the day away.  I hope to see you there as well, Stapleton friends!
Before we go, I'll give Mike the last word:
"Urban Air is a different type of Adventure Park.  We strive to provide lasting memories for children of all ages.  We picked Stapleton because of the growing family oriented lifestyle of the neighborhood.  Urban Air's goal is to provide the best in family entertainment while providing an unforgettable experience for all ages.  Stapleton is a perfect location for Urban Air and we are excited to meet our new neighbors!"
On behalf of the Stapleton Scoop, welcome to the neighborhood, Urban Air!
For the latest updates on Urban Air's progress, check them out on Facebook (@UrbanAirStapleton) and Instagram (UrbanAir_Stapleton).