The Constellation Ice Cream, the newest concept from the team behind Little Man Ice Cream's towering milk can in the Lower Highlands, had its Grand Opening on Saturday, March 30 in Stapleton's Eastbridge Town Center at 10175 E 29th Drive.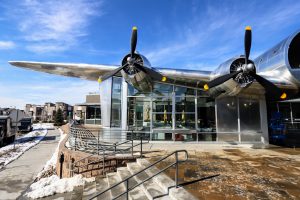 Named after The Lockheed Constellation ("Connie"), a revolutionary aircraft of the mid 20th century, The Constellation Ice Cream was designed by the Little Man Ice Cream Company team with architects Michael Koch and Cassandra Covotsos of Koch Covotsos Architects, incorporating a 75-foot replica Constellation airplane wing. The intricate design pays homage to Stapleton International Airport's heritage, embracing its history as the home to Denver's primary airport for more than 70 years.
The Constellation features Little Man's handcrafted ice cream, sorbet, ice cream sandwiches and unique novelties, such as the flambéed "Connie Pop," a Baked Alaska popsicle finished over an open flame. Exclusive Constellation ice cream flavors are inspired by 1950s-era flight include Cruising Altitude, a cookie butter base mixed with airline pretzels and peanuts; Red Eye, a vanilla coffee base with a fudge swirl; and Turbulence, a mixture of marshmallow, charcoal ice cream and chocolate pearl crisps that create a stormy swirl.
Like all Little Man concepts, The Constellation Ice Cream will institute a Scoop for Scoop program.  Celebrating the marvel of engineering and technology that the aircraft represented during its inception, The Constellation will support STEAM (Science, Technology, Engineering, Art and Math) programs by donating to local schools and relevant nonprofit organizations through each scoop of ice cream purchased. The Constellation Ice Cream will also will partner with other Eastbridge tenants on regular community events, fundraisers and collaborations.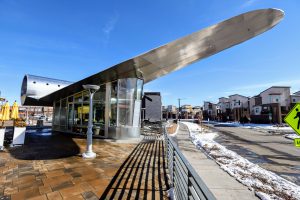 "With the help of our Eastbridge partners, we have created a place-making hub for the Stapleton community," said Paul Tamburello, owner of Little Man Ice Cream Company. "It's reminiscent of Stapleton International Airport's arrival gate in its heyday, welcoming neighbors, individuals and families. We're proud to represent the community's rich history and be a part of its dynamic future." ."
For more information, visit www.constellationicecream.com.
Written by Basha Cohen, Director of Marketing, Little Man Ice Cream Company