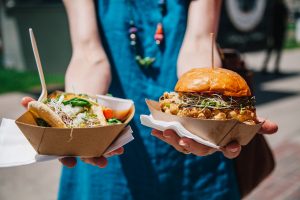 We've got a perfect way for you to spend July 4th, friends and neighbors, that involves very little work on your part and a whole lot of family friendly fun.
Stanley has teamed up with Two Parts, one of Colorado's coolest event production companies, to bring their traveling food truck rally, Truck Stop, to Stanley this Wednesday, July 4th. We'll have 25+ food trucks in The Field at Stanley, along with live music, DJs, and pop-up bars from 1PM to 8PM. The event is free! Food and drinks will be for sale, of course, but admission and entertainment is 100% free.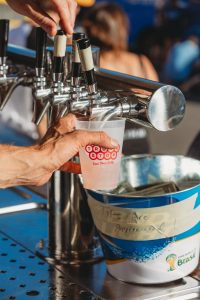 Ice cold drinks will be flowing all day at Truck Stop, and we've planned happy hour from 4PM to 5PM that day — during that hour, all drinks will be just $4. You can learn more details and RSVP for the event here.
I attended the first Truck Stop on Welton Street a few weeks ago, and it was great big fun — friends and neighbors exploring some terrific food, a variety of people from different walks of life enjoying the music and drinks and good vibes.
Most of Truck Stop will take place outside, in The Field, but that's just steps away from our marketplace, which is indoors and also air conditioned. If we're having another scorcher of a day, you'll be welcome to enjoy Truck Stop and then pop into Stanley to cool down and enjoy our open businesses. Right now, about half of our food and beverage businesses will be open, as will about half of our retailers, though some will have limited hours (depending on traffic). Mr. B's Wine & Spirits will open early so you can stock up for all your at-home adult beverage needs.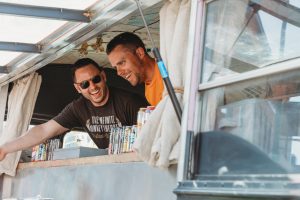 A few people have asked whether we're going to have a fireworks display on July 4. The answer is no for this year, but we've started exploring how to make that happen at Stanley in the future. (If any of you happen to be fireworks experts, feel free to send me a message. I'm @bbp3 or @ohheycreative on social.)
One of the reasons our team built Stanley Marketplace was to create a neighborhood gathering spot, a place to bring people together and make them happy, so hosting events like Truck Stop on July 4 is helping us fulfill our mission and hopefully bringing you a beloved neighborhood amenity.
We'd love to see lots of you at Truck Stop at Stanley for July 4. Please help us spread the word by inviting your friends and families and neighbors.