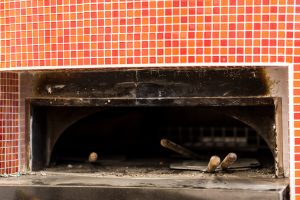 It is all in a name and the perfect match…
The Name:  SA=Salad + ZZA=Pizza.
The Match: Sazza Pizza + Salads and Stanley Marketplace.
They have a passion, a purpose, and everything they do everyday is house made.
How it All Started
Sazza Owner Jeff Rogoff, and his partner at the time, opened the Greenwood Village location 12 years ago because they wanted a place where they could feel comfortable feeding their children. At the time, there was not much in they way of sustainable and organic restaurants, so they decided on pizza and salads. Most people thought they had a good idea, but little did they know that they were ahead of the curve, as organic & sustainable, clean-eating, and farm-to-table is now the trend.
Purpose & Reason
Jeff has been known to say that "everything at Sazza has a purpose and a reason".  Any member of the Sazza crew can tell you the story behind the up-cycled T-shirts the staff wears, the donated silverware the customers use, how they compost, and above all how they… Don't just make Pizza and Salad.  They make the planet a better place. This is why Sazza is known as one of the most sustainable restaurants in the country.
Stanley Marketplace
When Jeff was approached by Stanley Marketplace mastermind, Mark Shaker, to open a second location it was an instant match. The Stanley Marketplace "Stanifesto" and their commitment to sustainability and community went hand in hand with "who" and "what" Sazza stands for. Sazza sources ingredients locally, organically or through local vendors. If you want to know where their house-made food comes from, you can visit their ingredients page on the website. They are committed to being transparent.
Bees & Books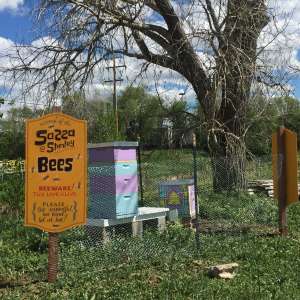 Yes, bees! When they're not busy serving up delicious pizzas and salads, they are in the business of beekeeping. Their bees hives produced 25 lbs of honey last year and they are "buzy" this year. The honey is used in many of their recipes, including the ancient grain crust. They have even hosted past events, such as "Bees and Booze", during which attendees learned about beekeeping while enjoying pizza and drink specials!
The Little Free Library is located outside the entrance to Stanley Marketplace between Sazza and Stanley Beer Hall. The Little Free Library provides a chance for the community to drop off a book, take a book and share.
Sazza Watering Hole "Colorado Bar"
Supporting the local community is what Sazza is all about. Their "Colorado" bar proudly serves beer and spirits made right here in Colorado. Wines are sourced from sustainable vineyards. As the seasons change, seasonal cocktails and draft beer are offered to complement the menu.
Specials
Monday: 1/2 price off a bottle of wine from 11am-9pm
Tuesday: 1/2 Price Specialty Cocktails from 11am-9pm
Happy Hour: 11am -6pm $2 off house wine & draft beer
Lunch Combo: Monday – Friday from 11am-2pm
The CommUNITY Room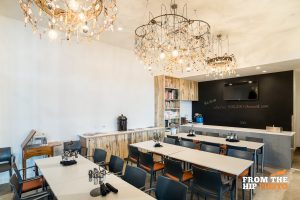 The CommUNITY Room within the Stanley Marketplace location hosts a variety of events aimed at engaging and educating the community. It's a place to bring people, food, craft, and sustainability together. You can reserve the CommUNITY Room for you next event! Here are the rates, and you can find more info and check the calendar for availability here.
DEAL for Scoop Readers!
Mention Stapleton Scoop and receive 10% off your order until August 31st, 2018!