What's the latest with Parkwood in North End? Plenty! As Central Park's only semi-custom builder, Parkwood is known for classic, timeless architecture and beautiful interior floorplans and finishes.
Parkwood's Painted Ladies homes are already some of the most iconic homes not just in Central Park, but in all of Denver. If you've been thinking about building a Painted Lady, Parkwood just released 3 new lots for sale. The homes will be located in Central Park's new North End neighborhood on 58th near the park and open space.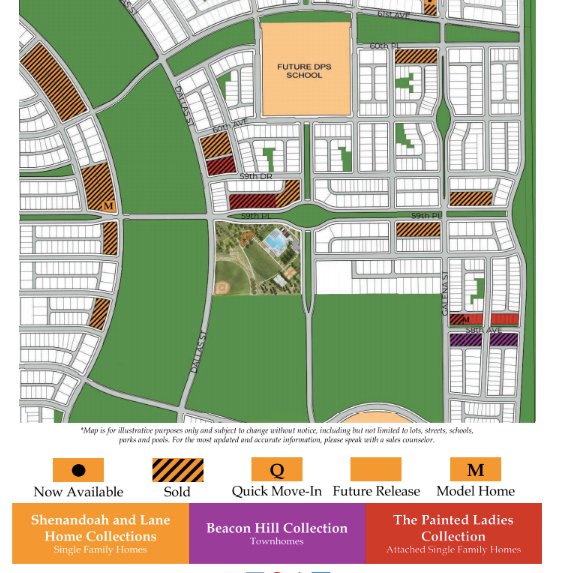 The homes are the Fillmore 12, Fillmore 9, and Monterey 2 (see the early rendering above for possible elevations). They will be east of the new Painted Ladies model, which is noted by a "M" on the map. The model is the Fillmore 3 on parcel 17.
The Fillmore 12 on parcel 16 is listed for $688,300.
The Fillmore 9 on parcel 15 is listed for $672,100.
The Monterey on parcel 14 is listed for $712,000.
Pricing includes base price as well as lot premiums. Structural and other upgrades are extra. I'd be happy to price out an "all-in" estimated price for you based on our experience building dozens of Parkwoods and Painted Ladies in Central Park (I even built my own Parkwood!).
Shoot me a note at Mariel@Focus-Realtors.com if you'd like to chat "all-in" pricing for any new builds in North End. Be sure to check out our post What's cheaper? Building a new home … or buying a resale in Central Park? if you'd like to dive into how new homes are priced in Central Park.
It's possible these 3 homes will be completed by the end of 2021 or early 2022, though Parkwood is still working on estimated completion dates.
Parkwood emphasized to us that these homes will be sold on a "first come" basis, so if you're interested email me. Also, don't miss our article Why hire a broker for your Central Park new build? if you'd like to understand how our 8 brokers here at Focus Real Estate fit into the new construction world.
In short, Parkwood and other builders will pay us directly, and your new home is the same price regardless of whether you use a broker, so all our services are at no additional cost to you. We provide full brokerage services, legal review of your new build contract, a free 3D model of your home at the predrywall stage (so you have a digital record of what's behind all your walls), design center assistance, pricing help, and more.
Send me a note at Mariel@Focus-Realtors.com if you'd like to chat!