This weekend we're hosting the fifth annual Stanley Arts Festival, a big free arts event for you and us and everybody, inside The Hangar and throughout the grounds at Stanley Marketplace.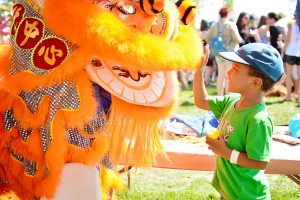 Stanley Arts Festival features 90 artists from all over the country with work in a bunch of mediums — painting, mixed media, sculpture, jewelry, textiles, and more. It's a great place to buy a special something for your home or office, or a unique and meaningful holiday gift for some lucky human you love. The festival also includes tons of free entertainment and activities, including live music, interactive art elements, and some pop-up performances like dancing dragons, which are always cool.
One super popular area of the Stanley Arts Festival is the Creation Station, on the west lawn close to the Stanley Beer Hall patio. Creation Station is like kiddo heaven — there are arts activities and performances geared toward our youngest friends, most of which are animal-themed this year. We'll have watercolor painting, printmaking, and play dough activities, plus an instrument petting zoo from our pals at Neighborhood Music.
Stanley Arts Festival takes place this Saturday from 10AM to 7PM and this Sunday from 10AM to 5PM. It is entirely free to attend, though we hope those of you who can will buy some art, enjoy some drinks and snacks, and spend a good part of your weekend with us. This festival is produced by CherryArts, the same nonprofit group behind the annual and gigantic Cherry Creek Arts Festival every July, and this event helps them raise money for their mission: bringing art and arts experiences to people throughout Colorado all year long.
Our regulars should know that this weekend is always a super-busy one at Stanley (thank goodness!). This means we recommend walking, biking, or taking a ride sharing service, if any of those options work for you. If not, we'll have our 400+ regular parking spaces and our overflow lot available, plus we've gotten permission to use the huge lot at Montview Plaza, close to our Clinton and 23rd Street entrance. No matter how you get here, we hope you get here!
If you'd like to take a look at the artists joining us at this year's festival, here you go.
And here's a map of the layout of the festival.
The art auction is already live; more info on that here.
Last but not least, here's a schedule of events during the festival.
We teamed up with CherryArts way back in 2015 to put together a big weekend event that would celebrate art, foster community, bring people together and make them happy, and raise funds for year-round arts education. We're thrilled to have reached our fifth year of this festival—during the first two years, Stanley was still a construction site—and we hope lots of you will join us this weekend to help make this event a success.
If you know anyone in Colorado who likes art or food or festivals or fun, please let them know about this event by forwarding them this blog post or sending them to our website or our Facebook event page.
Thank you, everybody. Here's to art for everyone!