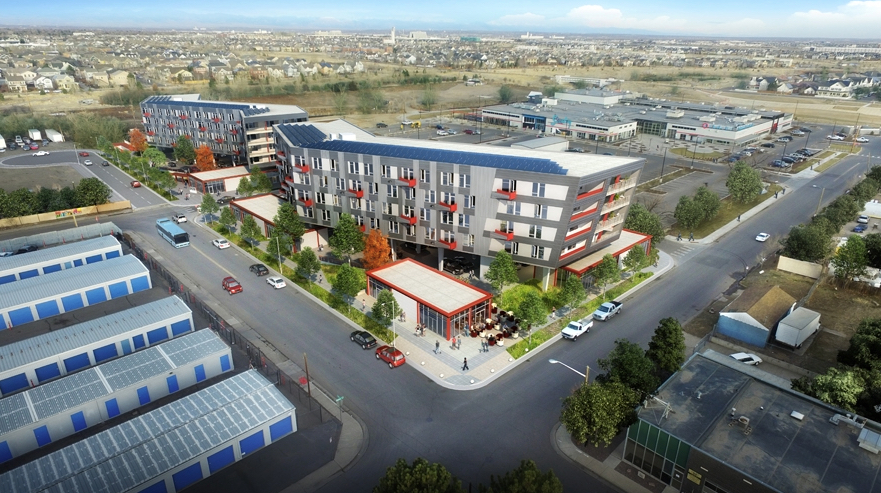 There's a lot going on in Central Park these days! While many local openings and developments have been on hold, things are starting to pick up.
As a co-owner of Central Park-based real estate brokerage Focus Real Estate, I'm always tracking the latest business news around our wonderful neighborhood. If you have business updates you'd like to share, send them along! You can email me at Mariel@Focus-Realtors.com with your news.
Here's a sneak peak at some of the new stores and projects we're tracking.
Is Raising Cane's coming to Northfield?
As residential real estate brokers, we're always watching Denver and Aurora permits and real estate filings. From helping our clients know what's going on in the neighborhood, to advising our new construction clients – as early as possible – where the best new lots in Central Park's last neighborhood (North End) are located, we have many reasons to be as plugged in as possible on the development side of things.
One project that caught our eye recently when diligencing City and County of Denver projects? A proposed Raising Cane's location at 4535 N. Central Park Boulevard, which is where the new Runway 35 North development is being built in Northfield.
Here's how the City describes the project:
"A quick serve style restaurant specializing in chicken fingers with a drive-thru. Project will include construction of the drive-thru restaurant, dumpster enclosure, parking lot and drive aisles, site lighting, and drainage facilities."
Raising Cane's has over 530 locations and, as a former Louisiana resident myself, has a great Louisiana backstory (the first location was next to LSU). Raising Cane's offers a limited menu of different chicken finger combinations.
If you recall, In-n-Out Burger also confirmed late last year that it hopes to build a new restaurant at Runway 35 North. Runway 35 North hasn't been developed yet, so plans for Raising Cane's and In-N-Out could change. We'll keep everyone updated as we learn more!
6800 Stapleton Street for sale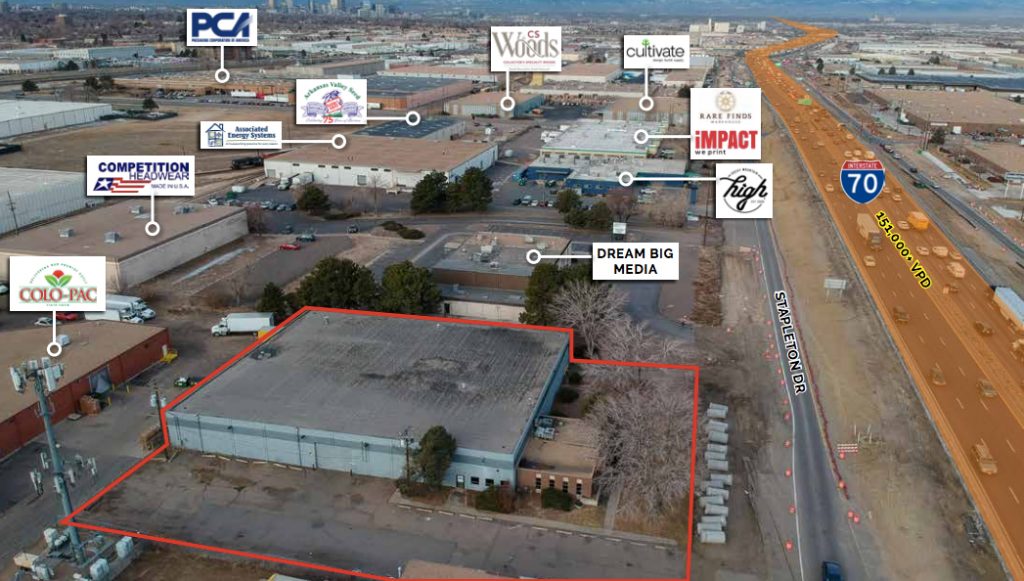 The 20,115 sq ft industrial building located at 6800 Stapleton Street is for sale for $2,715,000. The move-in ready, 1 story industrial building is located on the frontage road just south of I-70 and west of Quebec, close to the Chick Fil A restaurant and 7-11 gas station on Quebec.
If you're interested in learning more about this building, you can contact Thomas Ethington or Shawn Dickmann at Blue West Capital (720-966-1624). *Focus Real Estate is a residential brokerage and is not associated with this listing.
Stanley Residential close to breaking ground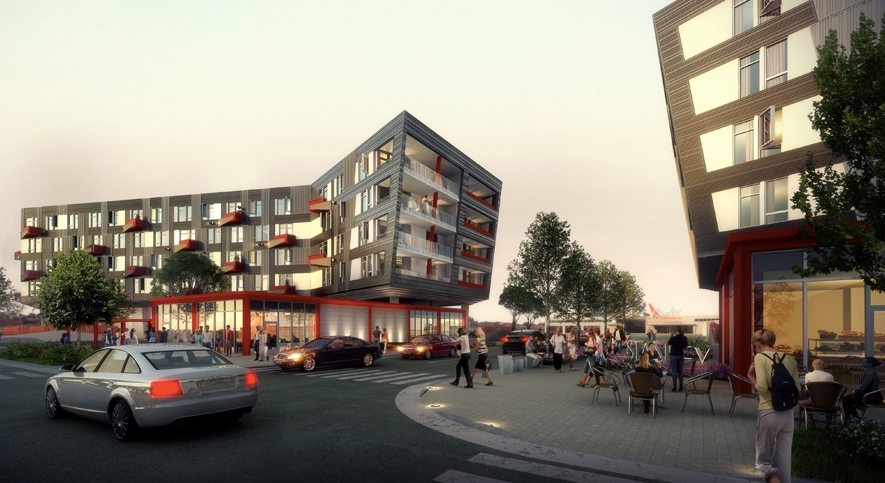 Have you ever thought about living next to Stanley Marketplace? Our offices here at Focus Real Estate are just a couple blocks away from the Stanley at Progress Coworking, so needless to say we spend a lot of time at the Stanley – and yes, the thought of living close by has crossed my mind.
If the thought has crossed your mind, too, you'll be interested to know a transformative project in front of Stanley Marketplace we've been eyeing for several years now – Stanley Residential, a 168 apartment complex – could start construction in April, according to the Front Porch Newspaper. The first residents could move in mid-2022.
The developer of the innovative, W shaped buildings is Westfield Company, and the architect is Shears Adkins Rockmore. You can learn more about the project from the Front Porch Newspaper.
Williams Family Dentistry ready for big move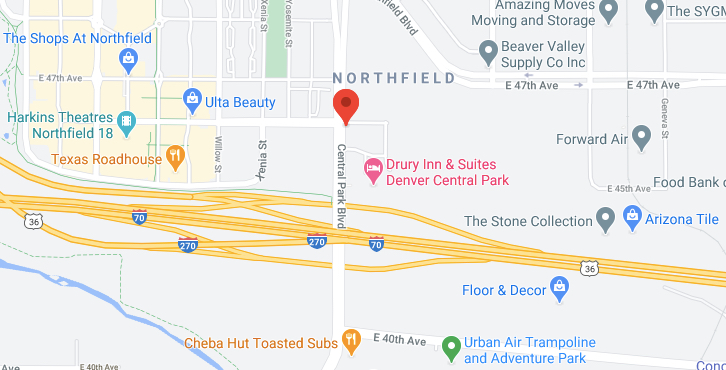 Local Central Park dental clinic Williams Family Dentistry is moving to 4624 N. Central Park Blvd, Suite #102. The new location is 5 minutes from Williams' current office.
"The reason for our move is more space, we will be leaving our current practice with 6 operatories for a bigger space with 10 operatories. Almost double the space!" Williams Family Dentistry told the Scoop.
The building Williams is moving into is pre-existing, however, they are building out a space on the first floor. Construction is estimated to be completed on April 23rd. The tentative opening date is May 3rd.
Big trail news out of the Rocky Mountain Arsenal
One of Central Park's best amenities, the Rocky Mountain Arsenal National Wildlife Refuge, recently added 8 miles of new hiking trails. The Arsenal also expanded visitor activities to include bicycling on select trails starting at the beginning of 2021.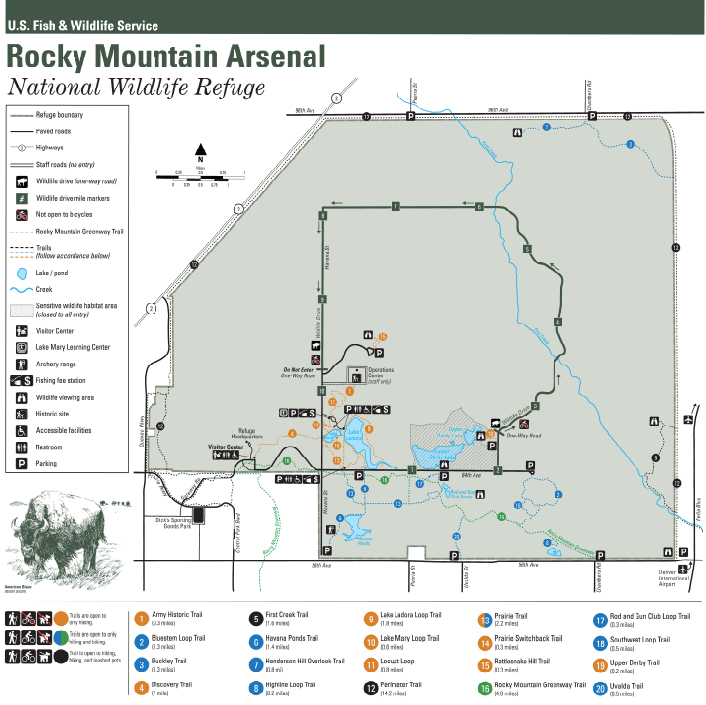 The expanded trails include a 5 mile connection to the Rocky Mountain Greenway Trail. This transformative trail system could eventually connect Rocky Mountain Arsenal to Rocky Mountain National Park next to Estes Park. In other words, someday you might be able to hike from Central Park to Boulder and onto Estes Park on a single trail system (wow!).
Check out this Scoop post for more on the new trails and other new Arsenal features: Bikers and hikers rejoice! Exciting news out of the Rocky Mountain Arsenal
Hook & Reel restaurant building for sale
The Hook & Reel Seafood building in Quebec Square – just west of Central Park, next to Wal-Mart – is for sale. List price is $3,250,780 ($389/sq ft) for the 8,352 sq ft building, lease, and 90 parking spaces.
Hook & Reel is a casual family dining restaurant that offers a variety of seafood including clams, crawfish, lobster, and shrimp.
The building is located at 7407 E. 36th Avenue.
If you're interested in learning more about the Hook & Reel listing, you can contact Max Freedman at the Sands Investment Group Austin, LLC (512-766-271). *Focus Real Estate is a residential brokerage and is not associated with this listing.
GO Church purchases land at Runway 35 North in Northfield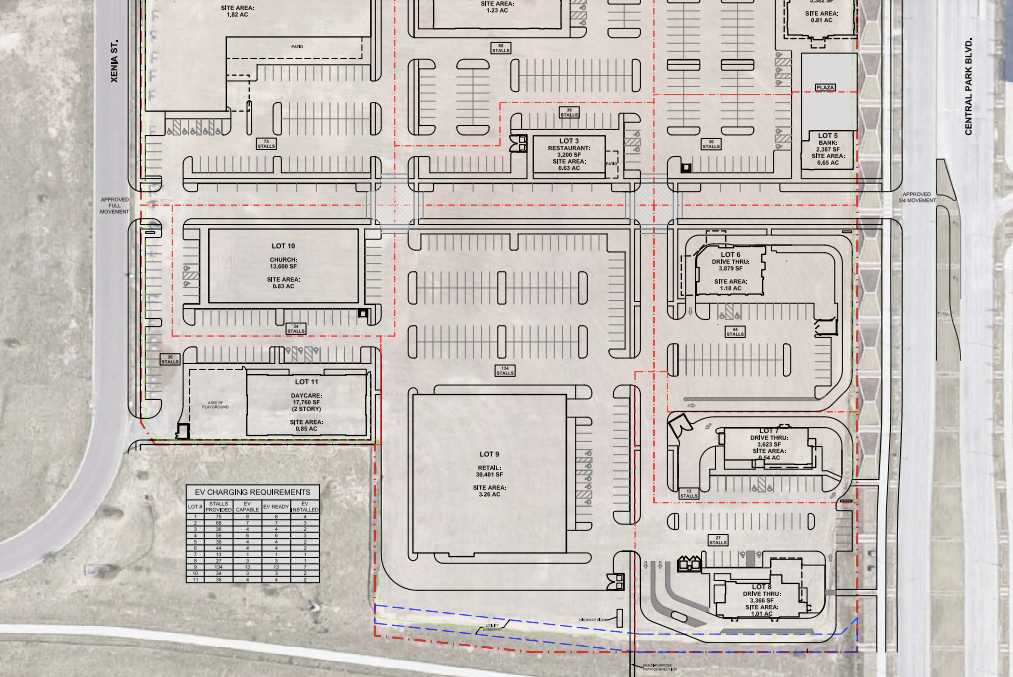 GO Church has purchased land just north of I-70 and west of Central Park Blvd. at the new Runway 35 North development. The almost 1 acre site will support an approximately 15,000 sq ft structure.
Joe Phillips of the Scoop recently met with Pastor Nick Callaway to chat about the new church. Check out Joe and Nick walking the site on Facebook here.
As noted above, both In-N-Out Burgers and Raising Cane's have been mentioned in connection with the Runway 35 North development.
Building east of Bill Roberts Elementary sold
A 17-unit apartment building on Montview, east of Bill Roberts Elementary, Carm & Gia, and Mason's Dumplings, recently sold.
The buyer, 2001 Fulton LLC, purchased the building at 2001 Fulton St. for $2.2 million from Private Properties LLC, according to BusinessDen.com.
New lifestyle boutique Aspen Lane opens in Beeler Park
Aspen Lane, a new neighborhood lifestyle boutique specializing in gifts, home decor, baby/kids' wares, and women's apparel, recently opened off 56th Street in Central Park's Beeler Park neighborhood. Aspen Lane is a one-stop shop for your gifting and style needs.
Aspen Lane has been a part of Central Park since 2014 and is excited to serve customers from its new location.
Kailee Ackerman of the Scoop toured the shop with Aspen Lane owner and Central Park resident Mika Shreeve.
Check out Kailee's tour and interview here.
Aspen Lane is located at 5665 Beeler Street, #110.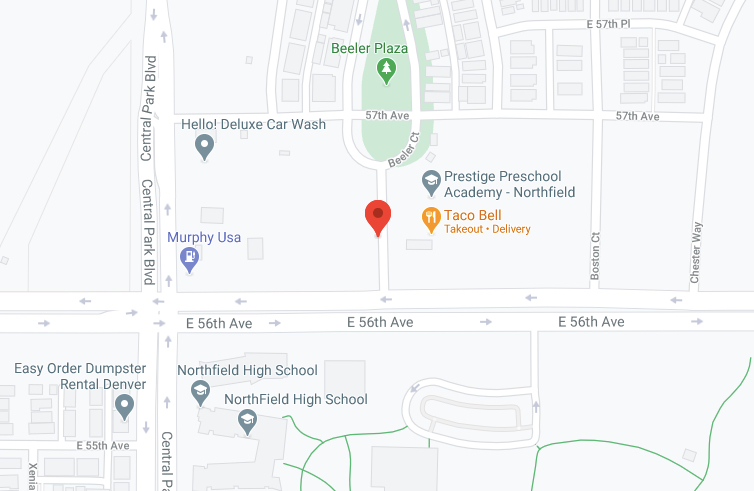 New office lease close to North End
As reported by BusinessDen.com, Battleborn Industries and Roman Romero leased office space at 10500 E. 56th Ave.
The office building is a few hundred yards southeast of Central Park's North End neighborhood on 56th Street.
In case you missed it!
Don't miss Ashley Faller's Guide to Central Park Summer Camps. From Curious Jane to Camp Galileo to the Bladium, there are dozens of local camps and other fun summer options in and around Central Park.
Ashley has put this amazing resource together two years in a row, and when one of our friends or clients asks what summer camp options look like in the neighborhood, this is always the first resource we point them to.
Ashley recently met with Lauren Howe of Curious Jane to learn more about the Curious Jane program (click HERE to see that interview).
Joe Phillips recently met with Angie Peluse with Camp Galileo to learn more about their summer camp offerings. You can see that interview HERE.
What are our buyers looking for in Central Park right now?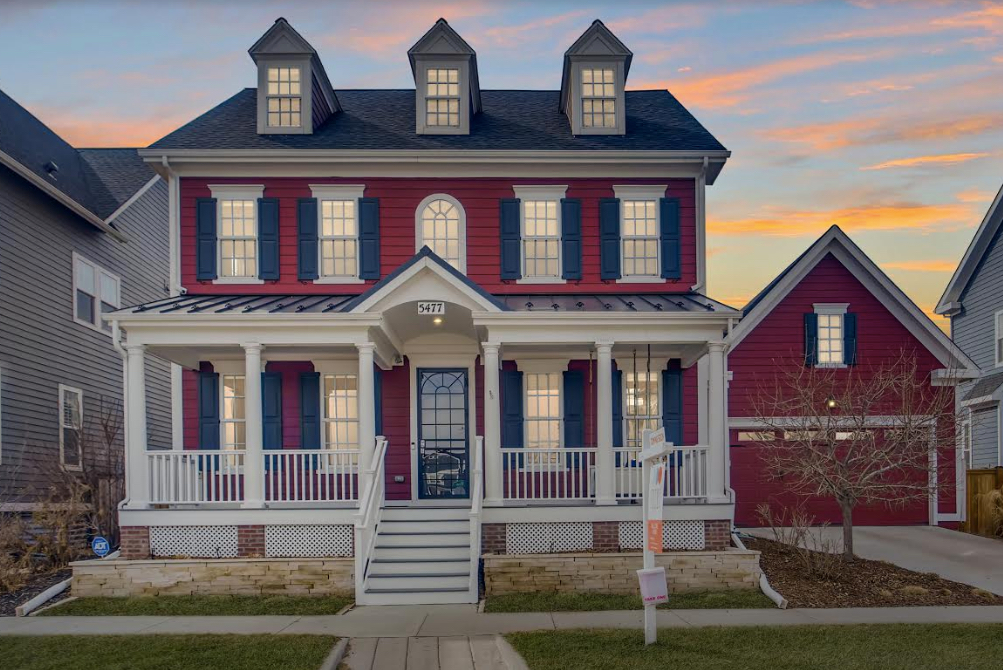 Here at Focus our 8 brokers have 20+ buyers looking for homes in Central Park right now. Here's what those buyers are looking for. Send us your listings or MLS coming soons!*
Around $1.2M. Parkwood, Thrive, or Infinity with views or proximity to open space.
$1.2M or less.  Central Park North or Central Park West, 4+ beds upstairs
$1.15M or less.  Parkwood or Infinity with 4 beds up, finished basement, mudroom & good pantry
$1.1M or less.  Looking for a Parkwood.  Prefer north of I-70.  Minimal carpet desired
$950k or less.  South side of I-70 preferred, 4+ bed / 4+ bath, office space needed, larger yard, larger bedrooms
$925k or less.  South side of I-70 preferred, 4+ beds, finished basement preferred
$900k or less. CalAtlantic single-family in Northfield.
$900k or less.  4+ beds, more yard the better
$900k or less.  North side of I-70 preferred, minimum 4 bedrooms (ideally 5), separate master suite (late summer or early fall move-in preferred)
$900k or less. Single family home in Willow Park East or Northfield area preferable. Ideally Thrive or Lennar.
Around $850k.  North or south of I-70.  3-4 beds and an office.
Around $800k. 4 bed (or 3 + office), preferably south of I-70, at least a small yard.
$650k or less.  3+ bed / 3+ bath, Craftsman style courtyard home with a finished basement
$650k or less.  South end or Central Park West.  Single family or paired.
$650k or less.  North of I-70.  Single-family or paired home with a finished basement
$500k or less.  2+ bed / 2 bath, south side of I-70 preferred, attached or detached
Eastbridge 2 bed / 2 bath condo in the Artisan sub-HOA.
Infinity Vue II or III.  North or south of I-70
KB Starlight (any floor plan)
Wonderland Cimarron south of I-70
Income qualified with a main floor master.  North or south of I-70
Income qualified that allows up to 90% AMI ideally with covered parking space or garage
Income qualified with 3 bedrooms.  North or south of I-70
*Focus Real Estate complies with the MLS Clear Cooperation Policy. Please send, or have your broker send, properties that comply with the policy only.