There's a lot going on around Denver's Central Park these days!
As a co-owner of Focus Real Estate, I track the latest business news around the neighborhood. We're continuing our tradition of featuring local businesses on the Scoop. Our goal is to help promote local businesses any way we can. Email me at Mariel@Focus-Realtors.com if you'd like to promote your business!
Before we dive in, Joe Phillips and I recently sat down to chat about the Scoop and Focus as we head into the summer. How are things going?
Check out our update at the bottom of this post for all the details. But the short story?
You can catch up on more below. Now, on to the business updates!
Sky Bar at Stanley opened May 4
Sky Bar at Stanley, a cocktail bar that celebrates the "Golden Age of Air Travel," is now open in Stanley Marketplace. Sky Bar is the brainchild of partners Skye Barker Maa, Patrick McMichael and Brandi Shigley.
Rebecca Fawcett on our team visited Sky Bar on opening day and chatted with Skye Barker Maa on Facebook Live. I love the vintage air travel theme – what a cool and unique experience!
Sky Bar is open Wednesday to Sunday 5 pm – 10 pm. The welcome lounge is at the west entry of Stanley Marketplace. Simply check in at the kiosk and you will be escorted up the elevator to the third floor.
You can make reservations on Sky Bar's website.
New nail spa coming to the Shops at Northfield
M. Vince Nail Spa is coming to the Shops at Northfield. The new salon will be at the corner of 48th Ave and Uinta, not far from Macy's and Yoga Six, at 8216 E Northfield Blvd, Suite 1320.
We'll update everyone on the Scoop when we hear about a potential opening date.
In-N-Out? Raising Cane's? Chili's?
One of the largest new developments along I-70 recently went vertical with construction. Runway 35 North is located at the corner of 46th and Central Park Blvd, next to I-70.
We're not sure which business is going into the building that's being framed in the picture, but early word was that the project could include:
In-N-Out
Chili's
Raising Cane's
PNC Bank
Go Church
Superstar Car Wash
Fairfield by Marriott Inn and Suites
SCL Health Medical Group
An early site plan for Runway 35 North included 11 commercial lots total: 3 drive-thru restaurants, 2 sit-down restaurants, 1 daycare, 1 church, 1 hotel (though this likely will not be a hotel, based on what we're hearing), 1 medical building, 1 ~30,000 sqft retail tenant, and 1 bank.
There's another development on the south side of I-70 called Runway 35 South that's under construction. We'll update everyone on potential tenants for Runway 35 South soon.
Last but not least, keep in mind development plans do change, so if you'd like updated information please contact the developer.
Plum Creek Garden Market opens in Northfield
A new garden market recently opened in the Shops at Northfield. Plum Creek Garden Market's newest location is close to Off Broadway Shoe Warehouse at 8510 Northfield Boulevard.
Plum Creek Garden Market started in Castle Rock in 2013 with the goal of providing access to locally grown, high-quality flowers and plants. Plum Creek now has a total of six seasonal garden markets that provide the highest quality perennials, annuals and vegetables.
Plum Creek has more than 300 varieties of perennials, 700 annuals, and grows more than 40 varieties of both tomatoes and peppers. The garden market also sell herbs and other vegetables including squash, cucumbers, zucchini, melon, pumpkins, strawberries and more.
New Indian restaurant coming soon close to Central Park
Denver's popular Spice Room restaurant recently announced it's opening a second location about 3 miles southwest of the neighborhood at 3100 E. Colfax.
Spice Room, which features vegetarian, vegan, as well as traditional Indian cuisine, recently purchased the restaurant space for around $2m according to multiple news sources. The space was the longtime home of Annie's Care & Bar.
We'll keep you updated on the Scoop when we hear about a potential opening date.
Redline Athletics opens
A new youth sports training facility recently opened next to Central Park. Redline Athletics Denver East has a new 19,000 sq ft facility that features basketball and volleyball courts, 40 yards of turf, two batting cages, a full weight room, a film room and the same cutting edge technology used by NCAA and pro sports teams to improve player mechanics.
The new facility is located at 4444 Forest Street, just off I-70 and Forest, a few blocks west of Quebec.
Lisa Palladino and Joe Phillips of the Scoop recently stopped by Redline Athletics to check out the new facility. You can check out Lisa and Joe's video tour and learn more in this Scoop post:
Redline Athletics Denver East Opens near Central Park!
New Anschutz Campus building opens
One of the bigger projects close to the neighborhood that recently opened?
What was a parking lot on the Anschutz Campus not so long ago is now home to the new 7 story tall Anschutz Health Sciences Building.
Only about 3 miles from Eastbridge Town Center, this new state-of-the-art 396,000 sqft facility will initially host 11 offices/clinics.
The building's physical shape was inspired by Colorado's mountains and canyons. The exterior includes only one 90-degree corner, and none of the interior floors stack. Also, if you're on campus be sure to check out the large "Jumbotron" video board in the main atrium.
The 11 offices/clinics will be moving in through May.
Founders Green Animal Hospital opening summer 2022
A veterinary hospital that offers wellness exams, vaccines, surgeries, spay/neuters, dental cleanings and extractions is coming to Central Park this summer. Founders Green Animal Hospital is focused on providing high quality, modern medicine to our furry friends.
Rebecca Fawcett on our team recently stopped by the new veterinary hospital – wither her puppy Charlotte. You can check out Rebecca's Facebook Live video chatting about Founders Green Animal Hospital.
The new hospital will be opening in the Shops at East 29th Avenue Town Center and is currently hiring for a Veterinary Practice Manager and Veterinary Doctors. We're hearing that Founders Green will open summer of 2022.
Locally-owned Chick-fil-A on Quebec has new drive-thru lane
The Chick-fil-A located at 3601 Quebec Street, which is locally-owned by Central Park residents, recently installed a new "Express" drive-thru lane dedicated for mobile orders. This is a fast and easy way to get your food.
The Quebec store also currently has 7 job openings. This location is now offering to pay 100% of an employee's college tuition at Point University Online so long as the employee satisfies a few basic requirements, such as maintaining a 2.5 GPA, working a minimum of 20 hours/week, applying for FAFSA and being an employee for at least 60 days. The only out-of-pocket cost for team members will be books and the need for a computer to attend classes online.
You can apply at JoinCFAQuebecStreet.com.
The Scoop stopped by the store a few weeks ago and met with owner Jason Sutton and other team members. You can check out our Facebook Live video here.
Primal Performance now open
A new sports and training facility recently opened just west of Northfield. Primal Performance is located at 4601 Quebec Street, #C10. Primal offers strength and athletic training programs, 1-on-1 training, and more for many different skill levels and ages, from middle school athletes on up.
Primal is hosting an open house on Sunday, May 15 from 7 pm – 8:30 pm.
According to Primal's website:
"Primal is dedicated to creating strong and resilient human beings. With detailed coaching and individualized programming, we take the guesswork out of strength and speed training. If you want to see results, you need a sound plan and consistent execution – Primal delivers both."
You can email Primal at primalperformance303@gmail.com if you'd like to learn more or check out their website here.
Joe Phillips of the Scoop recently stopped by Primal and met with owner Harry to learn more. You can check out Joe's and Harry's tour of the new Primal Performance facility on Facebook Live.
Elevated Eyecare coming to Northfield
Elevated Eyecare PC recently leased over 4,000 sqft of space at the newest medical building in Northfield, just a few blocks east of the Shops at Northfield. The eyecare clinic will be located in the new Northfield Medical Pavilion at 4660 N. Yosemite Street.
UCHealth also recently opened in the Northfield Medical Pavilion that features an urgent care. You can learn more here about the UCHealth Northfield Medical Center.
Right now we're hearing that Elevated Eyecare will open later this year.
Headquarters for up to 500 employees under construction off I-70
The new Credit Union of Colorado's (CUC) 3-story corporate headquarters is under construction just south of I-70. A few months ago CUC sent us renderings showing what their new headquarters could look like.
If you check out the renderings, you'll see a 3 story building with a large front glass facade and modern-looking angles and features. We hear the building will be energy efficient and follow best practices in environmental construction as well.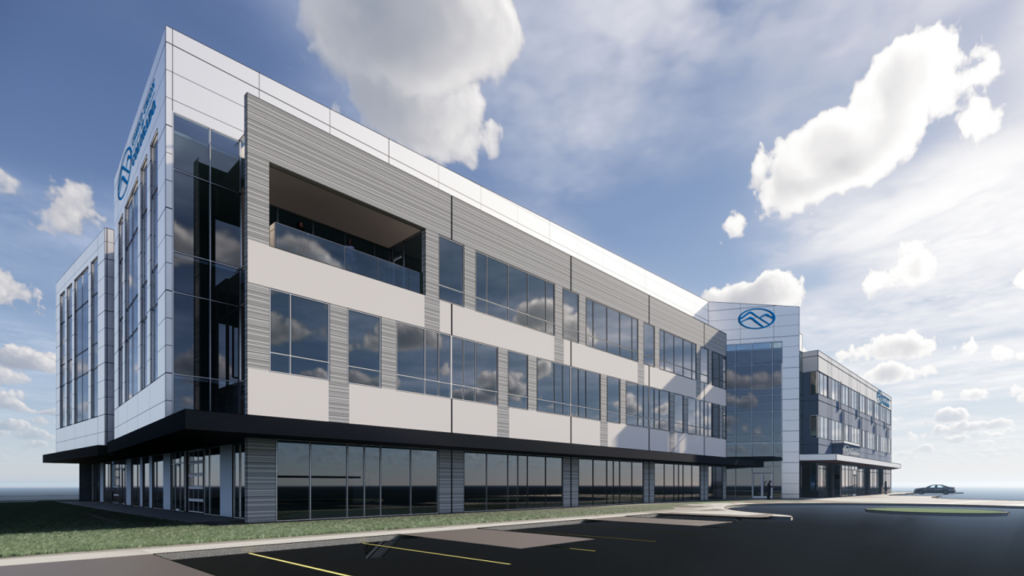 "We selected this central location because of its convenient, easy access to the greater Denver metropolitan area and proximity to light rail," Terry Leis, CUC's CEO said.
The new building will provide more space for the credit union's growing workforce, serving more than 140,000 members throughout the state of Colorado. Eventually the facility could serve up to 500 employees.
The new headquarters has a 2023 planned opening date. The facility will also have a full-service branch with drive-up and ATM services.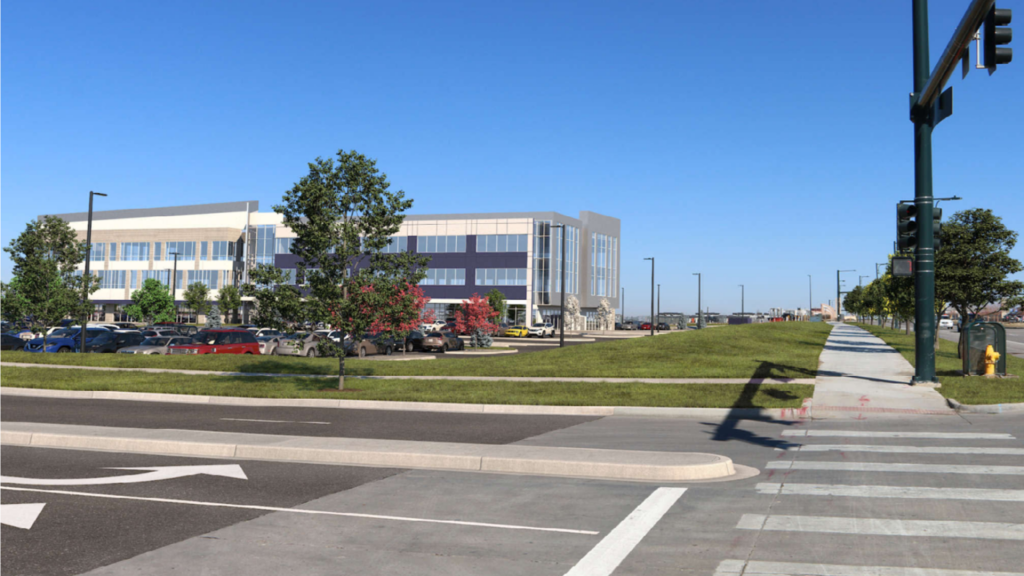 CUC was founded in 1934 and was previously known as Colorado State Employees Credit Union. CUC has more than $2 billion of total assets.
"We have chosen to build this new headquarters to position the credit union strategically for growth and expanded services," Leis said. "We are dedicated to implementing future-forward solutions to provide the best staff and member experience built upon our core values and 'here to help' culture."
$252m deal involves properties close to Central Park
Multiple sources recently reported that Stockbridge purchased eight industrial properties around town – in one of the bigger industrial deals in Denver metro history.
The "Denver Infill Portfolio" is comprised of 8 properties, including several that are blocks away from Northfield. Those properties are Leyden II, located at 4725 Leyden St. Leyden I, located at 4735-4795 Leyden St., the Denver Business Center 5, located at 11175 E. 55th Ave., and the Denver Business Center, located at 11605 E. 55th Ave.
The combined portfolio was sold by Link Logistics Real Estate for $252m. The transaction is reportedly the 3rd largest industrial property sale by sales price on record.
Central Park Logistics Center opening this summer?
Work continues on the large Central Park Logistics Center, which is located at 9300 and 9400 E. 46th Place. Last we heard this large ~695,000 sqft, 300+ parking space project just east of the Drury Inn on Central Park Boulevard was eyeing a July 2022 opening.
We'll update everyone on the Scoop when we have more information!
In case you missed it …
Lucina Eatery & Bar is now open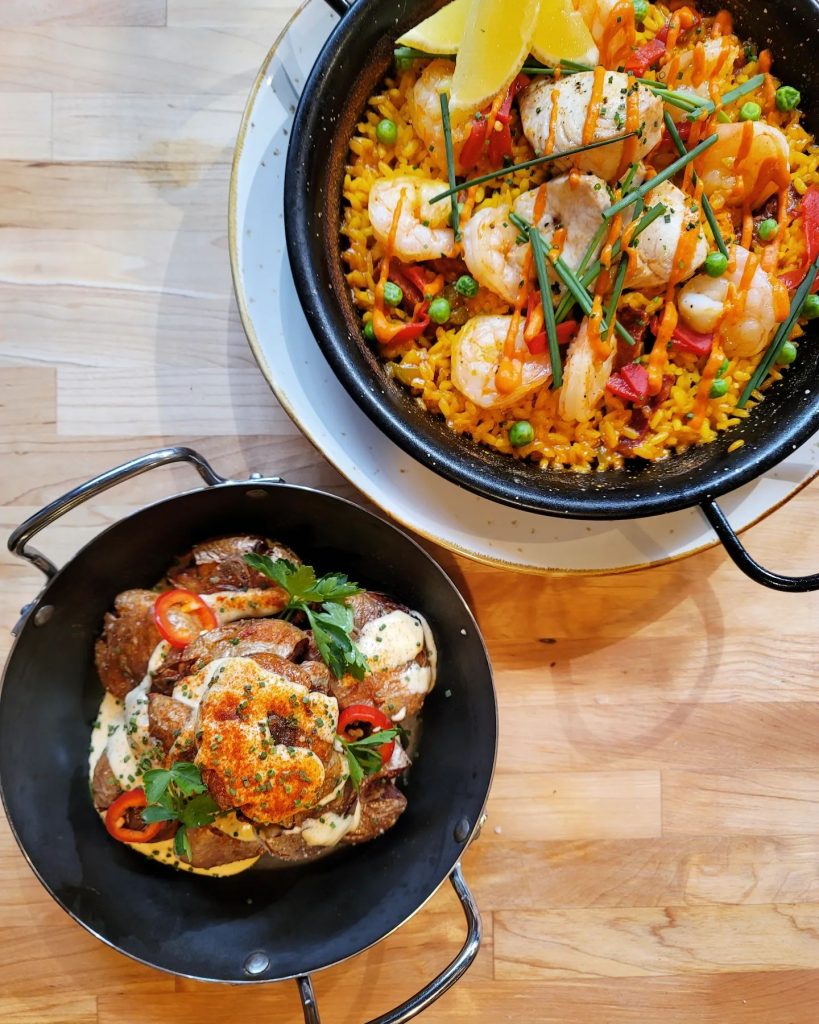 The wait is finally over! Lucina Eatery & Bar, located at 2245 Kearney Street, is now open.
From the owners and culinary minds behind Create Cooking School, Lucina is a celebration of individual and yet collective roots, heritage and culture. Lucina is an inviting neighborhood establishment with a melting pot of Latin America, Latin Caribbean and coastal Spanish cuisine.
Rebecca Fawcett has the scoop on Lucina here:
Lucina Eatery & Bar is Opening Soon in Park Hill
Lucina's reservation system opened Tuesday, April 5th. Hours of operation will be Tuesday – Friday from 3 pm – 10 pm, and Saturday from 10 am – 3 pm & 5 pm – 10 pm. They are closed Sunday & Monday. You can learn more here.
Enjoying mud season in the mountains
Scoop contributor and mountain real estate broker Emily Lawless has a great post about enjoying mud season in the mountains. Did you know there are now a number of "escape room" attractions in Summit County? You can learn more about escape rooms and other mud season activities in Emily's post:
Enjoying Mud Season in the Mountains
New exhibition features original, compelling landscapes
Scoop contributor Bryant Palmer, who is the founder and chief storyteller at Oh Hey Creative, a Denver-based agency that handles marketing, communications, and community building for food halls and small businesses, has a great Scoop post on a new art exhibition.
Hothouse opened on Friday, April 22, at Space Gallery in the Sante Fe Arts District. The exhibition runs at Space Gallery through Saturday, May 28.
Wicker Park resident opening a new education lab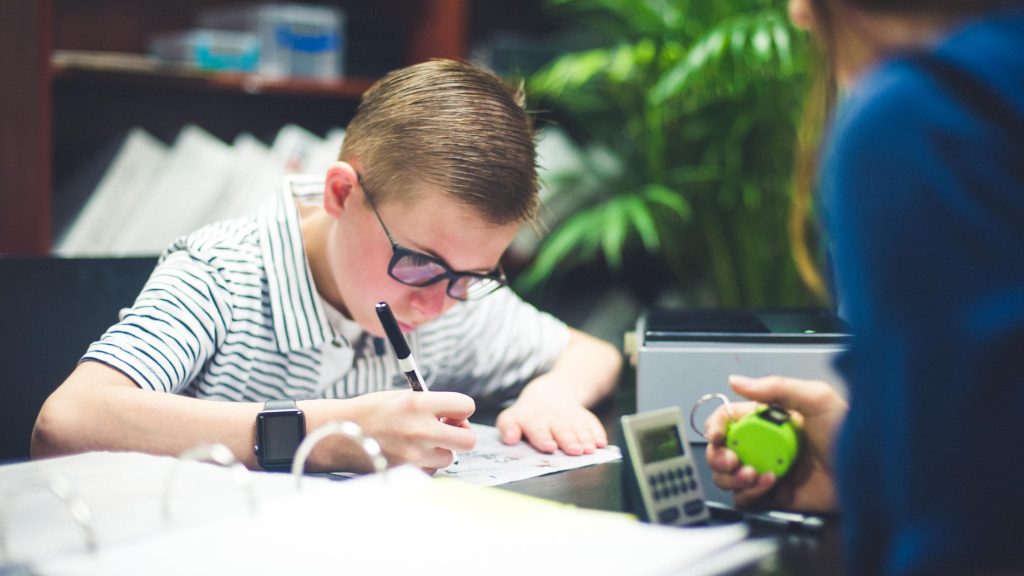 Local Central Park resident Sarah Howard is opening a new Fit Learning Lab in Central Park. While Fit Learning waits for its new facility to be completed, Fit is offering virtual services and the occasional in-person sessions in Sarah's home office in Wicker Park.
Fit Learning provides intensive one-on-one instruction in core academic skills using Precision Teaching and Direct Instruction during gamified and fun sessions where kids earn points and prizes for improving on their previous scores.
You can check out Sarah's Scoop post about Fit Learning here. You can also contact Sarah at: sarah@fldenver.com and check out more at www.fitlearners.com.
How was April for the Scoop and Focus Real Estate?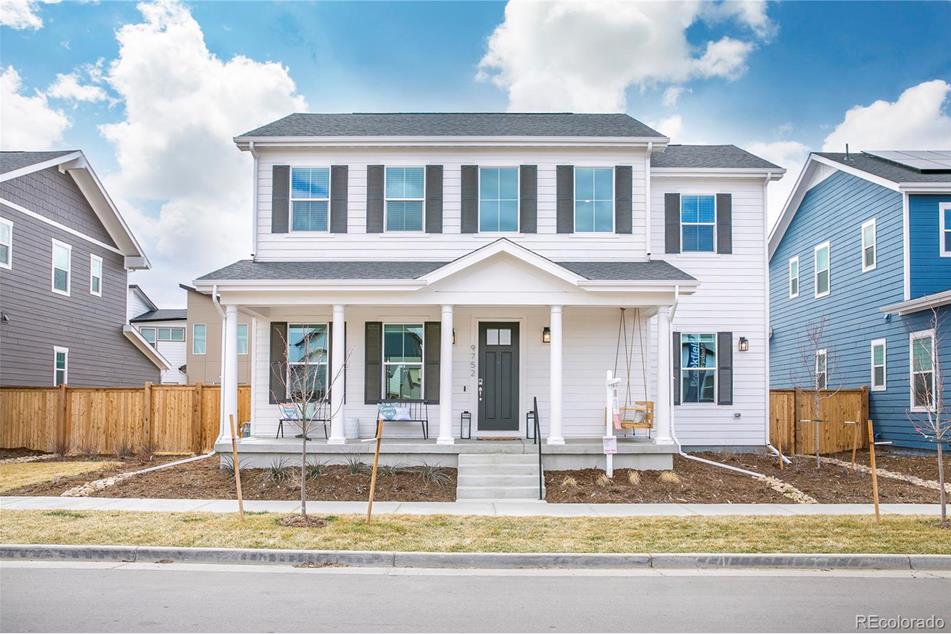 As I mentioned above, now that it's almost summer Joe Phillips and I wanted to dig into our team's numbers 👍
How are things going here at Focus Real Estate and the Scoop?
Let's take a look at what happened in April:
20+ small and local businesses featured on the Scoop and our other sites, all at no charge.  As a local small business ourselves, one of our missions is to support everything local.  Let us know if you have a business to promote!
We had the privilege of helping our clients with 17 new listings.  That's one new listing every 42 hours (for those keeping track at home!).
Our clients and brokers were fortunate to set several all time neighborhood / floorplan pricing records, thanks to our clients' staging, renovations, pricing savvy, and more.  So far this year Focus' average close price to original list price is 109%.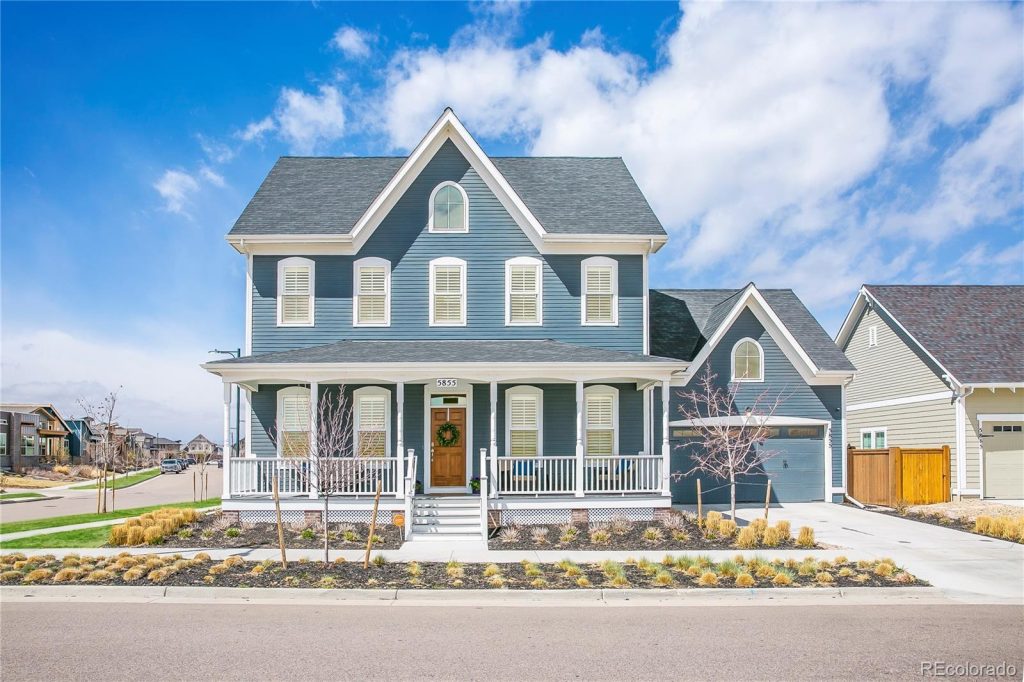 We helped clients in over 10 new home communities around Denver.  Where are our clients building homes

?

Central Park's North End

,

Painted Prairie

,

Sterling Ranch

,

Wild Plum

, the

Canyons at Castle Pines. Our brokers work in communities all over the Denver metro, from Erie to Castle Rock.
More than a dozen open houses hosted, and many community events attended by our team
We continue to offer our low commission, full service model.  We charge a 1.5% commission if you sell your home and buy your next home with us.  If you only sell, our commission is a low 2%. That simple.
Our 8 brokers would love to help you! Feel free to reach out to @kaileeackerman_denverrealtor, @ashfaller, @lisapalladinorealtor, @whitneybarnettrealestate, Rebecca Fawcett, or @stacygrissomrealestate
So there you have it, friends! Be sure to follow the Scoop on Facebook and Instagram.
If you missed our other recent neighborhood updates, here they are:
April 2022: Inside Scoop: Lucina Eatery & Bar is here, 2 employees buy florist, Master Goblin Games opens, $63.5 Microsoft deal, new fashion boutique arrives, UCHealth opens, and more!
February 2022: Inside Scoop: $71m deal, P.F. Chang's is coming, Mici pizza goes big (50 stores!), Kabod opens DIA location, 4 new businesses from Central Park residents open, and more!
December 2021: Inside Scoop: Little India opens, FlyteCo Brewing coming, Beeler Perk coffee arrives, $6.3M parcels next to the Stanley for sale, See's Candies opens, car wash for sale for $2.15M … and more!
August 2021: Inside Scoop: Spanish churros and chocolate, Popeyes across from Northfield High, yoga with puppies, sneak peek at the new (big!) QuikTrip, Aerial Cirque, and more!
June 2021: Inside Scoop: In-N-Out site update, new coffee shop (with beer!), $4.6M deal, Kung Fu Tea opens, "Shark Tank" doughnut shop is here, Epic Cycles opens, and more!
May 2021: Inside Scoop: Ike's Love & Sandwiches, Popeyes rumors, Doughnut Club coming, new hospital opens, 6 story building next to Sprouts … with a rooftop deck, and more!
April 2021: Inside Scoop: Little India coming, Tattered Cover's big news, corporate HQ planned, patio lounge to debut, dog-friendly bar with volleyball & bocce coming, and more!
March 2021: Inside Scoop: Stanley news, Raising Cane's coming, Hook & Reel for sale, a hiking trail from Central Park past Boulder, and more!
January 2021: Inside Scoop: $77m deal, Natural Grocers coming, new Sprouts tenants, Chook opens, Dirty Laundry is here, and more!
September 2020: Inside Scoop: new Starbucks gains steam, In-N-Out coming, 12-yr-old's bike ramps go big, James Beard winner opening new restaurant, and more!
July 2020: Inside Scoop: $85M deal closes, 150 jobs at new Northfield hospital, Sprouts update, Mamabird Interviews, luxury condos open with saltwater pool and beer garden, and more
May 2020: Inside Scoop: New Starbucks, farmers market is on, Sprouts opening and hiring plans (110 jobs), big real estate news, famous dumpling shop opens, and more!
March 2020: Inside Scoop: Kung Fu Tea, a new hospital, Lady Justice Brewing, a $21.1M deal closes, Carm & Gia, Stanley updates, and more!
February 2020: Inside Scoop: An Indoor Ski Hill, Beeler Park's Pho Spot, Primrose Update, Third Culture Bakery, a Famous Dumpling Shop Opening Soon, Boost Hydration, and More!
June 2019: Summer Scoop on Sprouts, Punchbowl Putt-Putt, a new Primrose, and more!
July 2019: Inside scoop: A new Starbucks, 7 new stores coming to Beeler Park, grocery store rumors, what's up with North End's pool, and more!
October 2019: Inside Scoop: Illegal Pete's, a famous dumpling shop, Cholon, two new pizza joints, a Disney store, and more!
Focus is a residential real estate brokerage in Denver's Central Park and doesn't represent commercial, office, industrial, or other buyers/sellers. Focus and its agents make no representations, warranties, or guarantees as to the accuracy or completeness of any information in this post. Please confirm all information with your own advisors and do not rely on this post.