Like many of you, here at the Scoop we're focused on helping our community and our frontline first responders. Right now is a sensitive time for so many in our communities, and we're thankful for the hard work and precautions our healthcare professionals are taking to help protect us all.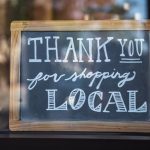 As we move from "Stay at Home" to "Safer at Home," some businesses in Stapleton are re-opening. Others are open online or remote only. Still others are closed. So while we focus on on our community and healthcare workers, we wanted to pause and update everyone on recent business news in our neighborhood. We're also hoping that by providing these updates a few of our friends and readers out there will order from and/or visit these businesses and help support them during these difficult times!
Before I dive in, I wanted to add that all the businesses we spoke with are complying with State/City rules, practicing safe social distancing, and taking precautions to help ensure the safety of their employees and customers. If you'd like to learn more about each businesses' COVID-19 plans, you can generally find information on each businesses' Facebook, Instagram, and/or website. For the sake of space we didn't include everyone's COVID-19 plans in this post, but many of our local businesses put an incredible amount of time and effort into finding safe and compliant ways to operate, which is great news!
Famous dumpling shop opens close to The Stanley
Mason's Dumpling Shop opened on May 7 for take-out and delivery. Recently named one of the 38 best restaurants in Los Angeles, Mason's new location is just south of the Stanley Marketplace and east of Bill Roberts on Montview.
Here at the Scoop we followed Mason's closely on opening day. We were thrilled to hear that Mason's had a spectacular opening day according to owner Ker Zhu. Ker said the restaurant was "slammed" and thanked the community for all the support.
If you're looking to satisfy your dumpling fix (I always am!), Mason's may become your go-to dumpling spot. Pan fried chicken and cabbage dumplings … steamed soup dumplings with pork … steamed vegetarian dumplings … and more!
New Starbucks, Pizza Hut under construction on Central Park
A new Starbucks, Pizza Hut, and dental clinic are under construction on the northwest corner of Central Park Boulevard and Montview in the "Shops at Stapleton Crossing."
The new Montview Starbucks will be around 2,200 square feet.  In case you're curious, Starbucks' newer free-standing locations are generally between 1,900 and 2,100 square feet, putting Stapleton's newest Starbucks on the slightly larger side.  The coffee shop will be on the west side of the parcel, directly facing the 7-11 gas pumps and parking lot.
The new Pizza Hut faces Central Park Boulevard and Bill Roberts.
We'll update you when we learn more details on projected opening dates. 
That said, given the status of construction I'd estimate the complex could be completed in the next 8-12 months.
New Sprouts on Central Park announces opening date and hiring plans – 110 full and part time jobs available
For those who've been waiting anxiously for the opening of A Line Square and the new Sprouts on Central Park Boulevard, your wait will soon be over.
Sprouts recently announced it will soon finish construction on its new Stapleton store and will open on Wednesday, July 15 at 7 a.m. Sprouts will release more details closer to the opening date. (Disclaimer, we know that these types of projects are often delayed, especially during these uncertain times).

The new 30,000 square foot store is located at 3555 North Central Park Boulevard (just south of the Central Park light rail station) and is bringing approximately 110 full- and part-time jobs to the area. If you're interested in learning more, Sprouts will host a virtual hiring fair with video interviews on June 1 and 2. Potential employees can apply online at sprouts.com/careers.
The larger Sprouts project is known as "A Line Square" and was originally slated to include additional retail, a Chase bank branch, a 190,000 square foot office building tentatively called "Central Park Station One," and condominiums and townhomes.
Here at Focus Real Estate we've been following the condominiums and townhomes part of this transformative in-fill project closely. Right now we're expecting that approximately 130 condos – mostly 1 and 2 bedrooms – will be built on the Sprouts parcel, just west and north of the new grocery store. These condos will be about 50 yards from the entrance to Sprouts and about 500 yards from the Central Park light rail station, making them some of the most walkable condos we've seen in Stapleton. On the townhome front, we're anticipating fewer than 40 units total.
Shoot me an email at Mariel@Focus-Realtors.com if you'd like to learn more about the condos and townhomes. Though of course there's a lot in flux everywhere at the moment, I'm happy to download what I know right now. Similar to our detailed North End updates, we'll be sure to give you the inside scoop on all the details you need to know about living next to Sprouts and the light rail station.
YogaSix is coming to Northfield in June, and is "virtually open" today
YogaSix, a new Stapleton yoga studio, is anticipating a June opening in The Shops at Northfield. The new studio will be in the space vacated by the Aveda Salon, right next to H & M.
Here's what our friends at YogaSix had to say to the Scoop:
"We are so excited to bring YogaSix to Stapleton.  This will be a new type of yoga community where everyone is welcome and able to find a class that is perfect for them, whether a beginner or an experienced yogi.  With classes from Y6 101 to Sculpt and Flow to Hot, our Teachers and Wellness Advisors will guide you in choosing the right class, so that we can give you the best part of your day!
As we finish up construction, we are offering live-streaming classes with our Stapleton teachers, as well as YogaSix teachers in Y6 Studios across the country.  This gives our members access to over 700-classes every week.  We are offering a huge discount for studio Founding Members, especially for these live-streaming classes – come join us!
If you're seeking wellness, as well as an encouraging and fun community, check us out at yogasix/stapleton.com, or call 303-500-5130 to speak with our General Manager, Tracy Revell.  She loves connecting everyone about how YogaSix can benefit them.
We hope to see you in the studio when we open or online now in our virtual yoga community!"
Local teenager's bike ramp business thriving
In case you missed it, check out this wonderful story Joe Phillips of the Scoop covered last week.
Joe's neighbor here in Stapleton and his middle-school-aged son, Henry, are building and selling bike/scooter ramps during their extra time at home – and have been so successful so far they've started a business.
Henry's business is called "Ramp It Up," and the ramps are the hottest thing in Stapleton right now!
A portion of ramp sales go to the CO COVID Relief Fund. Henry is also learning about running a business, which is awesome!
Stapleton Farmers Market summer dates announced
The Stapleton Farmers Market recently announced that its first market will be Sunday, June 7th at the Town Center Green. The market will continue every Sunday until October 11th. Hours will be 9 am – 1 pm. You can learn more about the market's COVID-19 plans on Hob Nob Events' website.
The Stanley starts to re-open
Semion Barbershop For All and Clementine's Salon, both located inside The Stanley Marketplace, both recently re-opened for haircuts, with specific appointment protocols.  Note that customers with confirmed appointments will be met by a staff member at one of the entrances – east for Semion and north for Clementine's – where they'll be checked in and given a temperature check before being escorted upstairs
The rest of the Stanley remains closed to the public for now while the marketplace and its vendors work on re-opening plans.
Meanwhile, the shopping district's popular (and delicious!) Stanley To Go Curbside Pick-Up Program continues in full swing.  Stop on by and grab some delicious food while helping support local businesses!
ChoLon and its pork belly buns are back
ChoLon's Stapleton location will be will be opening for takeout on Thursday, May 14th. Takeout hours will be Thursday-Sunday from 5 – 8 pm. You can order to-go on the Eastbridge restaurant's website.
ChoLon opened last year in the old Concourse space and has quickly become a neighborhood favorite. I love stopping by with friends and clients to grab some of the delicious and locally-famous soup dumplings and pork belly buns!
ChoLon's first location spent eight years on the 5280 Top 25 Restaurants List and was named a James Beard finalist for Best New Restaurant in America.
Stapleton is Cholon's second location.
Biggest real estate news in Stapleton right now
Stapleton is almost done!
The final phase of Stapleton's last community is now selling lots. Tentatively called Filing 57, this last neighborhood will include 600+ homes. Filing 57 sits due north of North End, east of Dick's, and south of the wildlife refuge – and boasts incredible Front Range and open space views. Check out the map of Filing 57 here: Stapleton's "North End" Builder Lot Map Released.
Once this last neighborhood is complete, the 20+ year conversion of the old Stapleton airport into a 30,000+ resident community will be complete. What an incredible, transformative project Stapleton has been!
Curious what the latest is?  Check out this video we shot a couple days ago:
Many of the builders for this last Stapleton neighborhood are ones you are familiar with: Infinity Home Collection, Parkwood Homes, Thrive Home Builders, Boulder Creek Builders, Wonderland Homes, David Weekley Homes, Lennar, KB Homes, and Brookfield Residential.
As I mention in the video, Parkwood and Infinity are currently selling lots, and we expect the other builders to ramp up lot sales soon. Parkwood only has 5 lots remaining. Infinity just released 14 of their last 24 home sites for their Luxe series (update: 6 of the 14 lots have been reserved).
This is likely your last chance to build a home in Stapleton, other than a few small infill projects like A Line Square. If you'd like to chat about what's available, potential "all-in" pricing on a new home, and how we normally handle the sale of homes when a client is building a new home, shoot me a note at Mariel@Focus-Realtors.com. You can also contact any of Focus' wonderful Stapleton-based brokers – Joe Phillips, Amy Atkinson, Ashley Parsons Faller, Lisa Palladino, or Kailee Ackerman.
Our North End website has information as well. You can also follow the Scoop as we'll also post information and tips about North End, such as this article I wrote – The Art of Home Lot Selection – that walks through what I counsel clients and friends about when picking a home lot to build on.
Last but not least, we offer reduced broker commissions at Focus Real Estate so you have more money to put into your new dream home. We sell Stapleton homes for a 1.5% listing commission now! Find out more here.
H&H Social hosting virtual dinner parties
H&H Social, a client tailored hospitality and catering company that recently entered the Stapleton market, is hosting virtual dinner parties where you learn new recipes, cooking techniques, and kitchen tips.  H&H has teamed up with The Get Down Company to bring out the party and fun virtual atmosphere.  H&H is hoping clients can learn, have fun, and have as close to a new normal night out as possible.
Recent menus have included Mussels and Frites (yum!), Pad Thai, Beef Tenderloin, and a fun Saturday Brunch.  You can find information on how to join a dinner party on H&H's website or through their Instagram and Facebook pages ( IG: @h_hsocial, FB: @houseandhowell), or you can email us directly at eat@houseandhowell.com to schedule you own custom dinner party! 
H&H is also launching a lunch sushi menu for delivery. H&H's talented chef, Amanda Gaspelin, has been making sushi since she got into the culinary world so H&H is offering drop off/delivery options as well!
According to owner Zach Housand, "we are excited for the day where we will be able to entertain and show off our culinary talents to the Stapleton community, and we hope it is sooner than later. However, until then we hope you will join us on our virtual platform or try our sushi menu!"
New Paws 'n' Play in Beeler Park open for business
Paws 'n' Play's third location recently opened in The Shops at Beeler Park in Stapleton. The pet store had to forego a grand opening celebration but is currently open and has curbside pick-up and online ordering available for your convenience as well.
Paws 'n' Play is a unique store that specializes in natural foods, treats, supplements, toys, and gifts, and also has a self-service pet wash.
The Shops at Northfield are now open
The Shops at Northfield re-opened last Saturday. The shopping center's modified hours will be Monday – Saturday: 11 am – 7 pm and Sunday: 12 – 6 pm.
Many of Northfield's retailers will be in phased openings with varying hours. Northfield is trying to keep an up-to-date list of open retailers and retailers participating in curb-side and / or delivery here. Northfield advises everyone to contact each retailer to get specifics about hours and re-opening plans.
The Shops are also rolling out a temporary Northfield To Go – Curbside Pickup program to help support retailers and restaurants as many will only be permitted to offer this for the time being.
Enterprise Rent-a-Car opens off Central Park
The new Enterprise location is behind Goldfish and the new Northfield fire station is open.
Hours are Monday – Friday 7:30 AM – 6:00 PM, Saturdays 9:00 AM – 12:00 PM and Sundays 10:00 AM – 2:00 PM.
So there you have it, Stapleton! If you're a business owner out there and would like to get the word out about your opening or re-opening or other information about your business, shoot me an email and we'll look at adding you to our next update! We know there are a lot of small and local businesses out there, and this update isn't nearly comprehensive, so shoot me a note at Mariel@Focus-Realtors.com.
If you missed our other recent retail updates, here they are:
March 2020: Inside Scoop: Kung Fu Tea, a new hospital, Lady Justice Brewing, a $21.1M deal closes, Carm & Gia, Stanley updates, and more!
February 2020: Inside Scoop: An Indoor Ski Hill, Beeler Park's Pho Spot, Primrose Update, Third Culture Bakery, a Famous Dumpling Shop Opening Soon, Boost Hydration, and More!
June 2019: Summer Scoop on Sprouts, Punchbowl Putt-Putt, a new Primrose, and more!
July 2019: Inside scoop: A new Starbucks, 7 new stores coming to Beeler Park, grocery store rumors, what's up with North End's pool, and more!
October 2019: Inside Scoop: Illegal Pete's, a famous dumpling shop, Cholon, two new pizza joints, a Disney store, and more!