There's a lot going on in Stapleton these days!
Beeler Park's retail scene is growing, the Central Park Boulevard corridor is full of news, and A Line Square – the Sprouts-anchored development next to the Central Park light rail station – is picking up steam (shoot me an e-mail at Mariel@Focus-Realtors.com if you'd like to be added to our A Line Square light rail condos and townhomes information list!).
As a local Stapleton realtor and resident, I'm always tracking the latest and greatest "coming soons" on the residential and retail front around our wonderful neighborhood. Here's a sneak peak at some of the new stores and projects that have recently opened, or will be opening soon!
Quebec Square sells for $42.5M
The large commercial shopping center directly west of Stapleton – Quebec Square – sold in early October for $42.5M ($203.50 per square foot) to ALTO Real Estate Funds. The 207,611 square foot, 91% leased shopping center is shadow anchored by Home Depot and Walmart.
Quebec Square has over 40 tenants including Panera, McDonald's, Ross Dress for Less, Office Depot, and Big 5.
Dutch Bros Coffee moving in east of Stapleton
Good news coffee lovers!  One of my personal favorites, Dutch Bros Coffee, plans to open a new location at 4601 Peoria Street next year.  The new location is about 3.5 miles east of Northfield and will include a drive-thru lane and walk-up window.
Dutch Bros is the country's largest, privately held drive-thru coffee company, with over 290 locations in seven states.  Dutch Bros also has over 7,500 employees.
The chain was founded in 1992 and features cold brews, lattes, shakes, freezes, smoothies, teas, and more.
(Quick tip: try the Cinnamon Dolce Chai, the Wallaby Freeze, or the Caramel Apple Smoothie – all divine!)
The new Aurora location is anticipated to open in 2020.
Pizzeria Locale opening soon in Stapleton's 29th Ave. town center
Pizzeria Locale, a Boulder-founded fast casual pizza restaurant, is coming to Stapleton's 29th Avenue Town Center.
Featuring quick, gourmet pizzas (both red and white), salads, and of course my favorite, tasty and affordable red and white wines, Pizzeria Locale is perfect for business lunches, family dinners, and even date nights.
Want a sneak peek at the new location?
I was lucky to get the chance to tour the new restaurant last week.  If you'd like to see what Pizzeria Locale has in store for Stapleton, check out our walk-thru video with Chris at Pizzeria Locale!
The latest outpost of Pizzeria Locale will be located at 7505 E. 29th Place.  The new restaurant – which includes a large, wrap-around patio overlooking Founder's Green – should open later this year.
Granite and marble superstore moving into Stapleton
Francini Inc. recently leased 39,328 square feet of industrial space near the Starbucks on Central Park Boulevard.
The new facility will be located at 10035 E. 40th Ave. near Floor & Decor, Arizona Tile, and other building and home supply stores.
Francini is one of the largest natural stone distribution companies in the western U.S.  With a factory in Carrara, Italy, Francini offers granite, marble, travertine, limestone, soapstone, and more. 
Francini's corporate offices are in Sun Valley, California.  No word yet on when the Stapleton location will open.

Anyone interested in Mac & Cheese?
A new macaroni & cheese specialty restaurant recently announced that it's moving into Stapleton.
"I Heart Mac & Cheese" is a fast casual concept restaurant specializing in customizable, made-to-order macaroni and cheese and grilled cheese sandwiches.
The menu combines the creativity of award-winning recipes resulting in a grown-up approach to the classic mac & cheese dish.
I Heart Mac & Cheese hasn't announced a definitive opening date or location in Stapleton yet, though it has said that it's opening three locations in Denver, with two opening in 2020 and one opening in 2021.
Another Primrose School is coming to Stapleton
A second Primrose School is coming to Stapleton's North End neighborhood. The second Primrose location is just south and east of the new North End Pool, close to Elmira and 59th. The current Primrose is located at 2501 Syracuse Street, east of Fred Thomas Park.
Primrose is a national system of accredited private preschools that provides a premier early education and child care experience for children and families.
Curious about other recent daycare news here in Stapleton?
In case you missed it, Prestige Preschool Academy opened in Stapleton in early May.  Located in Beeler Park, Prestige offers care for children ages 6 weeks to 6 years.  Check out our coverage here:
New Stapleton Preschool – With Extended Hours – Has Availability for Almost All Ages
Also, Tinker Town, Eastbridge's new drop-in childcare center, opened in late May.  To quickly introduce you, Tinker Town is a preschool and childcare center keyed to fit the unique schedule of busy families.  Tinker Town offers hourly care set in an early childhood learning environment for children ages 12 months to 12 years – complete with drop-in availability, online booking, hourly pay options, and more.
Here's our inside Scoop on Tinker Town:
Drop-in Childcare in Stapleton? The Inside Scoop on Tinker Town
Bring your quarters!  Stanley Arcade now open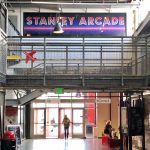 The new Stanley Arcade opened on November 1 in the space formerly occupied by Infinite Monkey Theorem in the Stanley Marketplace.
The new tenant is a vintage-inspired arcade with skee ball, pinball, Ms. Pac-Man, Galaga, and a bunch of other classic games, along with some newer games including Killer Queen, which ten people can play at one time.
Check out the Scoop's Joe Phillips as he tours the new arcade:
Three Exciting Updates from Stanley Marketplace!
Personally, I love how you don't have to worry about tokens or filling up cards with points at the Stanley Arcade – all you need to bring is a pocketful of quarters and you're good for an afternoon of fun!
Beeler Park retail under construction – Taco Bell, Panda Express, and more coming soon
Here at Focus Real Estate we're often asked by our friends and clients – especially those we're helping as their realtors to build new homes in Stapleton's Beeler Park and North End neighborhoods – on the status of the new commercial development along 56th Ave.
As you can see from the picture (see the bottom of this post for more pictures), one development – "The Shops at Beeler Park" – is going up quickly.  The Shops are located at the northwest corner of the Central Park and 56th.  Given the status of construction, it seems likely that several if not most tenants could open in 2020.
The new tenants I'm aware of going in along 56th are:
Panda Express, Box State Barbers, Taco Bell, Paw N Play, a Murphy's gas station, a car wash, and a dental office.
New hotel going in next to the Anschutz Campus in Bluff Lake
With all the construction just west of the Anschutz Campus in Bluff Lake, I often field questions about what might be built in east Bluff Lake or close to the Anschutz Campus.  I'll include additional Anschutz Campus and Bluff Lake updates in our next "Inside Scoop" column (for example, did you know there's a new school being built right now on campus?), but one new Bluff Lake occupant is Home2 Suites by Hilton.
Hilton is building then new hotel just west of Peoria and the Anschutz Campus in Bluff Lake.  No information yet on a potential opening date.
Home2 Suites is an all-suite extended-stay hotel featuring contemporary accommodations and customizable guest room design.
The Stapleton Home2 Suites is expected to feature an open lobby area with an approximately 4,200-square-foot community space called the "Oasis," which wis designed to create an environment where guests can socialize.
The Oasis includes communal and individual work zones, a 52″ flat-screen TV, a complimentary "Inspired Table" breakfast service, grab-and-go items, a combined laundry and fitness area, and a business zone offering computers, and wireless printing.
The hotel could include approximately 221 rooms and be up to 5 stories tall.
Local eyelash business growing in Stapleton
Lash Envy, Inc., owned by Stapleton resident Aly Warren, is growing in Stapleton.  In case you missed it, check out the Scoop's coverage of Lash Envy here (and yes, that's me in the picture getting my lashes done!):
The Scoop on Aly Warren and Stapleton's Lash Envy
Pharmaceutical and biotechnology firm leases office space on Quebec
Executive search and consulting firm Ingeniquest recently leased 1,268 office square feet at "Stapleton Plaza" (the office building across Quebec from the United Airlines facility, which is located at 3401 Quebec St.), according to BusinessDen.com. Ingeniquest focuses on the pharmaceutical and biotechnology industries.
Stapleton Plaza recently sold as well.  More on the sale below!
New commercial greenhouse being built close to the Stanley 
Food and produce company Gotham Greens is building a new commercial greenhouse just north of the Stanley.  Gotham plans to grow the equivalent of a 25-acre farm inside the greenhouse (while using 97% less water), and then sell produce to local restaurants and stores.
Gotham's indoor farming facilities are sun and wind powered, 100% pesticide-free, and climate controlled for a year-round growing season. This means they can provide clean, sustainable, and quality food to the local community any time of year. communities.
The company currently has five operating greenhouses with more slated to open later this year.
Stapleton Plaza sells for $12.575M
The 131,949 square foot building directly across the street from the United Airlines facility on Quebec recently sold for $12.575M to Ogilvie Properties.  The 10 story office building known as "Stapleton Plaza" is slated for renovations and capital improvements.  The building has 36 tenants (74% leased).
So there you have it, Stapleton friends!
If you missed our other recent retail updates, here they are:
June 10, 2019:  Summer Scoop on Sprouts, Punchbowl Putt-Putt, a new Primrose, and more!
July 17, 2019:  Inside scoop: A new Starbucks, 7 new stores coming to Beeler Park, grocery store rumors, what's up with North End's pool, and more!
October 1, 2019:  Inside Scoop: Illegal Pete's, a famous dumpling shop, Cholon, two new pizza joints, a Disney store, and more!