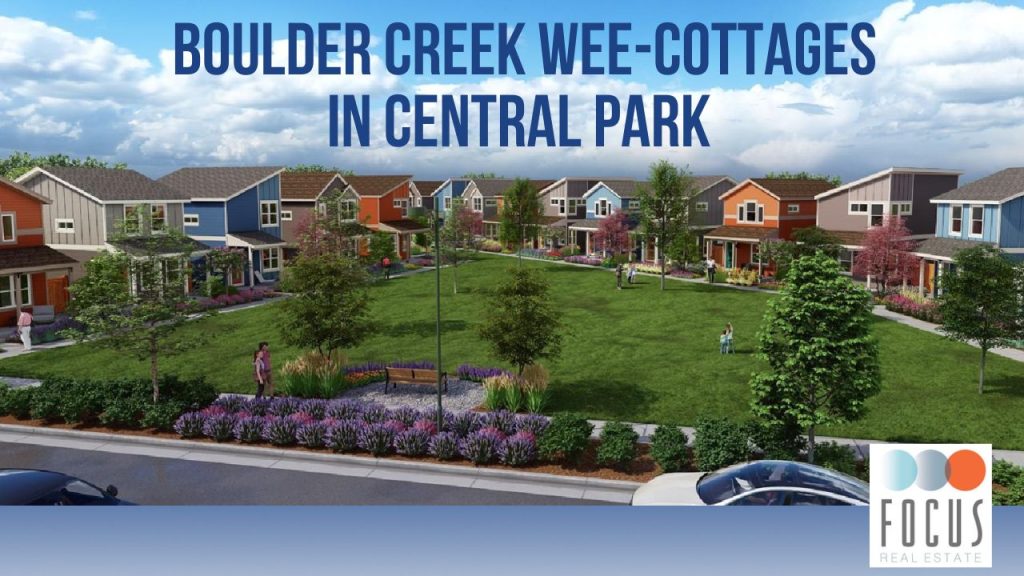 If you have been looking for a low-maintenance, beautiful home in a prime location, look no further than the Boulder Creek wee-Cottages.
With very few new build options available in North End, the wee-Cottages bring the opportunity to design your home, choose your lot, and in some cases, move into your new home by the end of the year!
Base pricing for the wee-Cottages begins at $505,000 for the Cottage One floor plan (2 bedrooms, 1.5 bathrooms, 896 sq ft).
Base pricing for the Cottage Four begins at $545,000 (2-3 bedrooms, 2.5 bathrooms, 1152-1380 square feet).
Base pricing for the Cottage Four Plus begins at $585,000 (3 bedrooms, 2.5 bathrooms, 1380 square feet)
There are two blocks to choose from. Both of these blocks include a beautiful courtyard and stunning views of both the Rocky Mountain Arsenal National Wildlife Refuge and some homes may feature an incredible west-facing view of the Denver skyline.
The first block, Block 12, features 18 homesite lots. Three of these lots have been designated as a "spec" home which means the finishes and structural options have already been chosen by a talented interior designer – and they will all be move-in ready by the end of the year!
6339 Hanover Street is currently on the market for the all-in price of $534,220. This home is the Cottage One floor plan and features two bedrooms, two bathrooms, 1-car detached garage with a parking pad for a 2ndspot, added gas line to the back patio, and upgraded cabinets, countertops and more.
See more about Block 12 HERE.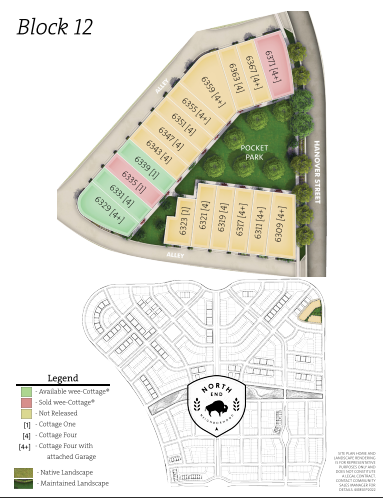 Block 13 will be move-in ready after the first of the year. There is still plenty of time to choose your floor plan, structural options, and design finishes! There are 12 homesite lots available, most of them being pre-designated as a Cottage Four or Cottage Four Plus.
See more about Block 13 HERE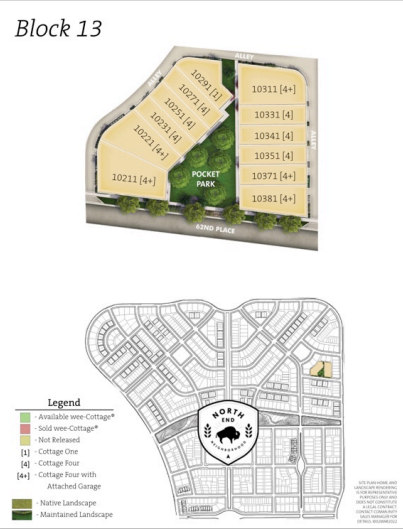 Boulder Creek is a Denver-based builder. They have been building both beautiful ranch-style homes as well as the wee-Cottages in Central Park for several years. On the resale side, in my personal experience, Boulder Creek homes tend to do very well when inspected which is attributed to their fantastic build process and quality.
Check out the video below for the latest Scoop with more information from Drew Kell, the Boulder Creek sales representative who lets us in on lender incentives, build time, current availability, and more!
If you haven't had a chance to check out the wee-Cottages for yourself, they are located on at 5873 Boston St in Beeler Park. If you'd like to schedule a private tour and talk about the options available, you can find the model at 5873 Boston Street in Beeler Park. If you are not in the Denver area, send me a message and I would love to chat with you more about the wee-Cottages available in Central Park and assist in understanding all your options.