Are you in the market for a 7+ passenger vehicle? Multiple times a year, people post on the neighborhood Facebook groups asking for advice and feedback about vehicles with a third row. So, while I'm no expert, I thought I'd attempt to compile a comprehensive list of all the options currently available. This list covers minivans, passenger vans, small, mid and full-sized SUVs (more affordable options, luxury options and super luxury options). Check out the spreadsheet of all the vehicles here (you may need to download the spreadsheet before all the links will work… each vehicle picture is a link, each make/model name is a link and each cars.com rating is a link).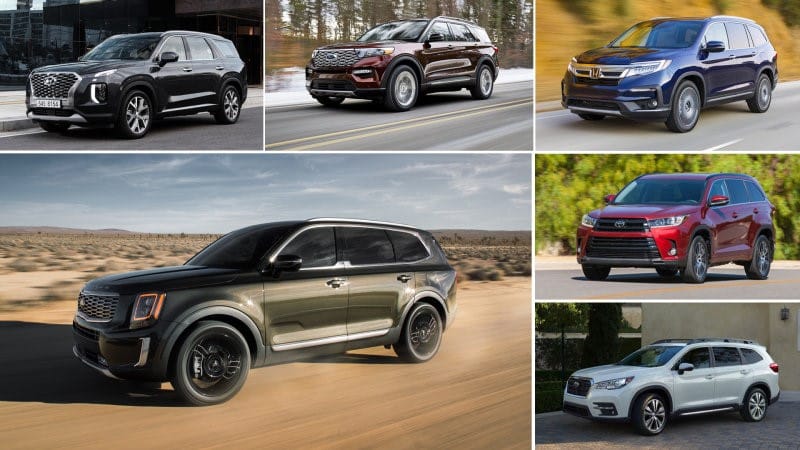 While advice-seekers often include the caveat "I don't want a minivan," I've included minivans because, in my humble opinion, they're AWESOME!!! Then again, I was an only child (no 7-passenger vehicle needed in my family), and my mom was the GM of a chain of car dealerships. So, while my friends thought it was cool my mom drove a different demo vehicle each week, I desperately wanted the minivans my friends' parents were driving (I know… I'm a nerd). In all honestly though, minivans drive smooth, have more cargo space than most mid-sized SUVs and get better gas mileage. Also worth noting that, until KIA comes out with their 2022 redesigned Sedona that's touted to be more like an SUV with sliding doors, minivans are the best way to avoid dreaded door dings. Also coming in 2022 is the electric VW Microbus which might appeal to the minivan-averse out there.
In the spreadsheet, I've narrowed down the information on vehicles to the following: Seating Capacity, Starting MSRP (Price), Fuel Economy (MPG), Drivetrain (FWD, RWD, AWD, 4WD), Engine Configuration, Towing Capacity, Max Cargo Space, Manufacturer Warranty and Cars.com Review. A few things to note:
I tried to use the 2020 model across the board for better comparison – some manufacturers haven't released their 2021 models yet, some specs (like fuel economy) are not available for all 2021 models, and reviews are limited on 2021 models.
In the small SUV category, I've included a couple late model options that are no longer in production because options in this category are so limited. Most of the other categories are limited to vehicles currently in production.
Starting MSRP (price) was a challenge. The links for each vehicle take you to the manufacturer's website which quotes the Starting MSRP for the newest available model. For most that's the 2020 model but for some it's the 2021. The price used is for the base model.
I've noted the vehicles that are available as a hybrid or electric but did not use the hybrid/electric option when reporting the fuel economy.
Some makes/models come with a lot of engine options. To satisfy the performance seekers out there (Mariel Ross……this one's for you), I've used the available engine option with the most horsepower for each vehicle. Keep in mind, this option is likely to increase the price.
The same goes for Towing Capacity. For our readers looking to tow campers and trailers, I've included the highest towing capacity available for each make/model.
Finally, it's important to note that the cars.com rating should be taken with a grain of salt. Some vehicles have a 5-star rating but only 1 person has submitted a review. I chose cars.com simply because the website had information on almost every vehicle on my list. If you're interested in a vehicle, I strongly suggest you look it up on these sites as well. Car & Driver, Consumer Reports, Edmunds, Kelley Blue Book, Motor Trend and NADA Guides. These sites offer specs, ratings, reviews, fair pricing guides and comparison tools that allow you to compare 3 or 4 vehicles side by side.
Once you've narrowed down your search to a few vehicles, you should definitely test drive them. During COVID-19, this might be uncomfortable for people. Fortunately, some dealerships can bring the vehicle directly to you, and other dealerships will let you take the vehicle for an overnight or weekend test drive. Call the dealerships and ask about these options. You may also want to consider working with an auto broker who can facilitate test drives for multiple makes and models (new and used) in one place; avoiding driving all over the city to various dealerships. I don't have personal experience with them, but I consistently hear great things about Centennial Leasing & Sales.
Once you've settled on a vehicle you love, make sure you get a good deal. Whether you lease or buy, pay cash or finance, manufacturers and dealerships usually have incentives (that change frequently). In addition to incentives, ask about holdbacks, and be strategic with your timing if possible. You might get a better deal toward the end of a sales cycle when salespeople and dealerships are trying to hit numbers and move inventory. You can also get great deals on new vehicles that are last year's model. When the 2021s start rolling onto the lots, dealerships will be eager to sell off their remaining 2020s.
Hope this post and spreadsheet helps you find the perfect van or SUV for your family. Happy car hunting!!!