It's summertime in Denver, the kids are on summer break, and we've had many days in the 90's (even a few over 100 degrees…yikes!). We are fortunate that the Central Park neighborhood is generously sprinkled with parks, playgrounds, and open space. On the flip side, many of our parks lack large trees and shade structures, making them just too hot to use many days during our warm, sunny summer. So, what's a parent to do? We thought we'd put together a list of ways to stay cool during the summer months. Some may seem obvious (the pool!), but we are betting there are some options you didn't know about (or just forgot), especially if you are newer to the area.
We'll start with the obvious, anyway…
Pool Day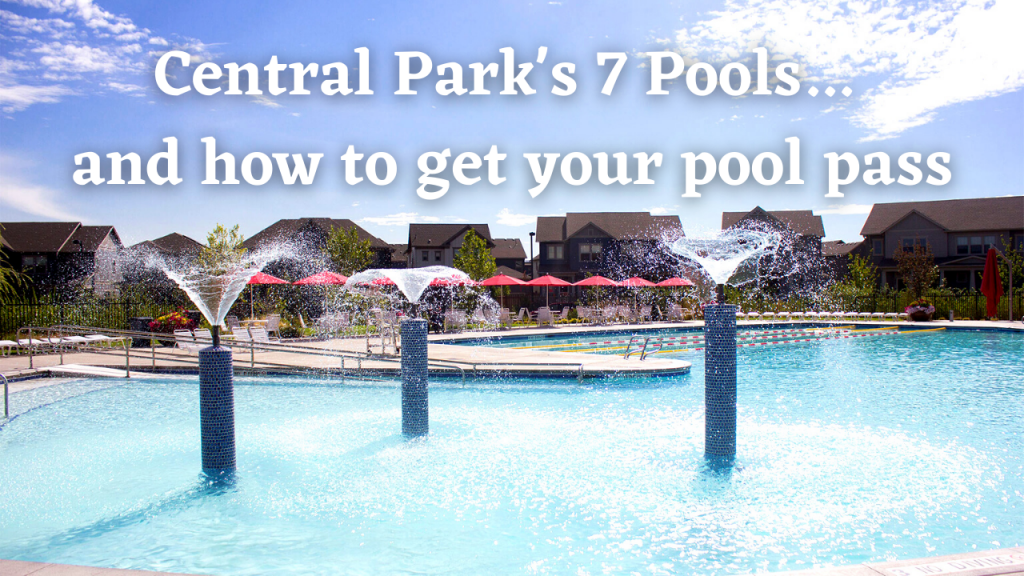 Central Park is home to 7 pools, operated by the MCA (Master Community Association), each with its unique flair (driving boards, lap lanes, slides, fountains, etc.). You can learn more here and check out our YouTube video outlining the pools and their features and locations.
Make a Splash in a Neighborhood Splash Pad
If you want to avoid the pool scene, a splash pad or water feature may be the next best thing. You will find 6 water features throughout the CP neighborhood – 4 operated by the MCA, one by the city of Denver, and one by The Shops at Northfield. A couple of our favorites are the Beeler Park "river" at 57th Ave & Beeler in the Beeler Park Neighborhood and Buffalo Wallow at 55th Place & Valentia Ct in the Willow Park East Neighborhood. Note: The Central Park fountains are NOT operating this year (don't shoot the messenger!).
It takes approximately 15 minutes on the A-line from Central Park Station to Union Station. You can view the schedule here. Relax while the kiddos play in the fountains or grab a bite to eat, coffee, or a cocktail at one of Union Station's (or surrounding) restaurants or bars.
Paradice Island Pool at Pioneer Park
Paradice Island Pool is located in Commerce City, just a few miles from the North side of the Central Park neighborhood. Paradice Island includes a leisure pool, lazy river, play structure, water slides, and more! Reservations are required, and you can reserve a 2-hour block here.
Go to the "Beach"
Ok, if you're from a coast, this may not be the beach day you are envisioning, but there are some great reservoirs not too far from here. Let the kids splash and swim in the water while you relax in the sand. Or go SUPing (Stand Up Paddle Boarding), kayaking, or boating. There are so many options and you're bound to cool off while having a blast. A few suggestions… Cherry Creek State Park, Aurora Reservoir, Chatfield State Park. Check out this article for more info and other public beach options.
Water World
There's tons of fun for all ages at Water World, which is only about a 30 minute drive NW of the Central Park neighborhood. You can easily cool off for an entire day with water slides, a wave pools, lazy rivers, cabana rentals, and more!
Visit a Museum
Want to cool off without getting wet? The inside of an air-conditioned museum should do the trick while still keeping the interest of kids of all ages. Younger kids will love the Discovery Zone at Denver Museum of Nature and Science. Another local favorite is the Children's Museum Denver. Check out Adventure Forest, which recently reopened.
Sam Gary Library
The Sam Gary branch, located in the 29th Ave Town Center has reopened to the public but continues to hold mainly virtual events – Follow them on Facebook for more info on upcoming activities.
Rocky Mountain Arsenal
Crank up the A.C. and go for a drive through the Rocky Mountain Arsenal Wildlife Refuge, which is located just north of the Central Park neighborhood. You'll likely see bison, deer, hawks, waterfowl and more along the 11-mile Wildlife Drive. If it's not too toasty outside, you may want to stop along the way and try out one of the hiking or biking trails. Be sure to pop in to the Visitor's Center too to learn about the history of the arsenal and fun activities.
Bluff Lake Nature Center
Admittedly this is outside, and you won't be jumping in the water at BLNC, but you will find shade along the trails, a nature play area, and you can print a scavenger hunt here.
Urban Air Adventure Park
If you live in Central Park you may find it beneficial to invest in a membership to Urban Air Adventure Park where the kids can jump, climb, explore, and play the day away. Located pretty much in the center of the neighborhood on E. 40th Ave, it's a convenient indoor escape on those hot days.
Well, there you have it! Hope this list helps you and the kiddos stay cool and have fun this summer. Feel free to reach out if you have other ideas to add to the list. You'll find my contact info below.
Featured Photo by Andrew Seaman on Unsplash