Happy Friday and for many of you welcome to your Thanksgiving break! Remember when you were a kid and Thanksgiving break just meant you'd have Thanksgiving day off and Friday off to eat the rest of the turkey while lounging on the couch? Now somehow the kids are off for 10 full days! Good for them though, kids are way too busy these days anyway and I'm looking forward to hanging out with them.
Anyway, that random rant aside…it's time for our weekly real estate update!
Before we jump into the new listings I wanted to share an awesome post titled "50 New Build Homes Available in North End NOW" created by Ashley Faller from our team at Focus Real Estate. In this post Ashley provides a detailed spreadsheet showing you 50 spec homes that builders have available but that aren't yet sold.  So if you've been wanting a new build home, or you're just sick of bidding wars, this is the post for you.
I also wanted to share a few of our latest Central Park Scoop Youtube videos that could be useful to buyers in the Central Park area:
5 Tips When Comparing Lenders (Our latest video with Peyton Fullerton from Fairway Mortgage)
Pro Tips for Touring Schools in CP (Thanks Keeley Buchanan for being our school expert!)
Is the North Side or the South Side of Central Park Right for You?
Ok now on to the update and all the latest listings!
This week we had just 8 new total listings that hit the market in Central Park. This is a pretty typical amount of volume for this time of year and we don't expect much at all to come online next week around Thanksgiving. So inventory is low overall and could be really low for the next week or so. (Maybe a good time to sneak out as a buyer and toss in some low offers? Not really. Just last weekend we were involved with 2 listings that had 6 offers and 10 offers, respectively! We're still seeing sellers in the driver's seat on most sales.)
Here are a few we found interesting from the new listings this week:
This brand new Infinity Home Collection home, listed for $1,425,000 by Andrew Nagael of Re/Max of Cherry Creek, is a stunner!  It's a Vive series Plan 2 "spec" home, which means it's already built but not yet sold.  So this is your rare chance to get an amazing brand new Infinity home without having to wait 9 months for construction!  It's been heavily upgraded and because Infinity does this all the time they did a wonderful job picking out the options buyers will appreciate.  Want more details about what's included in the home? You can check out this post we wrote about this and a few other Infinity spec homes titled "3 Available Infinity Homes You May Not Know About!" (note the home on 63rd Ave mentioned in the post has now been sold.)  If you'd like to tour this home and you don't have a real estate broker representing you already we'd love to show it to you!
How about a new single family home listing on the South side in the $700k's?  If that's more what you're after take a look at 2810 Akron St that was just listed by Kami Carstens with eXp Realty.  This home is catty-corner (Another random aside: I always thought it was "caddy-corner".  Googled it and blew my mind…it's catty-corner.  Neither of them make any sense to me anyway!) to Westerly Creek Elementary and just an easy walk to the Westerly Creek green space and Stanley Marketplace.  So the location is wonderful.  The home itself features 4 bedrooms, a finished basement and plenty of recent upgrades including new interior and exterior paint, new quartz countertops, new hickory hardwood flooring, new appliances and more! 
This week 9 homes went under contract in the neighborhood. With us getting only about that many new listings in a week it appears for the short term we're going to continue to have really low inventory. Not enough new listings are coming online to exceed the buyer demand. So I'm expecting buyers to have about 10-20 homes available at any given time to choose from throughout the holiday season.
Not finding what you want in Central Park and discouraged by the lack of options or the price ranges available?  Painted Prairie is a newer community that could be worth checking out. Ashley Faller from our team has a blog about the community, called Painted Prairie Living, where you'll find tons of updates!  If you have questions or want to see what you could get in that community Ashley can quickly guide you to some options.  Her email is ashley@focus-realtors.com or you can call her at (720) 799-6376.
Also known as the "let me snoop around and see what other homes sold for" section. That's ok, it's all public record so click on the link above and see the latest sales price. And if you're curious what your home is worth we're always happy to do a free, no-obligation valuation if you're considering a future sale.
There are 11 active listings on the market in Central Park at the moment. Like we mentioned above, inventory is still really low!
One of our favorites?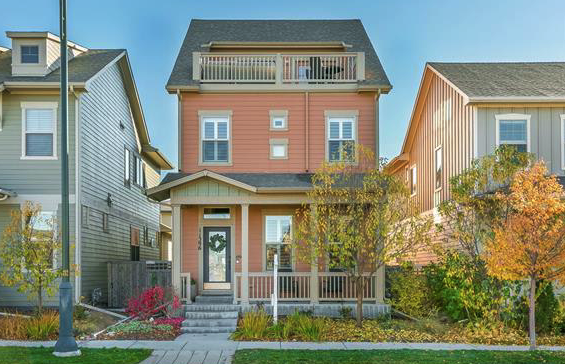 11396 E. 27th Ave is listed for $850,000
This 4 bedroom, 3.5 bath home on Bouquet Park in Bluff Lake has stunning mountain views from the 3rd floor – and I mean stunning! Grab your morning coffee and step out onto the rooftop deck, or in the evening grab your favorite adult beverage and enjoy the big vistas. Regardless of what time of day you step out onto the deck, you're going to love the wonderful, expansive views that only a 3rd floor rooftop deck gives you.
Speaking of the 3rd floor, the sunny loft on the 3rd floor is one of my favorite rooms in this house. It also has incredible views of the Front Range and could become your perfect home office, playroom, bedroom, flex space, and more. I love the versatility of the space!
The main level of this David Weekley includes hardwood floors, tall ceilings, and elegant plantation shutters. The kitchen features a beautiful granite island that contains a gas cooktop with a hood, large sink, convection oven, stainless steel appliances, breakfast bar, soft close drawers and ample storage space.
Take a look around with this 360 self-guided tour or contact listing agent Mariel Ross with Focus Real Estate at (720) 320-3536 for a showing.
Not ready to buy a home and looking for a rental? You can check out two options in the link above.
That's it for this week's update.  If you made it this far into the update you should be rewarded.  And the reward is to tell you that Little India is open in the town center!  Here's a new blog post from Kailee Ackerman on our team with all the details! See you there!
**Focus sells homes for a 2.0 % listing commission. Neighborhood experts, flexible commissions**
Disclaimer:
Our Friday real estate updates are meant to be a "roundup" type post where we discuss all listings in Central Park, not just our own. It's our way of making sure we follow the market closely and we share it with the Scoop readers because we know many of you like to track real estate in the area as well. Many of the listings in these posts are not our company's listings and we wanted to mention that here to make sure it's clear. Thanks for reading the Scoop!