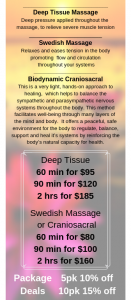 Recently I shared the great experience I had with a massage therapist new to the Stapleton area and wanted to provide you with some additional info. Susanne Hora is an experienced massage therapist who has been practicing full time for over seven years. Susanne enjoys helping people feel better and does massage a few hours a week for veterans at Fitzsimmons Medical Campus. She recently relocated from Boulder to Stapleton and is looking for new clients in the area (keep reading to learn about her generous intro deal!).
My recent massage with Susanne was awesome, and I'm happy to help her grow her business in the neighborhood. I love massages and I always appreciate when the therapist gets the pressure just right, where you can tell she's really working the muscles so they relax, but it's not too painful. I feel like Susanne has that touch.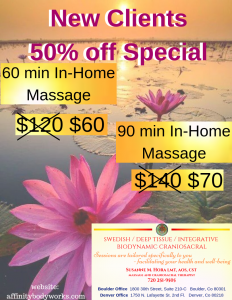 Susanne offers in-home massages, making it especially convenient for you. Or, if your prefer, she also has a location if you're more comfortable or relaxed getting out of your home environment.
Ok, here's the amazing DEAL… right now Susanne is offering half off your first in-home massage so you can give it a try. (that's only $70 for the 90 minute in-home massage!) Maybe a great way to relax and take a break… or a great gift for a spouse?
For more information or to book a massage you can reach out to Susanne at (720) 251-9505. Hope you give her a try!