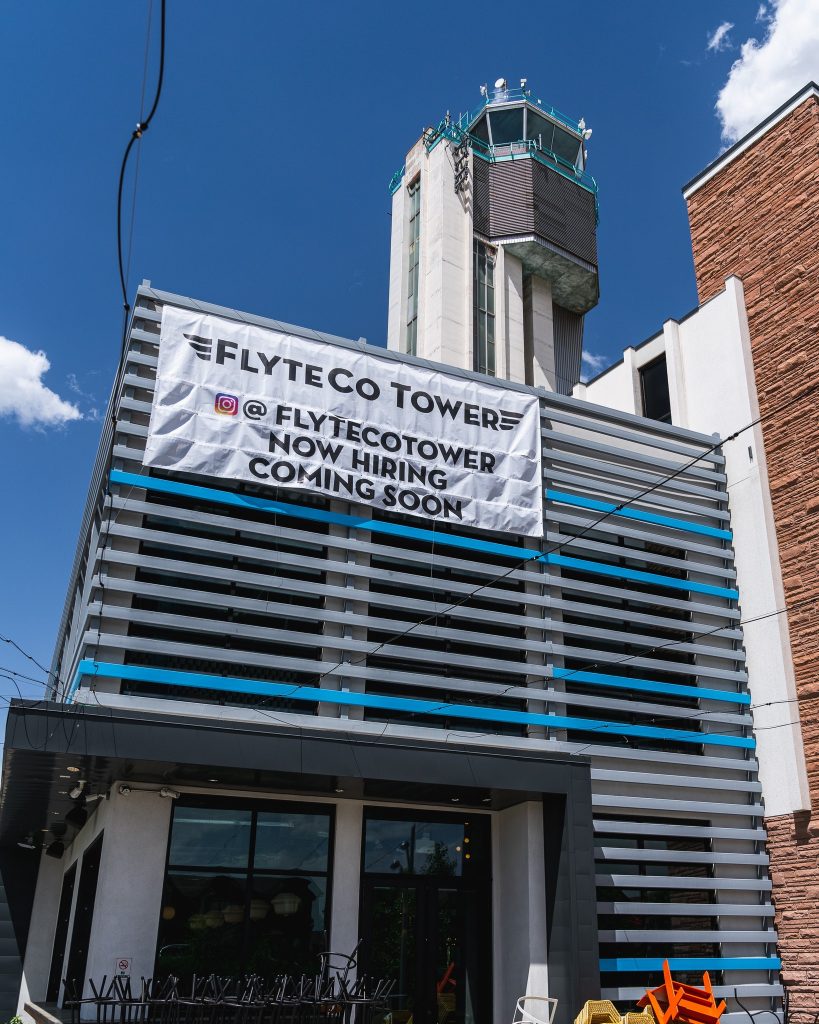 We recently stopped by the new FlyteCo Tower location, the second location for FlyteCo Brewing, located in the old air traffic control tower in Dener's Central Park neighborhood. We met with Chris, the GM of the new location, to learn what merchandise they will be selling, when they plan to open, and what positions they are currently filling. Check out my video here to see our quick interview and keep reading for more info.
When is FlyteCo Tower opening?
They still plan to open this month (July 2022) and are currently undergoing inspections and hiring staff!
What positions are available?
They are looking to fill approximately 140 positions – everything from cooks to dishwashers to servers to bartenders and everything in between.
FlyteCo is hosting walk-in interviews for all open positions, including front of house, back of house, management!
If you're looking for a fun, inclusive team that's passionate about providing an exceptional food and dining experience, stop by Monday through Friday between 10 a.m. and 4 p.m. or email careers@flytecotower.com. They will make offers on the spot for candidates who are a good fit!

See open positions and apply online at https://flytecotower.com/careers/
A little about the GM
Chris is originally from Chicago, has a culinary degree, and has been working in the industry since his first job. He's a "life-er" in the restaurant industry. His recent experience includes working at the Punch Bowl Social Broadway location. Chris is eager to open up FlyteCo Tower and is excited to get to know the people in the community.
Merch
In the video, you'll see we are in FlyteCo Tower's new merchandise section. You'll be able to purchase FlyteCo shirts, hats, glasses and more in this area of the brewery.
The Menu
You can learn more about FlyteCo's food offerings in the below post and more about their beer and drink offerings here.
Stay tuned for more updates. We are excited to welcome FlyteCo to the Central Park neighborhood.
Images courtesy of FlyteCo Tower's Facebook page