Similar to our restaurant scene in Stapleton, the fitness scene is blowing up!  We are lucky to have personal trainers, spin classes, Pilates, Barre, rock climbing, CrossFit, Yoga & more!  How do you navigate it all and decide what's best for you?
To help out we put together a list of your Stapleton workout options all in one place!  Here's the Scoop on finding fitness in Stapleton (in alphabetical order)… oh, and some AMAZING deals just for SCOOP readers!
Thanks to all these local businesses for providing us with information & deals for our readers. And if you check out our list and notice we missed something let us know and we'll get it added. Lastly, if you find value in this and want to keep in touch please take 5 seconds to sign up for the Stapleton Scoop.
Here are your neighborhood workout options, from A-Z!
Amy Marolf is a leading Fitness & Nutrition Coach in Denver with clients all over the United States. She's known for her "Strong not skinny" philosophy and her challenging, fat-burning and muscle-building workouts that are quick and effective. You can train one-on-one with Amy at her fully equipped garage gym or have her write you a custom workout plan. She also writes custom meal plans that are life-changing! Amy has incredible, positive energy and keeps it real with her balanced approach to fitness with plenty of cocktails and wine (yay!). It's all about balance!
She offers several packages that you can purchase on her website at a great value that will produce awesome results if you're the self-motivated type that can follow the plans on your own!
To learn more about Amy and her fitness and nutrition services, visit her website and social media pages at:
amymarolffitness.com
Facebook.com/amymarolffitness
Instagram.com/fitwhiskeygirl
Amy is extending a special offer for Stapleton Scoop readers! Only $39 for her 30-Minute Badass Bodyweight Workouts for the entire month of January! Click here to buy today: https://www.amymarolffitness.com/store/p37/30minutebodyweightworkouts
As the name implies, this gym is open 24/7, making it hard to find excuses to miss your workout. The brand-new, 3,600 sf facility includes cardio equipment, strength equipment, functional training, free weights, and lots of natural sunlight! If you prefer to be outside, there is also a 1200 sf outdoor patio for training. Personal and small group training are available and EVERY member receives a complimentary Fitness Consultation. They offer a 7-Day FREE trial for new customers and there are also discounted "Hero" monthly membership rates to Police officers, Military members, Veterans, and Teachers.
Now- Jan 12, 2018- Members who refer a new member will receive one month comped off their membership! Also, new members will receive enrollment for $1 (typically $90) and one complimentary personal training session, which is in addition to the complimentary fitness consultation!
9165 E Northfield Blvd Ste. 155
Denver, CO 80238
(720) 242-9948
Barre in the Park started as a pop-up studio and now also includes a newly-remodeled 500 sf studio. Classes are kept exciting and challenging with loud, fun music, always-changing choreography, and a quick tempo. Childcare is offered 7 days/week during the mid-morning class for $5/child.  *Barre in the Park is mobile and depending on weather is either inside or outside.
Not only does Barre in the Park offer Barre Fitness classes we also offer Barre Amped.
BARRE AMPED= MORE CARDIO MORE SWEAT
Perform multi-directional, dynamic movements while using weights and a 4″ platform to target different muscle groups simultaneously. Sign up for this high-intensity, low-impact interval workout and elevate your heart rate, build strength, and rev up your metabolism to push beyond your goals. This class is challenging, but modifiable for all levels and a great compliment to our Barre Fitness classes.
Here's what Stapleton resident and owner of Barre in the Park, Megan Campbell, has to say, "I would consider us the Barre misfits of the very prestigious Barre fitness world here in Denver, we do what we do very well and our results show without conforming to the rules and regulations of the Barre world #barremisfits" 
First 5 readers (new clients) who mention Stapleton Scoop will receive 5 FREE CLASSES to start their new year off right!. Also, new client special is $75 unlimited for a month!
9105 E 36th Ave.
Denver, CO
(480) 650-5414
Bar Method offers several class types (all levels, level 1, level 2, cardio barre & barre express 45-min) 7 days a week with free, close-in parking, onsite childcare, and many boutique studio amenities. This proven Method is best known for creating toned, strong bodies, graceful posture, and added flexibility. Their highly trained teachers provide personalized instruction in the group setting. At The Bar Method Stapleton you will find a strong and powerful community; all are motivated, hard-working, and passionate about wellness and supporting each other. Bar Method Stapleton was named Best Barre Studio 2017 by the voters of Denver's A-List.
1st Birthday Special (offer available through 1/20/18): Receive 8 weeks of unlimited classes for $150 – regularly $249. This is for new clients only. Download The Bar Method App to purchase. Or, contact the studio at 720-379-3732 / denver-stapleton@barmethod.com.
Belly Bliss is known as Denver's premier center for pregnancy and motherhood. They offer a variety of classes for moms and their children including, prenatal fitness classes, Yoga and Barre classes, Mommy & Me classes (Yoga, dance, and playtime classes), and toddler play and Yoga classes.
The Stanley Marketplace
2501 Dallas Street
Aurora, CO 80010
303-399-1191
Bladium has been serving Stapleton since 1996 and offers a variety formats and classes, including CrossFit, Yoga, Spin, Barre, BodyPump, GRIT, dance, and more for a relatively low cost.  Membership includes unlimited classes with over 70 Group Exercise classes per week. They have recently undergone serval renovations and are now equipped with new locker rooms with steam and saunas, new strength and cardio equipment, and new fitness studios. Bladium is also very family friendly, offering childcare, kids' programs, and a huge inflatable fun zone!
Mention The Scoop and receive $25 off your enrollment fee! Also, new member pricing is just $39/month!
2400 Central Park Blvd.
Denver, CO, 80238
(303) 320-3033
Camp Gladiator is a community-driven adult outdoor group fitness program led by certified personal trainers.  The CG mission is to positively impact the physical fitness and ultimately the lives of as many people as possible through a "better together" mentality!  CG lives out its mission by offering as many convenient locations as possible led by all-star trainers at an affordable price. Participants can expect all fitness levels, total-body 60-minute workouts, unlimited access to every location, accountability and a great community.  Stapleton locations include 5:30am, 9am and 6pm workouts!
Click here for a code for a FREE five week camp fro Jan 2- Feb 3rd!

Or Contact Laura Hardesty  for a FREE week pass. 412-901-3597
The Central Park Rec Center offers several amenities, including indoor pool, gymnasium, weight/cadio room, aerobics/dance studio, cycling room, family lounge, fitness classes, and Kid Watch six days/week. Fitness class options include cycling, yoga, Zumba, Pilates, and HIIT.
Local membership options for adults ages 25-64 are approx. $30/month (month-to-month membership option)
There are 2 different programs that people can sign up for free access to recreation centers, pools and cultural facilities: My Denver and My Denver Prime.
My Denver: Any youth ages 5 – 18 who either live or go to school in Denver can sign up for My Denver.  The Central Park location offers FREE karate and drumming classes, as well as programming while school is out to anyone with a My Denver card, but they could also just use the pool or play basketball. https://www.denvergov.org/content/denvergov/en/office-of-childrens-affairs/my-denver-card.html
My Denver Prime: Seniors ages 60+ can potentially qualify for a free membership through My Denver Prime.  http://www.denvergov.org/content/denvergov/en/denver-parks-and-recreation/recreation-centers-pools/memberships/my-denver-prime.html
9651 E. Martin Luther King Jr Blvd.
Denver, CO 80238
Phone: 720.865.0750
centralparkrec@denvergov.org
CorePower Yoga is an intensely physical workout rooted in the mindfulness of yoga. They offer a wide range of classes for students of all levels. Class options include CorePower Yoga (1-3), Yoga Sculpt, Hot Yoga, and Candlelight Yoga. While each student takes a personal experience from their yoga practice; many find a sense of community within CorePower – the sense of belonging to something larger than themselves.
New students receive their first week of unlimited yoga with Corepower for FREE! Student, Teacher, Senior, and Military pricing available!
7485 E. 29th Place
Denver, CO 80238
303.377.7444
CrossFit Stapleton is a gym that offers high-intensity workouts in a group setting. They use a variety of non-traditional styles and tools, with strength and conditioning being staples of their programs. They beleive that everyone can be an athlete with consistency and that health and fitness should be a priority. Programs offered include Crossfit, Bootcamp, and Yoga.
"I love the community that we have. People notice when you miss a class and they actually care if you do. People at CFS genuinely care about each other and I think that's the biggest reason I keep coming back."- Charity M
You can try them for FREE for TWO WEEKS when you mention the Scoop!
3700 Havana St #218
Denver, CO 80239
315-489-7445
Curves is a supportive environment for women, focused on gaining strength, balance, and flexibility with the guidance of a coach. Each 30-min circuit is a total-body workout on strength training machines. Curves also offers a complete program with fitness, meal plans, and one-and-one coaching.
7489 E. 29th Place
Denver, CO 80238
303-333-5959
Endorphin offers a variety of fitness classes at studios across Denver. The Stanley Marketplace location offers HIIT, Functional Athlete, Barbell 101, Mountain Made Gainz, and Strength Training classes. They also offer a variety of membership options, which can be used at their various locations around Denver.
Stanley Marketplace
2501 Dallas St, Suite 144
Denver, CO 80010
(303)993-4041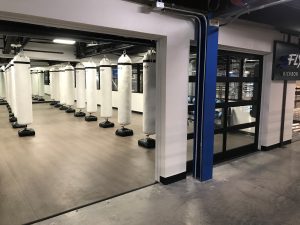 Kickboxing and technology collide for an intense workout. FLY Kickboxing is the first studio in Colorado to implement sensor technology into heavy bags to track your performance.  It's great for all levels because the workout intensity is controlled by you. Classes are set to upbeat music creating a fun and motivational experience. FLY works your entire body from punching and kicking the bags to including core work utilizing medicine balls and sliders. There are no contracts or commitments, you pay as you box. The studio is brand new, located in Stanley Marketplace and is a small business owned by local residents Tom and Jamaica Cooke with this being their first location. FLY offers group fitness classes for adults and kids, private or semi private appointments are also available. Visit www.flykickbox.com for pricing and current schedule.
Special offer for Scoop readers: 1 Month Unlimited Classes for $99. Use promo code SCOOP. (valid until Feb 28, 2018)

FLY on Facebook
FLY on Instagram
Stanley Marketplace
2501 Dallas St.
Aurora, CO 80010
303-390-1716
Katie Garces is a Nurse Practitioner, Certified Nutritionist and Wellness Coach at Green Plate Kate.
Katie's philosophy is "your journey only starts with nutrition," as there is so much more to the story when we're looking at health, fitness, and well, happiness! Her years of both clinical and coaching experience have proven that there is no "one size fits all" approach to weight management and health and so she offers a variety of programs, as well as individualized 1:1 coaching.
In addition to diet, nutrition, lifestyle and wellness, Katie works with clients in the realms of Eating Psychology, Intuitive Eating, Spirituality and ongoing Personal Development, of which she has had advanced training. She gets super jazzed when she sees people improve their mind, body and spiritual health through not just nutrition, but authenticity and *connection!* Life's too short to not be real! When we can tap into this, often our weight or other concerns begin to resolve with more ease and less strife. Katie will help you figure out what that is, embrace it and ROCK IT!
Katie has three different nutrition and lifestyle programs available this January focused on decreasing inflammation (and subsequently, weight) and kicking those unhealthy habits we managed to pick up through the holidays:
GPK's 10 Day Real Food RESET
10 Day Metabolic DETOX
Intermittent FASTING for health and weight management. (Extended to scoop readers through January!)
Additionally, Katie is happy to offer Scoop readers $100 off her 3 month coaching package in January for individualized, high-level coaching and support. Email Katie (kate@greenplatekate.com) and mention this post! 
Katie on Facebook 
Katie on Instagram
Ladies are invited to join her private FB Community Sexy, Spiritual & Sane.
Kindness Yoga Stanley Marketplace has exciting additions that are exclusive to its location. Along with heart-centered yoga classes, Kindness offers donation-based kids' classes and a float tank. Kindness Yoga believes mindfulness should be accessible to everyone, so all classes always have a pay-what-you-can option.
Introductory Deal: $30 for 30 days of unlimited practice at any Kindness location!
2501 Dallas Street
Aurora, CO 80010
(720) 787-4128
Kinesis Pilates is now open inside the Stanley Marketplace! Kinesis Pilates is a fully equipped studio that uses the classical Pilates repertoire of exercises to teach you how to effectively move your whole body in your lessons and how to transfer that into your daily life.  With practice and patience, your biomechanics change.  The result is that your body moves better, feels better, and looks better.
New client offer: Six private sessions for $325. Purchase this package in January 2018 and receive a FREE class!

Stanley Marketplace
2501 Dallas Street, unit 209
Aurora, CO 80010
303.921.7017
The Moorhead Rec Center in Aurora recently underwent a $13 million renovation and is now open! The renovated center includes a 3-court gym, community rooms, teaching kitchen, indoor aquatic center featuring an indoor/outdoor water slide, enhanced fitness amenities and new locker rooms. Memberships are on sale now!
2390 Havana St.
Aurora, CO 80010
(303) 326-8215
Orangetheory is a one-hour group personal training workout, which utilizes a variety of machines and equipment. The high-intensity, heart-monitored workout is designed to keep your heartrate in a target zone in order to increase metabolism and burn calories for up to 36 hours. The science of excess post-exercise oxygen consumption (EPOC) takes your results to new heights and you can expect to feel new energy and see amazing results with only 2-4 workouts per week.
According to member, Nick Rollo, Orangetheory classes are, "Fast moving, interesting and varies every day. Also it is geared toward any age and level of fitness, so the workout can be as hard as you want depending on how you are feeling that day."
New clients enjoy their first class FREE!
7349 East 29th Avenue
Denver, CO, 80238
(303) 388-3600
Pilates Evolution is a 40-minute heart- pumping, muscle-quivering workout combining cardio, strength training, and pilates using a Proformer machine and the THE LAGREE FITNESS™ TRAINING METHOD. The workout is designed to strengthen, lengthen, and tone your muscles and is set to fun, motivating music to keep you working hard!.
New Years Special for Scoop readers – 10 classes for $150 (usually $200) using promo code NEWYEAR10 for sale online now through January
Your first class is FREE with promo code "FREECLASS". 
Eastbridge Town Center
10195 East 29th Dr #130
Denver, Co 80238
pevolutionstapleton@gmail.com 
303-377-0982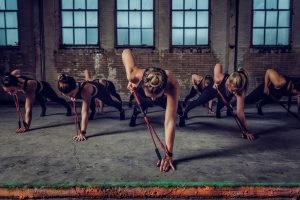 Pure Barre is a 50-minute, low-impact total body workout that lifts your seat, tones your thighs, and burns fat in record-breaking time. Utilizing the ballet barre to perform small, isometric movements set to fantastic music, Pure Barre is the fastest, most effective, yet safest way to change your body. Students see results in just 8- 10 classes. The new Stapleton studio recently opened on the bottom floor of the new Mint apartment building near Founder's Green!
New Client Special: 30 days unlimited classes for $99!
Sign up here for their newsletter 
purebarre.com/co-stapleton
Pure Barre on Facebook
Pure Barre on Instagram
7595 E. 29th Pl.
Denver , CO 80238
Scott Beall Fit is only personal training experience that takes barbell training to failure, empowering men in Stapleton to believe in themselves and become alive (in a world that often feels empty).  Scott has gotten hundreds of clients stronger including Hollywood star Jeffrey Donovan who gained 20 lb with Scott for his role as  Dodd Gerhardt  in the second season of "Fargo".
Mention Stapleton Scoop and get 10 sessions for only $695 (25% off).
scottbeallfit.com
6103 Martin Luther King Junior Boulevard
Denver, CO 80207
(614) 638-3382
Shift Cycle + Fitness is a full-body, rhythm-based indoor cycling studio. Their signature ride is a 45-minute high- intensity, low-impact cycle workout focusing on optimal movements to strengthen the core and tone the upper body, while pounding the pedals in an uber energizing cardio party. Shift will guarantee to challenge you physically and strengthen you mentally. Childcare available!
"Shift is the absolute best! I always leave feeling accomplished, inspired, and motivated to come back. It's a heart pumping, addictive workout! The instructors and music are so motivating and they cater to everyone's level of ability. You won't be disappointed. "- Katie Sheahan
Kickstart your 2018 goals with the Make the Shift Challenge! Complete 20 rides in 30 days (Jan. 8th -Feb. 6th) and be entered to win three months of unlimited rides (and feel amazing and accomplished, of course!)
New Year – New Client Special: $69 – First Month Unlimited – New Clients Only (Usually, $99)
Membership Deal 2.0 – (Paid in Full) 2, 3, 6, 12 Months Memberships (Paid in Full)
2 Months Unlimited: $236 || $118/month
3 Months Unlimited: $345 || $115/month
6 Months Unlimited: $671 || $112/month
12 Months Unlimited: $1260 (Equals $105/month)
Package Deal: 
20 Classes for $250 – $12.50/class || normally $300 (9 month expiration)
Offers valid Jan 1-8, 2018
Shift-Cycle.com
Shift Cycle on Facebook
Shift Cycle on Instagram 
5096 Central Park Blvd.,
Denver, CO 80238
(303) 862-7331
Cameron Moerman is a personal trainer who focuses on training clients in Stapleton and the surrounding areas. He offers one-on-one and small group sessions, taking from several disciplines to tailor workouts to client needs and goals. Many people are intimidated by going to the gym and being around so many other people, and his sessions are private and professional and really alleviate that fear. Each session is only a half hour long because all of his equipment is at your disposal and you don't have to wait until a machine is free. Many clients that have come from another trainer request hour long sessions, but quickly change their minds when they find out what can be accomplished in a half hour!
"I've been working out with Stapleton Personalized Training for about three years and I keep going back because it's a challenging workout in a short amount of time and different every week. It's easy to fit in to my busy schedule and I can bring my kids with me if I need to!" -Ashriel Lutz
Special Offer for Scoop readers: 15% off regular price for partner (or 2+) sessions! Cam can pair you with a partner if needed!

Find Cam on Facebook
(303) 588-4472
Ubergrippen is a brand-new climbing facility opening soon in Stapleton. They will offer four separate and unique climbing areas, including top rope, lead climb, auto-belay and bouldering. They will also have areas specifically dedicated to youth climbers. In addition to climbing, they will have a fitness area with cardio and strength equipment and will offer fitness classes, such as yoga and spinning. Youth programs will include competitive youth climbing teams, recreational climbing clubs, after school programs for elementary school aged kids, summer camps, school closure child care, parent's night out, and supervised kids climbing and childcare (for when parents are at the facility).
8610 E. 21st Ave
Denver, CO 80238
720.592.0716
Well there you have it, the Stapleton fitness options from A-Z!  If you found value in this post and want to stay in touch please sign up for the Stapleton Scoop.  You'll get an email every other Friday with links to our latest neighborhood posts.