I recently stopped by Clothes To Kids Denver to learn more about their program. You can see my interview with Executive Director, Val Lunka, HERE and keep reading to learn more.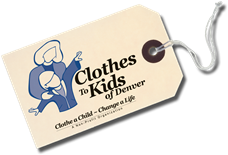 Clothes To Kids of Denver is a local 501(c)(3) non-profit that provides new and gently used clothes and shoes, free of charge, to students ages 4-21 who are enrolled in preschool-12th grade, or working toward their GED. Since 2008 they have provided over 70,000 wardrobes to kids across the 11-county Denver Metro Area. When children have clothes that fit, keep them warm and express their personality, they have increased confidence, a sense of dignity and can focus on more important things like learning, making friends and having fun.
Since the start of Covid-19, Clothes To Kids no longer requires a referral to shop. If your child needs new clothes, simply call 720-379-4630 to make an appointment. Phones are open Tuesday-Friday 9:00am-5:00pm and Saturday 9:00am-1:00pm. Each student is eligible to shop for a new wardrobe two times per year.
During an appointment, kids get to shop for clothes that express their style and personality. They can try things on to ensure proper fit and comfort. Curbside pick-up is also available. A "personal shopper" will pick out items based on what the child says they like (colors, style, themes, etc.) and have the wardrobe ready to go when you arrive. A wardrobe consists of:
5 tops
4 bottoms (shorts, pants, skirts and/or dresses)
1 additional dress or skirt (optional)
5 pairs of new underwear
5 pairs of new socks
1 bra (optional)
1 pair of shoes
1 coat or jacket
Extras (accessories, school supplies, etc – if available)
If you'd like to support Clothes To Kids of Denver, there are countless ways to help. You can donate new and gently used shoes and clothing sizes 4T and up. The best time to drop off donations is on Fridays and Saturdays from 9:00am-3:00pm at 2890 S. Colorado Blvd. #M3 Denver, CO 80222 (in the shopping center with Sprouts Market and Rite Aid). Here is a list of their top 5 greatest needs:
1. NEW underwear (kids' size XS/4T-adult) and new or gently used bras (any size)
2. NEW socks (kids size S-adult)
3. Shoes that are in good condition and suitable for school. Our most popular styles are athletic (i.e. tennis, basketball, running, skate, etc.), slip-ons (i.e. Vans), canvas (i.e. Converse or Toms), flats, boots (all types) and black uniform shoes.
4. Warm winter coats (kids' size XS/4T-adult)
5. Jeans, pants and shorts! Girls (4T-18), Boys (4T-20), Young Women (sizes 00-26) and pants/shorts for Young Men (especially waist size 27-36), Athletic styles (basketball or running shorts/pants, yoga pants, etc.) are especially popular!
Other ways to help are to spread the word to friends and neighbors, share and "like" their Facebook and Instagram pages or follow them on Twitter @ClothesToKids. You can donate money, help establish strategic partnerships with local businesses (here is a list of current Community Partners), connect Clothes To Kids with grant opportunities, help coordinate clothing drives and/or fundraisers, and of course, you can volunteer. Check out the list of volunteer opportunities here or email volunteer@clothestokidsdenver.org to get involved. For more information visit clothestokidsdenver.org, email them at info@clothestokidsdenver.org or join their email list here.