Like many of you, upon hearing that our kids' Spring Break will now be 3 weeks long due to the efforts to prevent the spread of the Coronavirus, I was a bit overwhelmed. I was also kind of excited to have this time to share with my family. So, I started researching how to make the most of this time together in hopes of teaching our kids while staying safe and healthy as a family.
I found some helpful advice from an article from The Guardian by Dr Carly Johnco, a clinical psychologist at Sydney's Macquarie University, and The University of Melbourne psychology professor and parenting expert Prof Lea Waters AM.  You can read it for yourself here in the link above.
I am not an expert, just a mom trying to find words of wisdom from the experts. Here is their list of ideas to help during this unprecedented time.
Make sure everyone is in agreement
Waters says it is important for the family to sit down and get everyone on the same page. "Have a discussion: what do you think will be the biggest challenges? What are the strengths that we each have as an individual family member that can help out?"
Create a plan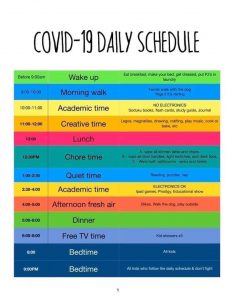 "Routines are always helpful for people to see an endpoint," Waters says.
Our schools have sent home some links to aid in distance learning. We are hoping while we work our kids can also get in a few hours of learning online each day, create some art or even setting up a book club via FaceTime!
Waters says families should try to enjoy having more spare time than usual, especially what can be very rare downtime for kids. Parents can be prepared with games, crafts, schoolwork and books, but allowing more screen time than normal will not, says Johnco, be catastrophic.
"It could be tempting for people to just sit in front of the telly for two weeks," Waters says. "The novelty of that will wear off quite quickly. We know that when people withdraw, or stop doing their normal activities, it can have a pretty profound effect on their mood."
We are lucky to live in a state with such great weather and outdoor activities. Hopefully we are able to take advantage of it during this time. Or support a local business by ordering take out and having a picnic outside!
Physical activity is a must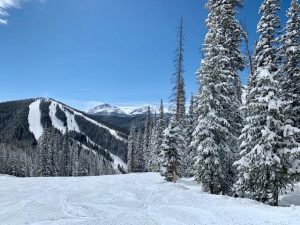 We have all experienced the change in mood that accompanies being sedentary or being on the computer for extended periods of time. Johnco says, "Frustration and boredom can come when kids are not getting the opportunities to be physically active."
For kids as well as parents, be sure to get moving. Consider taking a long hike, setting up an obstacle course in your backyard, jumping on the trampoline with your kids, and even yoga videos from home.
Check things off your To-Do list
Johnco says it is important to make time for "activities that just make you feel good".
For your family maybe this means planning for a home movie night, taking on a large project such as building something together, or even rearranging the furniture or your closet!
"Me time" is important
"Try to think of things you can do by yourself and as a family," Johnco says. "It can be hard for families who are used to all going off to their own activities being forced into this intense time. That's why when you're on family holiday you'll sometimes see kids squabbling – they're not used to being in the same space."
Waters says: "I would create spaces in the house, if possible, like little zones – 'This is our game zone. This bean bag with a headset is our chill-out corner.'"
While respecting time alone is important, it could also be a time for creating or reconnecting with family rituals, she says. Simply making cookies together, building a lego tower or finishing that puzzle that's been sitting out for past months!
Stay social – virtually
Another critical component of good mental state is feeling connected to others. This time, technology is our friend. Connecting and making time for friends on social media or over the phone will be critical for adults. Also important, says Johnco, is "reciprocal social support" – reaching out to others to make sure they are OK.
Children are used to highly social environments and will also need to connect with friends. Older children, Waters says, could create themes on Instagram or Snapchat where they can share their experiences and tips with friends. With younger children it might be scheduling in some video calls with friends and family.
Stay positive and learn from it
In Colorado, we are accustomed to make the most of our snow days. Although this is an unprecedented time, I am hoping to learn from this experience. Whether it is how special our community is, having more respect for the patience our children's teachers have on a daily basis, just slowing down or all of the above.
For a list of FREE educational resources during the extended break, check out this post.
If you're concerned about buying or selling a home during this uncertain time, here's a post that Mariel from our team put together to address those concerns. Please do not hesitate to reach out to me with questions or concerns.