Guest Post by Rebecca Stark, Chief Farming Officer (CFO) of Stark Family Farm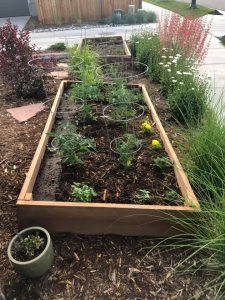 I've been gardening for the last twenty years or so (not counting all those years I helped my dad in our family's garden). There's nothing better than a home grown tomato. It does make eating store bought, greenhouse-grown tomatoes a little challenging, but I'm up to that challenge. In this season of coronavirus (COVID 19, just in case this falls into the hands of some future generation), I am so appreciative of the ability to garden. I thought I'd share a few of those benefits with you:
1. You can garden while maintaining the appropriate level of social distancing. Many gardens are located within fenced-in backyards, so no need to worry about coming into contact with others! And since it is the end of March (still a few weeks away from our last frost), you can even start plants inside.
2. If you grow a garden, you are creating your own source of food. There's no concerns about how long the lines are at the local grocery store and/or whether it's safe to go to said store. If you start a garden now, you can be eating lettuce in a month, other vegetables and fruit by the end of the summer.
3. There's a sense of hope associated with gardening. Apparently Audrey Hepburn is the source of the quote, "To plant a garden is to believe in tomorrow." (British Vogue, 28 July 2015) As soon as I pick up some sidewalk chalk, that quote is going on my front steps—because it's true! One doesn't plant a garden if one doesn't think that the garden (or the gardener) will survive through tomorrow or next week or next month.
4. Gardeners are always learning. It's a trial-and-error process and I don't know about you, but I have a little time on my hands these days! So I'm trying some new methods. I'm starting more seeds early. I planted some cool crops in my front beds. I'm planning on building a few new beds and figuring out what to plant in them. I'm an experienced gardener, but that doesn't mean I know everything. Thus I am still learning. I'm also happy to share what I have learned with other gardeners. We all started somewhere. And most of us had more experienced gardeners helping us along the way. We (at least I) am happy to pass the torch.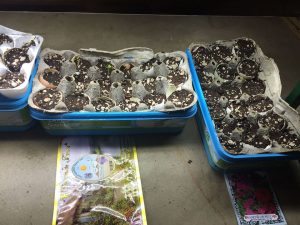 Are you interested in starting a garden? It honestly doesn't take much! I consider myself to be a very frugal gardener. You can start seeds in empty toilet paper rolls, egg cartons, just about any container! You just need some soil. To start seeds you want a decent quality soil. I bought organic seed starting soil from Walmart for $5 a bag and used two bags for three trays of seeds. As for seeds, ask around. Most of us experienced gardeners have a collection of half full seed packets that we're willing to share.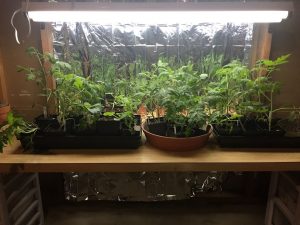 Once the seeds are growing, the soil quality can drop a little. There are technically numbers associated with soil quality, but I just play around and (in my frugality) look for the cheapest options. Last year, I picked up a lot of dirt from someone who was re-scaling their front yard. I mixed that dirt with peat moss (it keeps the dirt from being too compact) and alpaca poo I picked up from a farm in Parker. I also "amended" my soil with the leftover bits of salmon (mostly heads, spines and tails) from a local fishmonger.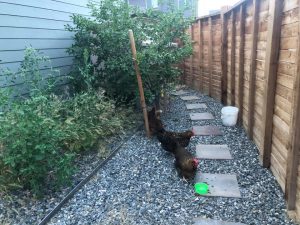 Even if you don't have a yard, you can still grow in containers on a porch! And you don't have to buy fancy, expensive containers. You can watch for landscaping crews that are planting trees and bushes and ask if you can take any containers off their hands. Some garden stores even have a stash of recycled pots you are welcome to take. One last tip as you are thinking about starting a garden—ask yourself what you would eat! There's no point in growing Brussel Sprouts if no one in your house will eat them (they are also fairly difficult to grow!).
I hope this article has inspired you to start your own garden this year. Beware—gardening can be the gateway drug to all kinds of urban farming activity. Next thing you know, you might want to start keeping chickens!
Rebecca Stark is the Chief Farming Officer (CFO) of Stark Family Farm. She loves growing a wide variety of fruits and vegetables, which she attempts to feed to her "boys"—her husband and picky kindergartener. She has much more success feeding them eggs from her backyard hens. The Stark family shares the farm with Harrison Ford, a sweet Golden Retriever, and three rather large farm cats.