Tough times are temporary and a great home is forever.
It's Friday or is it Sunday… who can keep track anymore. Just kidding, it's time for our weekly real estate update! Has anyone noticed that our trees are starting to sprout leaves this week and flowers have come up! Spring has finally arrived and so has the spring real estate selling season… although has it? For a few weeks now we all enjoyed the comforts of home but we're starting to see our clients who chose to wait and see what COVID would bring come back around, ready to begin their home search. Sellers can finally get their homes on the market to the delight of anxious buyers who had been waiting to tour homes. We still hope everyone abides by the rules of social distancing to ensure everyone's health and safety but as Realtors we are excited to get back into the game.
Those of us here at the Stapleton Scoop and Focus Real Estate have been thinking quite a bit about what has been going on in the world, our state and our community right now. Just like you we have been doing our part to stop the spread of this horrible virus affecting so many people. We have been social distancing as well as quarantining ourselves and our families. Through it all we have been trying to stay positive, bring you neighborhood updates, good ideas and ways to entertain yourselves. As for Real Estate, the truth is people will always need to buy and sell homes and so we have been staying up to date on market trends during this period as well as coming up with thoughtful ways to bring value to our neighborhood and our clients. Here are a few of our ideas.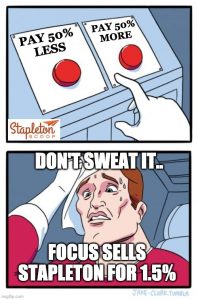 #1 – We're reducing our commissions and now charge 1.5% for our listing agent fee when selling Stapleton homes.
#2 – We're adding property leasing to the services we offer our clients.
#3 – We're selling new build buyer client's homes FREE when they already know which new build they want to buy and we're their buyer's agent.
You can read up on the details of these ideas and see examples of how much you could save in this blog post we wrote last week.
Now onto the Stapleton Real Estate numbers:
There are 15 new listings this week ranging in price from $385,000 to $1.1 million. The week before we saw 11 so we have a few extra listings now and I expect that number to continue to grow as the stay at home order is lifted in Denver County on May 8th.
Here are a few that I wanted to highlight this week. 3292 Trenton Street listed courtesy of Kelli Lanphere with RE/MAX Cherry Creek. This spacious home has over 4,400 sq. feet on 4 stories and sits on a rare oversized corner lot. For those of you who know me, you know I grew up on the East Coast and love a traditional looking home. Thus, I LOVE Parkwood Homes and this does not disappoint. Traditional architecture, tons of custom woodworking and upgrades make it such a great family home – wish I could buy this one!
Another great home listed today is 5531 Wabash Street listed by me, Lisa Palladino with Focus Real Estate. This 4 bedroom, 4 bathroom Thrive Solaris series home is located in Willow Park East and priced in the upper $600's. It looks new and is sure to stun with a wonderful light and bright open concept living space, a 2 sided fireplace and a private home office – just some of my favorite features in this gorgeous home! Check out the 3D Matterport Tour HERE.
Stapleton Under Contract Listings
There were 7 homes that went under contract last week. I think this is a fair number given we have been on a stay at home order so most of these homes were initially toured via a video or 3D tour and then once under contract viewed in person. Again, proving even when times are challenging if home inventory is low like it is in Stapleton, homes will go quickly.
This week there are currently 23 active homes. This does not include a few spec homes listed by builders or the rental properties in the link below. This number is down from last week so the rate of homes going on the market slowed a bit due to the stay at home order but again once it is lifted next week we are sure to see a bit of an uptick.
One home that sticks out to me is 3363 Yosemite listed thanks to Mark Slattery of USRealty. This large home is South of I-70 and sits on a corner lot with a coveted 3 car garage. This home has it all with a beautifully finished basement complete with a movie area, full bar, an impressive home gym, an outdoor fireplace and 4,500 sq feet to spread out in! I'd quarantine here.
There are currently 5 homes for lease in Stapleton and more to come. Please let us know if we can be of assistance is looking for rental properties!
If you're looking to build a new home in Stapleton's last neighborhood, North End, we have some exciting news! The builder lot map for North End's final phase, Filing 57, was just released to the public. You can find the lot map, along with more info on which builders are building there, in this blog post. Get more info and updates on North End at HomesinNorthEnd.com.
That's it for the Stapleton Scoop this week!  For more info on buying or selling a home with Focus Real Estate, check our video series here made to help guide you through buying and selling.
If you want to talk Real Estate or really anything you think should be on the scoop, let's chat! Shoot me an email at lisa@focus-realtors.com or feel free to call/text me at 303-564-3734. Have a great weekend everyone!
Disclaimer:
Our Friday real estate updates are meant to be a "roundup" type post where we discuss all listings in Stapleton, not just our own.  It's our way of making sure we follow the market closely and we share it with the Scoop readers because we know many of you like to track real estate in the area as well.  Many of the listings in these posts are not our company's listings and we wanted to mention that here to make sure it's clear. Thanks for reading the Scoop!